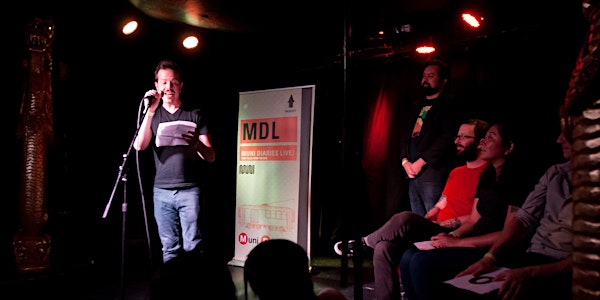 Muni Diaries Live! Sat. April 16, 2016
When and where
Location
Elbo Room 647 Valencia Street San Francisco, CA 94110
Refund Policy
Contact the organizer to request a refund.
Description
Anything can happen on Muni, and Muni Diaries is here to blow up the party talk! Come celebrate all the hilarity that can happen on public transit between Point A and Point B. And for the first time ever, we'll be playing Munui bingo! Get your bingo daubers ready to win free drinks at the bar!
A preview of our stellar storytellers:
Alexa Von Kickinface is the 5ft firecracker and is a staple in the San Francisco burlesque scene! Known for her high-energy and cheeky burlesque routines, she also rules the microphone as one of San Francisco's top burlesque emcees, including being the official co-host of San Francisco's world famous Hubba Hubba Revue. Check out Hubba Hubba Revue's infamous monthly themed shows every second Friday of the month at DNA Lounge! Alexa is delighted and honored to be joining Muni Diaries Live! Her favorite bus lines are the 14, 33, and definitely not the 19. Also, fare evasion is not cool, dudes. Find her on Instagram @AlexaVonKickinface.
Chriso is a hairstylist at Honeycomb Salon in Noe Valley and musician who's been living in San Francisco for over 13 years. In the thousands of Muni rides he's taken he's never once adorably fallen into a handsome stranger and begun a romantic-comedy type experience with him.
When not administering tours of the Golden Gate Bridge to Australian tourists, Jesse James spends way too much money on art school and a slightly smaller amount on comic books. He didn't drink until he was 21 and has been trying to make up for lost time ever since. Jesse was the winner of the TOHS Class of 2000's Most Extraordinarily Unique Male Senior Award. Find him on Twitter @loudgayamerica.

Mandy Hu likes bike-commuting, walk-commuting, BART-commuting, and sprinting to the bus stop as the 49 slowly rolls away, in that order. More than once she has accidentally held hands with a stranger while reaching for the strap. By day, she represents public sector unions; by night she can be found telling stories, most recently at The Moth, Queer Open Mic, Write Club, and the Basement Series.
Wonder Dave is a writer and performer from Minneapolis MN where he often rode the light rail to work. Now he lives in San Francisco and can often be found on the 6 or 7. He is the host of competitive storytelling show Story Showdown at the Awaken Cafe in Oakland as well as Seduction Feroce a Burlesque show. He also co-hosts the Tourettes Without Regrets variety show. He believes the worst route in the city is the N during rush hour. Find him on Twitter at @teamwonderdave.
Grab a ticket, pen us in your calendars, and we'll see you on April 16!
Muni Diaries Live
Saturday, April 16, Door: 6 p.m. Show: 7 p.m.
Elbo Room
647 Valencia Street San Francisco
Take Muni there: J-Church, 12, 14, 22, 33, 49, or BART: 16th or 24th St stations