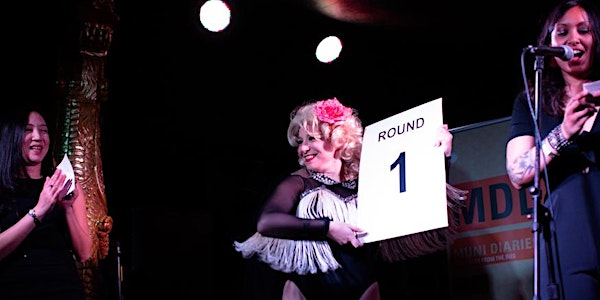 Muni Diaries Live Apr 6 2019
When and where
Location
The Rickshaw Stop 155 Fell St San Francisco, CA 94102
Description
Everyone has a Muni story, and Muni Diaries Live is where we blow up the party talk. Where else can you find strangers yelling, "Back door!" to help you get off the bus, and who else could help catch the Muni Humper? We're bringing our show to the Rickshaw Stop, where you'll hear true and hilarious only-in-SF stories, plus the return of the Muni Haiku Battle where our reigning champion will defend her title. Join us in celebrating all the hilarity, delight, and weirdness that happens on public transit in San Francisco.
A sneak peek of our lineup:
Ady Lady is a writer, performer, and all around funny person. She's written and performed two popular solo shows, Sara Jane Tried to Shoot the President and From Piss to Bliss, which had a fun run at The Marsh. Called "wildly funny" by the SF Examiner, Ady Lady began writing From Piss to Bliss in a desperate attempt to maintain a state of love while riding SF MUNI. She's still working on it. Bless us all.

Alexandria Love is a stand-up comedian, podcaster, and writer from Oakland, Calif. She's performed at some of the best venues in California, including Tommy T's, The San Jose Improv, and Cobb's Comedy Club. For two years she ran a successful podcast called "Here's Why That's Funny," which celebrated its final episode in March 2017. You can find some of Alexandria's writings on hereswhythatsfunny.com.
Kathleen Auterio was born in Boston but has called San Francisco home for 19 years. She is a heavy metal and horror movie fanatic in a constant battle with gravity and reality. She was born with several health issues and is expecting to grow a tail from all the experimental drugs she's taken. When not disregarding medical advice to travel thousand of miles to see a concert, she plays and records with her own band, Beast of England. She's recently told her stories from serious to absurd at The Moth GrandSlam, Risk! Live show and Podcast, Porchlight, Fireside, Spokespeople, Bawdy Storytelling, and more.
Kurt M. Schwartzmann is an artist, printmaker, and photographer. In 2006 he lost all vision in his left eye due to complications of AIDS. He draws en plein air and his limited vision gives him a unique ability to focus in on his subjects and their surroundings, while blocking out external influences. His preferred drawing format is tall and narrow, 3 1/2 " x 16 1/2", because each drawing shows a slice of life as he sees it. You can see his exhibit, Yellow Line - A Tribute to SF MUNI Operators, at The Lighthouse for the Blind and Visually Impaired (1155 Market Street) through May, 2019.
Mc Allen, alongside his two children, has ridden every Muni route end to end in a single summer. His next total Muni endeavor is writing a poem for every route as well. You can find these every week in the Bay City Beacon.
Ned Buskirk is the founder of You're Going to Die, a 501(c)3 nonprofit that brings diverse communities creatively into the conversation of death and dying. He believes that we, as community, desperately need the spaces, online and off, to gather and grieve, to suffer the losses we've endured or stand to lose eventually, to be with one another in this often unspoken truth that we all share: We are all going to die.
Noel von Joo is an artist, filmmaker, and co-founder and director of The Secret Alley. The Secret Alley is a workshop/set created to entice your imagination and inspiration, housing media maniacs, cinephiles, loose handed writers, and creators of the like.
Sureni Weerasekera is a Sri Lankan-born, San Diego-raised, & San Francisco-based stand up comedian, actor and writer. Sureni combines her puppy-like heart with the void where her soul should be, to write captivating material. She is known for her lighthearted, conversational banter to her ruthless, dark jabs that shed light on cultural dilemmas in a palatable, enticing way. She is a contributing writer and actor for "Life of Trying" and runs two of Berkeley's top comedy shows, "Pizza Party" and "Subhumans." Follow her on Instagram @sureni. Check out her upcoming shows at: surenicomedy.com.
Muni Diaries Live
Saturday, April. 6, 2019
Doors: 5:30 p.m.
Show: 6:30 p.m.

The Rickshaw Stop
155 Fell Street, San Francisco
Take Muni there: 21, 47, 49, F, J, K, L, M, N, T. Or take BART: Civic Center Station.
Photo credit: Right Angle Images