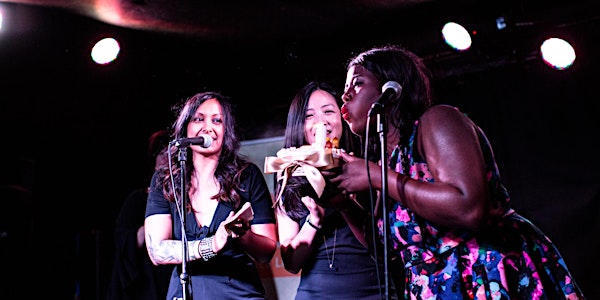 Muni Diaries Live 20 Nov 3 2018
When and where
Location
Elbo Room 647 Valencia St San Francisco, CA 94110
Description
Everyone has a Muni story, and Muni Diaries Live is where we blow up the party talk. We have spent nearly a decade at the Elbo Room, where riders like you have told tales about our fair city, on and off our notorious public transit system. Sadly, the Elbo Room's lease is not being renewed in 2019, and this will be our last show at this San Francisco institution. So let's give the Elbo Room a proper send-off with an evening of stories about the hilarity, and the humanity, that happens on our journeys between Point A and Point B.
As usual, we're bringing back our poets in the Muni Haiku Battle with reigning champion Alexandria Love!
Stay tuned for details on our new venue for 2019 and beyond.
A sneak peek of our lineup:
- Alexandria Love is a writer from Oakland and also the current reigning champion of the Dirty Haiku Battle at Oakland's Tourette's Without Regrets. You can also follow her writing on her website, hereswhythatsfunny.com.
- Meaghan Mitchell is a San Francisco native, traveler, and writer for Hoodline.
- Irene McCalphin is a writer, singer, burlesque dancer, model, speaker, kinkster, and geek.
- Joe Kukura is a long-time San Francisco journalist whose work you have seen in Thrillist, SF Weekly, SFist, and more.
- Matt Shapiro is a musician and the co-owner of the Elbo Room. After working at the Elbo Room for years as the manager and booker, Matt and co-owner Erik Cantor purchased the bar in 2010.
- Nuala Sawyer is the news editor at the SF Weekly. She writes about a little bit of everything: City Hall, the courts, homelessness, immigration, housing, crime and transportation.
- Rachel Lark is a San Francisco based singer/songwriter and multi-instrumentalist. Her music has been featured on The Savage Lovecast and Salon.com and she tours regularly throughout the U.S. and Europe.

Grab a ticket, and we'll see you at the Elbo Room on Nov. 3!
Muni Diaries Live
Saturday, Nov. 3, 2018
Elbo Room
647 Valencia Street, San Francisco
Take Muni there: J-Church, 12, 14, 22, 33, 49, or BART: 16th or 24th St. Stations
Photo credit: Right Angle Images