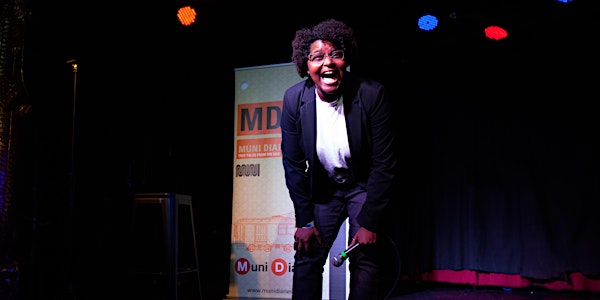 Muni Diaries Live 10th Anniversary Show
When and where
Location
Elbo Room 647 Valencia St San Francisco, CA 94110
Description
Muni Diaries is celebrating 10 years of documenting life in our fair city, as viewed through the eyes of everyday commuters like you. For the last decade, more than 4,000 San Franciscans submitted stories about the hilarity, and the humanity, that happens on our journeys between Point A and Point B. There were so many slices of life that needed to be told, we expanded to include stories that happen all over the 7x7: on Muni and off. We couldn't have done this without you, so join us in lighting all 10 birthday candles, listening to great stories, and, as always, cheering our poets in the Muni Haiku Battle.
A sneak peek of our birthday lineup:
- Alexa Von Kickinface, popular San Francisco burlesque emcee and performer. She co-hosts San Francisco's most infamous and beloved monthly burlesque show, Hubba Hubba Revue.
- Alexandria Love, Muni Haiku Battle reigning champion. Alexandria is a stand-up comedian, podcaster, and writer from Oakland, California. She's performed at some of the best venues in California, including Tommy T's, The San Jose Improv, and Cobb's Comedy Club. For two years she ran a successful podcast called Here's Why That's Funny, which celebrated it's final episode in March 2017.
You can find some of Alexandria's writings on hereswhythatsfunny.com.
- Gwen Carmen, storyteller and cancer survivor. She has told stories at The Moth and is a long-time resident of her beloved Castro, with its cast of characters such as Harvey Milk, the singer Sylvester, and countless others. While riding the #24 to go to the hospital for chemotherapy and radiation, Gwen found a personal mission on her bus.
- Heather Knight, writer and columnist at the San Francisco Chronicle. She writes the On San Francisco column and is riding all Muni lines in one day with her colleague Peter Hartlaub.
- J. W. Friedman, musician, podcaster, and host of "I Don't Even Own an Television," a podcast about bad books.
- Jason Bayani, writer, poet, and artistic director for Kearny Street Workshop (the oldest multi-disciplinary Asian Pacific American multi-disciplinary arts organization in the country).
- Jessica Cohen, illustrator, an infrequent performer/fortune teller. She also works for Dark Garden Corsetry in SF. Jessica grew up in the East bay and went to college in San Francisco. She has spent many hours on Muni, BART and AC Transit. Public transportation provides a rich ground for her family's pastime of storytelling.
- JiaJing Liu, writer, poet, translator, and lover of pocket-sized books.
- Parker Gibbs, "scene champion and loudmouth about town," who you may also know as "DJ Foodcourt."
- Peter Hartlaub, writer, reporter, and pop culture critic at the San Francisco Chronicle. He and Heather Knight are riding all Muni lines in one day.
Grab a ticket, and we'll see you at the Elbo Room on April 21!
Muni Diaries Live 10th Anniversary Show
Saturday, Apr 21, 2018
Elbo Room
647 Valencia Street, San Francisco
Take Muni there: J-Church, 12, 14, 22, 33, 49, or BART: 16th or 24th St. Stations