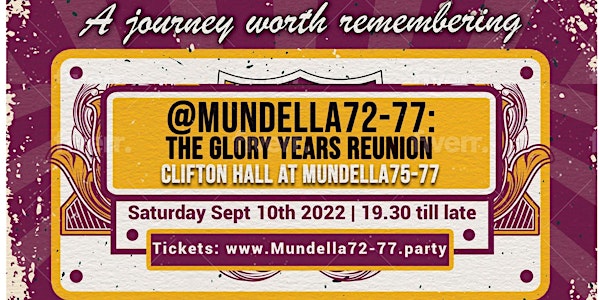 Mundella Class of 72-77 Half a Century Reunion
All MUNDELLANS class of 1972-1977 | 50th Anniversary Reunion | Buy your ticket @ £40 pounds | Back together after Half a Century
When and where
Location
The Barley Mow Carrington Street Nottingham NG1 7EH United Kingdom
About this event
In September 1972 a group of auspicious individuals became the future Mundella class of 77.
Two groups started in '72 one at Mundella and another at Clifton Hall Joining in 1975 both become the Mundella Class of 77.
Next year it will be 50 years when these groups met for the first time. An event that needs to be remembered with one hell of a party.
The Event will cost £40 pounds per person and include Drink and Food, a great party theme, time to talk and catch up, music to listen to and time for a little dancing to the music we grew up with.
Email mundella50@outlook.com for discounts for those feeling the financial pressure of life.
Join us at The Canalhouse, 1st floor room and share your stories of the last 50 years
Staying in touch:
If you joined Mundella or Clifton Hall in 1972, moved to Mundella and want to join your fellow students then this is the place to come and share your stories. https://www.facebook.com/groups/mundellaclassof77
If Facebook is not your thing then email us at mundella50@outlook.com and we will keep you updated