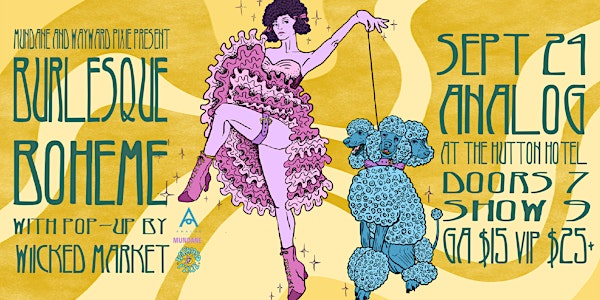 Mundane Mag Burlesque
Burlesque Bohème combines the old world glamour of Paris' Belle Époque era with the innovative ideas of today!
When and where
Location
Analog at Hutton Hotel 1808 West End Avenue #2nd Floor Nashville, TN 37203
About this event
ALL ANALOG SHOWS ARE 21+
DOORS OPEN @7:00pm
SHOW STARTS @9:00pm
Burlesque Bohème combines the old world glamour of Paris' Belle Époque era with the innovative ideas of today!
This cast will deliver high caliber talent as well as a captivating stage presence in everything they do! With a variety of acts, this show is sure to entertain you with singing, comedy, dancing, and more!
Come shop from your favorite local vendors carefully selected by The Wicked Market before and after the show and grab a drink from some of the hottest local breweries and brands in town!
PERFORMANCES BY
Wayward Pixie @wayward_pixie
Wayward Pixie is a wandering showgirl with a true passion for the arts . She loves to express herself creatively through beautiful movement and she has a penchant for all things unconventional. Her acts range from sultry and ritualistic to comedic and campy and she's never afraid to throw some social commentary in there. Specializing in fire dance, fusion dance, and burlesque, it is always a delight to see her take the stage!
Betty Vou Plaît @vouplait
Betty may be smaller than they appear on the internet, but this pint-size pony is twice the fun. She's a mover, a shaker, a risk taker and one of the founding members of Nashville's all black burlesque troupe, Back to Black Burlesque.
Eden L. @guard_eden_l
Eden L has always been a lover of burlesque, but her real burlesque journey started early 2021 with "The Tipsy Teasers". She often jokes about how she manifested it. Anyway to quote another performer, an undeniable great, "You might like to hear something from us nice and easy,But there's just one thing you see, we never ever do nothing nice and easy. We always do it nice and rough"
Caroline Zander @carriegantdance
Plant nerd by day, floor slayer by night ….Caroline Zander is a nationally touring Nashville based performer. She is a pole dance instructor at Alethea Austin's The Chrome Bar and one quarter of the sexlarious dance troupe, CGDC. Whether it's her comedy stage act or her floor and pole prowess, you won't be able to peel your eyes off this one.
Emcee: Viola Vainglory @viola.vainglory
Stage kitten: Jenna Rose @jenna.na.na [jenna.na.na]
She's a California girl from the forest with a background in bellydance and a soft spot for musicians. She's single, gentlemen!