Multiplex Bead immunoassay detection
About this event
Multiplex Bead immunoassay detection
The Luminex xMAP technology uses digital signal processing capable of classifying polystyrene beads (microspheres) dyed with distinct proportions of red and near-infrared fluorophores. These proportions define 'spectral addresses' for each bead population. As a result, up to one hundred different detection reactions can be carried out simultaneously on the various bead populations in very small sample volumes.
Program
[SEMINAR]
930AM - 1100AM
"PrimePlex Multiplex Immunoassay Platform - How it works and how can it helps you to generate more informative data"
[LAB DEMO SESSION]
1130PM - 100PM
"Understand in depth how the sample is process and running using our Magpix - Unreveal the secret behind Multiplexing"
* REDEEM YOUR MULTIPLEX VOUCHER (-RM500) DURING DEMO SESSION
For registration and course details kindly contact Nura at 017-3051076 / nura@primanexus.com.my
Account Details
Company Name: PRIMA NEXUS SDN BHD
Nama Bank : CIMB BANK BERHAD
No Akaun   : 8006968490
Please email us a copy of your payment receipt at events@primanexus.com.my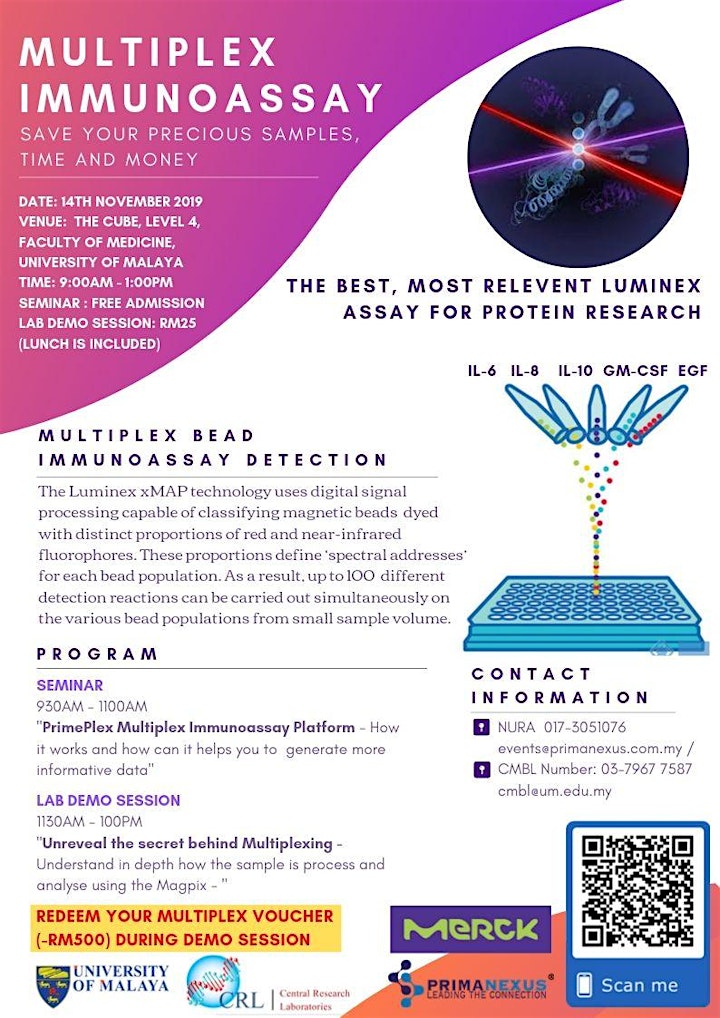 Organizer of Multiplex Immunoassay Seminar and LAB Demo Session
At PrimaNexus, we collaborate with our client, bringing together business insight, advanced research and technology to give them a distinct advantage in today's rapidly changing environment.

PrimaNexus's multiracial member is a dedicated research resource management team in diverse research, therapeutic and diagnostic areas. We work with organisations and institutions that are changing the world we live in today. The people we work with play a vital role in beating illnesses such as Cancer, HIV, Aids, Parkinsons, Alzheimer's, Heart Disease, Diabetes and so on. Without their work, we would be hundreds of years behind in the battle to beat these debilitating and killer diseases.
FootNote: 
The organiser has the right to make any amendments that deem to be in the best interest of the course and to cancel the event if insufficient registrations are received a month before event commencements date.
Seats are limited.
Photographs, pictures, films and other pictorial recordings taken in any medium including electronically during the event may be used for publishing and broadcasting in any form (including CD/DVD, website, publication, poster, brochure, flyer, presentation) for advertising, marketing, informational or promotional purposes [OR] teaching and research purposes.