MULTIPLE MODERNITIES: FROM RICHARDSON TO WRIGHT AND BEYOND THE ARTS AND CRAFTS MOVEMENT IN PITTSBURGH AND ENVIRONS

Thursday, September 17, 2015 at 8:30 AM

-

Sunday, September 20, 2015 at 4:30 PM (EDT)
Event Details
MULTIPLE MODERNITIES: FROM RICHARDSON TO WRIGHT AND BEYOND
THE ARTS AND CRAFTS MOVEMENT IN PITTSBURGH AND ENVIRONS
IAC 17th Annual Arts and Crafts Conference
Thursday, September 17 – Sunday, September 20, 2015
For further information call: 646-485-1952 or email: info@artinitiatives.com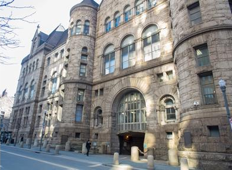 For the 17th Annual Arts and Crafts conference, Initiatives in Art and Culture visits Pittsburgh and environs to explore the multiplicity of expressions of the Arts and Crafts movement in various media ranging from architecture to stained glass to painting. Our approach perforce involves a multiplicity of sources and styles, rejecting the notion of a single Arts and Crafts aesthetic. Particularly strong influence was derived from Boston and Philadelphia and from the Tonalist and Aesthetic movements. Notably, Pittsburgh was the only city to boast two Stickley retail stores.
The engine that fueled this burgeoning movement was Pittsburgh's increasing prosperity and role as a place of manufacture. By the 1857, Pittsburgh's 1,000 factories were consuming 22 million coal bushels yearly, and the American Civil War boosted the city's economy with increased iron and armament demand. Andrew Carnegie began steel production in 1875 at the Edgar Thomson Steel Works in North Braddock, PA which evolved into the Carnegie Steel Company; that company was itself sold by Carnegie in 1901 to J. P. Morgan who formed U.S. Steel. By 1911, Pittsburgh was the nation's 8th largest city, accounting for between a third and a half of national steel output.
The conference will begin at the Carnegie Museum of Art (CMOA) with talks and gallery visits; the opening evening is planned to take place at the Frick Art & Historical Center with a reception and guided tours of Clayton, the family home of Henry Clay Frick in Pittsburgh at the turn of the 20th century. The structure was renovated in 1893 in the Chateau style by Frederick J. Osterling; its interior maintains an astonishing degree of integrity providing a glimpse into life in Gilded Age Pittsburgh.
Among the sites we visit are Frank Lloyd Wright's Fallingwater (1936–1939) and Kentuck Knob. Stretching out over a 30' waterfall, Fallingwater was designed as a summer house for Wright's clients, the Kaufmann family, who were prominent retailers. As friends of the Kaufmanns, the Hagans asked Wright to design a deluxe Usonian home for them in which they lived for almost 30 years. Kentuck Knob (completed, 1956), a one-story dwelling set on a challenging site immediately south of the hilltop, nestles into the hillside (allowing the building to grow out of, rather than dominate, its setting) and is oriented for optimal solar exposure.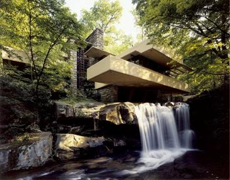 Pittsburgh proper has an abundance of riches. Among the sites to be visited are H. H. Richardson's Richardsonian Romanesque Allegheny County Courthouse (along with the old Allegheny County Jail) completed in 1888; the present home of the Duquesne Club, founded in 1873, a Richardsonian Romanesque structure designed by Longfellow, Alden, & Harlow which was opened in 1890 and features an addition by Janssen & Cocken (1931). Among the many churches to be visited is the First Presbyterian Church (1903) designed by architect Theophilus Parsons Chandler. We also visit private collections during our four days in Pittsburgh and environs, among them collections housed in architecturally significant buildings.
Among secured speakers at this preliminary stage are: Richard Guy Wilson, Commonwealth Professor of Architectural History, University of Virginia; Lu Donnelly, principal author of Buildings of Pennsylvania: Pittsburgh and Western Pennsylvania (2010); Julie L. Sloan, stained-glass consultant in North Adams, MA, who has written books and articles on stained glass history and conservation; Rachel Delphia, The Alan G. and Jane A. Lehman Curator of Decorative Arts and Design, CMOA, Albert M. Tannler, Historical Collections Director, Pittsburgh History & Landmarks Foundation; Roy Young, Curator of Education. Fallingwater; Dawn Reid, Associate Curator of Decorative Arts, Frick Art & Historical Center; and Heather Semple, Art Director, The Duquesne Club.
We anticipate a designated room block at the Wyndham Pittsburgh University Center, 100 Lytton Avenue, Pittsburgh, PA  15213 which is within walking distance of several local attractions including the Carnegie Museum of Art.
Images: Top, Henry Hobson Richardson, Allegheny County Courthouse (completed, 1888); Bottom, Frank Lloyd Wright, Fallingwater (1936-39), View from a low angle, near the main waterfall, from southwest.
What is the refund policy? No refunds will be given after Monday, September 7, 2015.
Program subject to change.

When & Where

Pittsburgh

Pittsburgh, PA


Thursday, September 17, 2015 at 8:30 AM

-

Sunday, September 20, 2015 at 4:30 PM (EDT)
Add to my calendar
Organizer
Initiatives in Arts and Culture (IAC) is an organization committed to educating diverse audiences in the fine, decorative, and visual arts. IAC's primary activities are conferences, publications, and exhibitions. These take an interdisciplinary approach, considering issues related to fabrication, connoisseurship, cultural patrimony, cultural preservation, and the future of culture. Particular areas of emphasis include American painting, the history of frames, the Arts and Crafts movement, the influence of Asian cultures on American fine and decorative art, and the history and future of fashion and materials. IAC's projects have been supported by a wide array of individual, corporate and foundation funders.