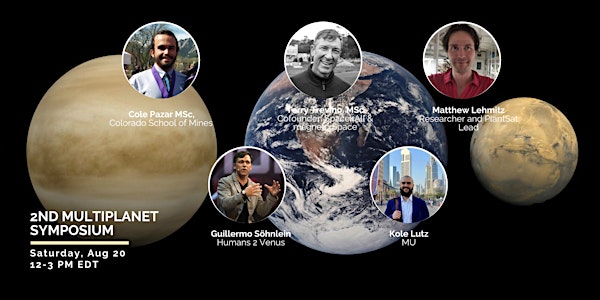 Multiplanet Symposium 2022
A virtual 4-hr webinar that unites 15-20 researchers to present leading systems that hold great potential to make life multiplanetary
About this event
The Multiplanet Symposium (MUS) is an interactive virtual webinar that unites 15-20 researchers and leader with the space community to present leading systems and methods that hold great potential to make life multiplanetary and to sustain a human presence during the first 5-10 years of settlement. The four hour annual online conference from 12-4pm EDT on Sat, Aug 20 is remote and free to participate and attend.
The Symposium is dedicated to the development of R&D to enable life and machines to flourish in habitable biospheres on planet Mars. Alumni, faculty, researchers, partners and the global space community are encouraged to join and present their research and developments.
Learn More
www.marsu.space/symposium-2022
https://www.marsu.space/abstract-submission
Schedule
12:00 - 12:10pm Kole Lutz MU Opening Remarks
12:10 - 12:30pm Guillermo Sohnlein Humans 2 Venus
12:30 - 12:50pm Naga Praveen Babu Mannam NMIPCS TiHAN IIT Hyderabad Insect Flapping Wing Propulsion for Exploration of Low Dense Martian Atmospheres
12:50pm - 1:00pm Break
1:00 - 1:20pm Cole Pazar Colorado School of Mines The Case for Terraforming Technologies Reversing climate change with technologies that enable humans to live on Mars.
1:20 - 1:40pm Matthew Lehmitz University of New Mexico Green Spots in Red Dirt. presentation outlines a simple and efficient mission concept to put plants on Mars in short order. It involves sending a self-contained greenhouse similar in design to a terrarium to Mars and ensuring that it grows.
1:40 - 2:00pm Terry Trevino Magneto Space & MU Magneto Space, R&D, PEMF/NNMF on Plants/Biology
2:00 - 2:10 pm Break
2:00 - 2:10 pm Break
2:10 - 2:30 pm Kole Lutz MU Mars Microbial Database
2:30 - 2:50 pm Guest Speaker