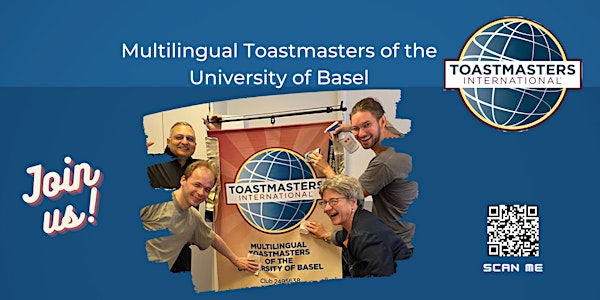 Multilingual Toastmasters Club of the University of Basel
Location
Rosshofgasse 2
2 Rosshofgasse
4051 Basel
Switzerland
Multilingual Toastmasters Club of the University of Basel
About this event
Multilingual Toastmasters Club of the University of Basel celebrates 10 Years in 2022!
Founded on October 27, 2012, it is the only Toastmaster in Switzerland addressing native German and English speakers. The club is open to anyone interested in rhetoric: students and professionals, Swiss and expats.
Why join Toastmaster?
Delivering speech in public can sometimes be daunting. Nothing crushes fear more than confronting it head-on.
Toastmasters is a supportive place to develop your public speaking and communication skills – whichever level you may be. Each meeting is a learn-by-doing experience where we can learn from each other and you can uplift your own presentation skills, increasing self confidence while sharpening leadership abilities and learning how to improvise. Last but not least, you will be able to expand your network in the area of Basel.
If you are curious to learn more, you can join two sessions before making any commitment to join. Be a guest and have the full experience of what it means to be part of a multilingual, international and multicultural group! To join just contact us via email!
Where can you find us?
We are meeting in person again at the University of Basel. Our meetings take place regularly on Thursdays every two weeks from 7:30pm to 9pm. Meetings are followed by a casual drink at the Restaurant Harmonie around the corner for those who want to join!
You wish to learn more, feel free to contact us
Contacts:
Sydne Saccone mobile 079 1201053
Email: basel.multi@gmail.com
Social Media: https://www.linkedin.com/company/multilingual-toastmasters-of-the-university-of-basel
Facebook: https://www.facebook.com/MultilingualToastmasters
German translation
Multilingual Toastmasters Club der Universität Basel - 2022 feieren wir unser 10-jähriges Jubiläum!
Diser einzigartigen Toastmasters Club wurde am 27. Oktober 2012 gegründet. Er richtet sich auf deutsch- und englischsprachige Muttersprachler:innen aus. Dieser Club ist offen für Alle welche ein Interesse an der Rhetorik und Spass an den Sprachen haben: Student:innen, Berufstätige, Schweizer:innen und Expats.
Warum sich bei den Toastmasters einschreiben?
Ein Vortrag oder eine Rede in der Öffentlichkeit halten, kann ein Unbehagen auslösen. Die beste Lösung die Ängste umgehen, ist diese direkt zu konfrontieren.
Toastmasters ist ein unterstützender Club um deine Vortrags- und Kommunikationskompetenzen zu stärken und weiterentwickeln: egal auf welchem Niveau. Jedes Clubtreffen ist ein Moment des Lernen - lernen voneinander. Dabei kannst du deine Skills üben, Selbstvertrauen stärken und gleichzeitig dabei Leadershipfähigkeiten schärfen wie auch die Improvisation üben. Zusätzlich kannst du dein Netzwerk in der Region Basel erweitern.
Falls du neugierig geworden bis, kannst du gerne an zwei Clubtreffen mitmachen bevor du dich verpflichtest. Du bist herzliche eingeladen als Gast teilzunehmen und erlebe selber was es bedeutet Teil von einem mehrsprachigen, internationalen und multikulturellen Club zu sein. Um mitzumachen, schreibe uns kurz ein Mail!
Wo kannst du uns finden?
Wir treffen uns wieder in Persona an der Universität von Basel. Unsere Treffen finden regelmässig (zwei Mal monatlich) an den Donnerstagabende von 19:30-21:00 Uhr statt. Unsere Treffen runden sich, freiwillig, mit einem informellen Umtrunk im Restaurant Harmonie (gleich um die Ecke) ab.
Kontaktpersonen:
Sydne Saccone 079 120 10 53
Email: basel.multi@gmail.com
Social Media: https://www.linkedin.com/company/multilingual-toastmasters-of-the-university-of-basel
Facebook: https://www.facebook.com/MultilingualToastmasters