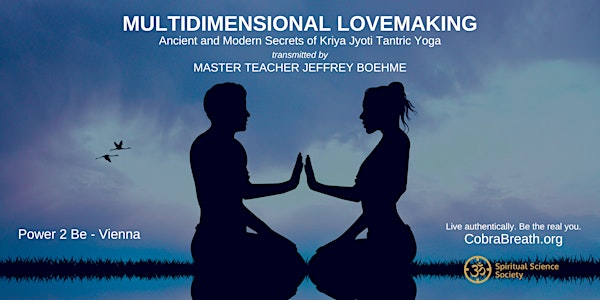 MultiDimensional Lovemaking - Vienna, Austria
Join us for a rare presentation of the art and science of Kriya Jyoti Tantric Yoga.
When and where
Location
Power2Be Alser Straße 26 111 1090 Wien Austria
Refund Policy
Contact the organizer to request a refund.
Eventbrite's fee is nonrefundable.
About this event
Explore the connection between your sexuality and spirituality
Expand intimacy with yourself and your partner
Singles and couples welcome.
Same sex couplses welcome.
There will be no nudity in this workshop.
Boundaries will be honored.
You can practice alone. There will be no pressure to 'hook up' with other students.
Singles attendance - 325€
Couples/groups of two - 610€
NOTE: Sliding scale is availabel to sincere students who are financially challenged. Reach out to Jeff@SpiritualScienceSociety.org
NOTE: Credit card payments are made through this page. Eventbrite adds a surcharge.
For additional payment options (cash, bank transfer, etc) write to jeff@SpiritualScienceSociety.org.

Love is the Most Powerful Force in the World.
In a safe sacred space, you will:
learn principles of Tantric practice (single and dual cultivation)
learn practices to cultivate and transmute sexual energy as individuals and couples
learn principles and practices of lovemaking for spiritual growth
understand the Maha-Tantra sexual cycle
learn to cultivate and circulate orgasmic energy for healing and spiritual experience
learn to build sexual ecstasy toward spiritual ecstasy
learn to expand your orgasmic capacity
learn how orgasmic energy purifies and strengthens your emotional body
learn to connect multidimensionally with yourself and your partner
learn to expand pleasure for yourself and your partner
learn to expand your intimacy with yourself and your partner
ask and answer questions
much more...
What is MultiDimensional Lovemaking?
MultiDimensional Lovemaking means exactly that: connecting to and exchanging love with your lover on multiple dimensions. As you connect with your lover in deep intimacy, you come to experience your lover's joys, wants, needs, and desires. As you intuitively respond, you will find that you experience your lover's pleasure, as well. This experience is called sympathetic resonance.
Sympathetic resonance is one of the secrets of MultiDimensional Lovemaking and will expand your awareness faster than you imagine possible.
To learn more about MultiDimensional Lovemaking, visit CobraBreath.org

Tantra: The Misunderstood Spiritual Science
Tantra has been misunderstood and undervalued for decades. I am Reclaiming Tantra for the transformative spiritual science that it is.
Yes, Tantra leads to exquisite sexual experiences...
Yes, Tantra can create depth and intimacy in relationships...
Yes, Tantra can lead to deep emotional healing...
But, those results are just scratching the surface. They are the elementary level of Tantra.
Tantra is a high spiritual practice. With conscious practice and intention, tantra leads to incredible personal growth and authentic spiritual experience.
Babaji's Kriya Jyoti Tantric Yoga incorporates the sexual/orgasmic Creative Life Force and balances the Divine Feminine and Masculine energies. This combination accelerates spiritual growth, attaining true yogic states of awareness more quickly than you may imagine.
In Kriya Jyoti Tantric Yoga , orgasmic energy is cultivated through sexual stimulation and consciously circulated through the nadis (energy circuits), expanding and strengthening them, purifying and clearing psychic debris. As Feminine and Masculine energies come into balance, Kundalini rises spontaneously, flooding the third ventricle of the brain (Cave of Brahma), opening the crown chakra, bringing authentic spiritual experience.
Tantra is a spiritual science that uses Love to fuel your path to enlightenment. Your physiology is literally rewired, expanding your perception of the world around you and in you.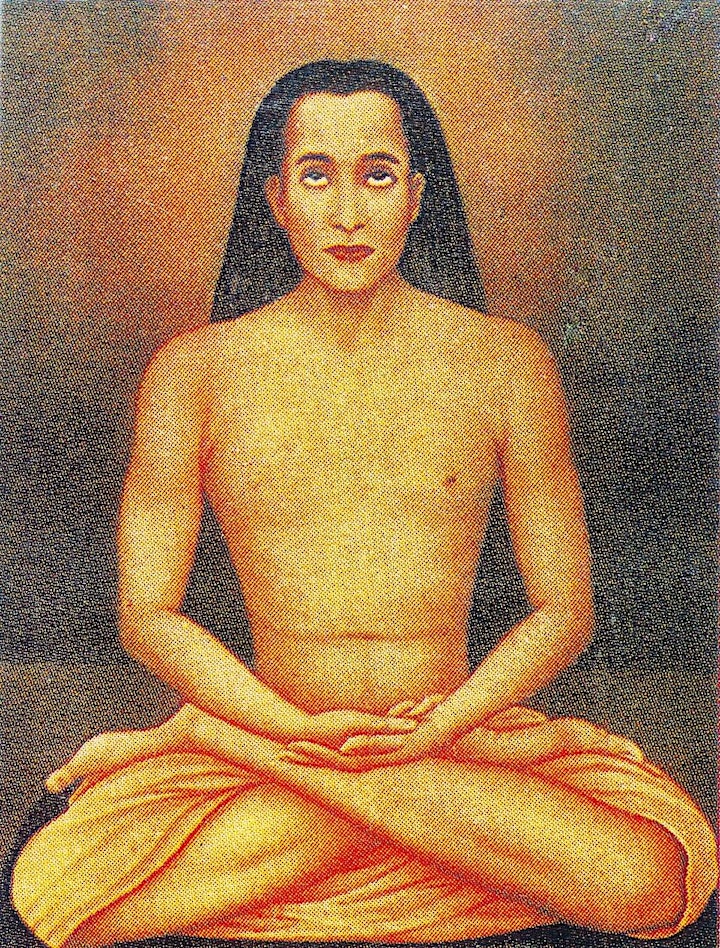 Babaji Nagaraj - The Founder of Kriya Yoga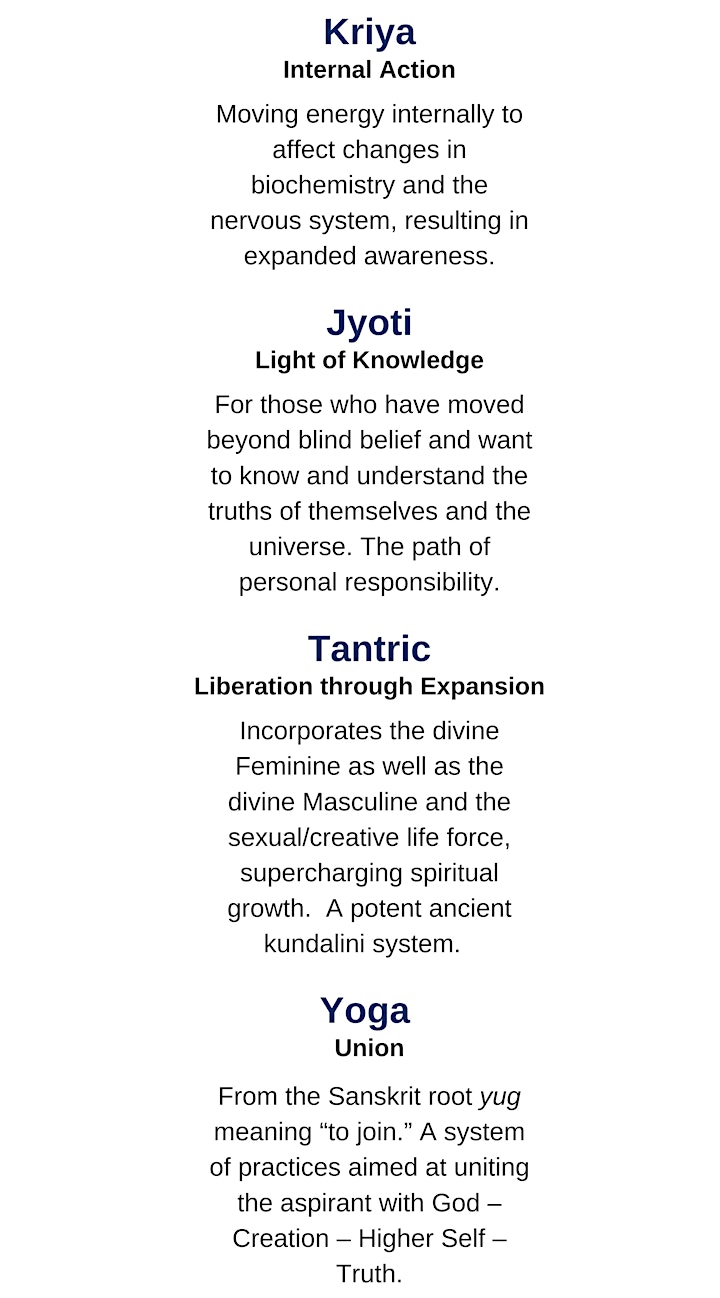 Kriya Jyoti Tantric Yoga - Ancient Kundalini Science
Kriya Jyoti Tantric Yoga is an ancient spiritual science that directly affects your body and brain chemistry. By systematically cultivating divine feminine and masculine energy, creative/sexual life force and kundalini energy, you literally evolve your nervous and endocrine systems, activating dormant abilities and perception mechanisms. As your perception evolves, your world evolves, your life evolves.
Regular practice accelerates evolution on physical, emotional, mental and spiritual levels. You don't have to believe in Kriya Yoga any more than you have to believe in the weights at the gym. If you lift weights, you will get stronger. If you do Kriya practices, you will evolve.
Wounds rise up to be healed. Complexes are resolved. Blocks, boundaries and inhibitions are cleared. Space is opened for energy to flow freely and unfiltered through your being. The true You manifests in joy, power and fulfillment. Spiritual experiences occur spontaneously.
It is a privilege to share these principles and practices with dedicated aspirants. I am humbled to be asked to do so by my teachers. It would be an honor to share them with you.
Much Love to you,
Master Teacher Jeffrey Boehme

Master Teacher Boehme and Goswami Sunyata Saraswati
About Master Teacher Jeffrey Boehme
Master Teacher Jeffrey Boehme received instruction in the Vama Marg Path of Babaji's Kriya Jyoti Tantric directly from his mentor and friend, Goswami Sunyata Saraswati. In 1999, Jeffrey received hands-on transmission of the Kriya Lineage from Sunyata and was consecrated as a Kriya Yoga Initiator focused on the Kriya Kundalini Pranayam (Cobra Breath).
In addition to his responsibilities to the Kriya Lineage, Jeffrey also practices and teaches potent spiritual techniques of multiple traditions. He has synthesized a powerful system that produces dramatic results in a short time, allowing aspirants to grow spiritually while participating fully in family and society. He founded the Spiritual Science Society to share these teachings.
Master Teacher Boehme currently teaches internationally and has held classes throughout Europe, the USA and Egypt. In addition to his passion for spiritual growth, Jeff has a deep love of permaculture and regenerative agriculture. He is currently exploring possibilities of combining these elements into a community of the future, featuring self-sustaining permaculture design,a spiritual training center and agricultural education.
To learn more about Jeff and his offerings, visit CobraBreath.org