The Columbia Venture Community is Excited to Announce our First Global Virtual Conference.
About this Event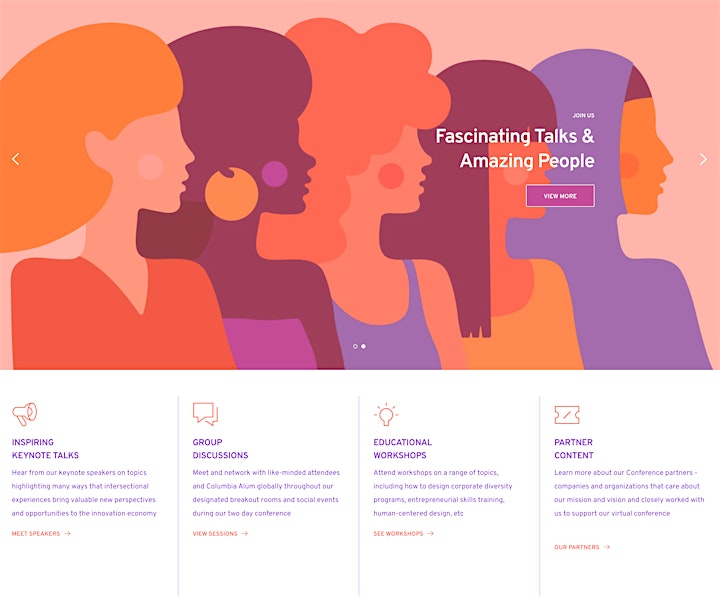 Columbia Venture Community is thrilled to invite you to our inaugural venture conference, Multicultural Mainstream : Reimagining Humanity and Technology. Join us on March 5th and 6th, 2021 for compelling content, conversations with industry leaders, and opportunities to connect with fellow CVC'ers.
Expect content that challenges you, and gets you ready for the big restart. Expect conversations that engage tough and necessary questions about equity, justice, how we interact as a society and at work, plus how we start up companies.
We promise a conference that stimulates thought long after the event ends.
You'll leave the conference with:
New ideas inspired by our keynote speakers and panelists,
Thought provoking conversations with other community members,
A better understanding of how to innovate and implement your ideas, and
New friends and contacts to grow your network
Conference Agenda:
Creating Corporate Diversity Programs, with William Crowder, Aperture VC Founding Partner and Morgan Stanley Multicultural Innovation Lab Entrepreneur in Residence
Diversity in the Venture Capital Community, with Richelle Parham, Managing Director at WestRiver Group, ex-CMO at eBay
Future of Women in Venture - moderated by Stacy Tarver Patterson, Managing Director at West Ventures, Entrepreneur in Residence at Columbia Startup Lab, and joined by Bea Arthur, Founder and CEO of The Difference
Startup Landscape For Diverse & Female Founders - moderated by Shanita Nicholas, co-Founder of Sip & Sonder and LA Black Investors Club
Social Entrepreneurship - moderated by Michelle Kwok , Co-founder & CEO at FLIK, and joined by Alana Mann, principal at Cultivation Capital
Digital Health - moderated by Kingsley Ndoh , Clinical Assistant Professor, Global Health, Co-Founder at Regista, and joined by Sumit Mukherjee, Ph.D, Senior Applied Scientist / Researcher at Microsoft AI for Good Research Lab, and Crystal Evuleocha, CEO & Founder of Kiira Health
Innovation in Wholesale Banking, moderated by Akrati Johari, Co-Head of North America Digital Innovation at JPMorgan Chase & Co.
The Next Normal: Sneak peek into the Post Pandemic World of Retail - moderated by Lindsay Trombley , CEO and co-founder of Wovn
The ROI on UN SDGs - moderated by Steven Rochlin, CEO of Impact ROI, and joined by Esther Kim, Founder & CEO of ConsiderBeyond
New Business Models in Sustainability - moderated by Lane Jost, 10 year veteran of impact investing, from corp foundations like Santander to thought leadership and events at PwC
Virtual Wine Tasting and Breakout Session - unique opportunity to meet and network with fellow CVC'ers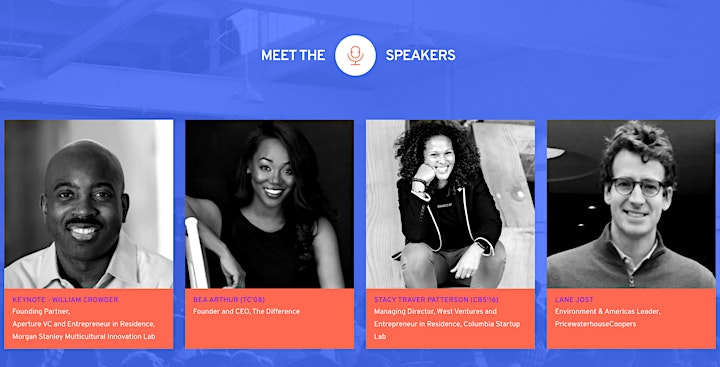 Some of Our Marketing Partners

CSforALL is a central resource for individuals and organizations interested in K-12 computer science (CS) education. We connect providers, schools and districts, funders, and researchers working toward the goal of providing quality CS education to every child in the United States.
CSforALL's mission is to make high-quality computer science an integral part of the educational experience of all K-12 students and teachers and to support student pathways to college and career success.
More about CVC
Columbia Venture Community is a network of more than 6,000+ Columbia alumni interested in all aspects of entrepreneurship and innovation. Founded in 2006, CVC has hosted more than 400 events around the world. Today, CVC hosts multiple global programs, in-person and virtual events, and an online community for members to share resources.
Click here to become a member via Meetup.com, our member management platform.
CVC is officially a "shared interest group" (SIG) under the Columbia Alumni Association (CAA) and works closely with the University.
Find us on the web:
Website | Medium | Facebook | Linkedin
All ticket sales are final. We primarily use donation-based ticketing to ensure the quality of events we continue to organize for you.