Multicultural and First Generation Knights Networking Reception (2014)

Monday, January 27, 2014 from 5:00 PM to 7:30 PM (EST)
Event Details
What:     Multicultural and First Generation Knights Networking Reception
Where:  CFE Arena
When:    Monday, January 27, 2014
                5:00 p.m. – 7:30 p.m.
Why:       Meet and network with employers recruiting at UCF and learn about job opportunities, internships and the benefits of networking.
The Multicultural and First Generation Knights Networking Reception is an opportunity for knights representing diverse and often underrepresented campus populations to engage with premiere employers who recruit at UCF.
This event salutes the rich diversity among the UCF community and encourages current students as well as alumni to immerse themselves in career planning and development activities. 
Recruiters who are attending the Spring Career Expo on January 28, 2014, will be invited to participate. 
Many conclusions may result in attending the reception including:
·         Job Opportunities
·         Connections with potential mentors
·         Experience networking with professionals
·         Opportunities for further exploration through information interviews, job shadowing and/or internships
Employers registered:
https://ucf-csm.symplicity.com/events/students.php?mode=list&cf=SP14Networking
Appropriate dress (professional / business casual) required for admittance to the reception. 
Students/Alumni wearing sneakers, sandals, flip flops, slides, slippers, house shoes, shorts, denims, or t-shirts will not be admitted into the event.
Hone your networking skills and be prepared to make a great impression at the reception by attending:
01/14/14            Shine at Career Expo Workshop                                                  11 am – 12 pm
Location: Career Services (CSEL Building)
01/15/14            How to Stand Out to Employers Workshop                                   11 am – 12 pm
Location: Career Services (CSEL Building)
01/15/14            Expo Prep: Resume Critiques, Workshop & Infomerical Practice      12 pm – 2 pm
Location: Student Union, Pegasus Ballroom
1/22/14             Mock Interviews for MASS students: ½ hour appointments               1 pm – 3:00 pm
Location: Career Services (CSEL Building)-2nd floor
Must pre-register through KnightLink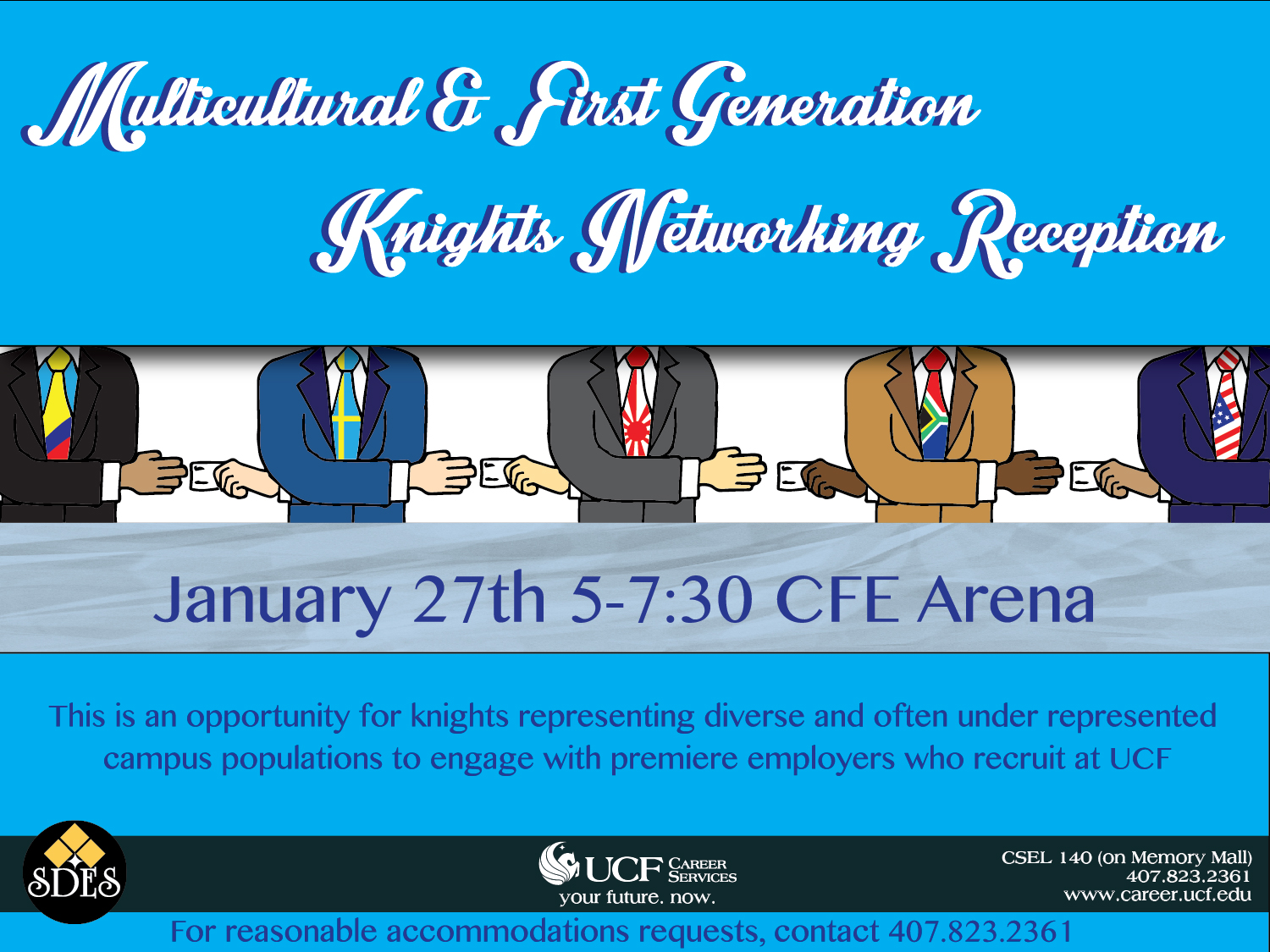 Organizer
Hosted by: UCF Career Services and Multicultural Academic & Support Services
Hosted by:  UCF Career Services and  Multicultural Academic & Support Services
Multicultural and First Generation Knights Networking Reception (2014)