Mulqueen Sewing's First Annual Virtual Sewing, Quilting & Embroidery Expo
Save now more than ever! Leading industry companies will discuss what is new in the world of Machine Quilting & Machine Embroidery.
About this Event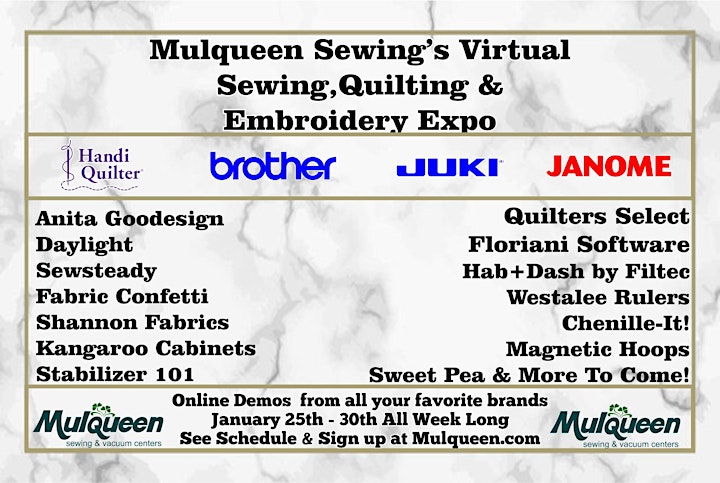 We are so excited for our upcoming virtual event!
As you may have heard the Rusty Barn Sewing & Craft Show has been postponed.
So, we have decided to bring our booths normally shown at this show to the comfort of your home... Virtually.
Register now for complete schedule of events and to be entered for a chance to win prizes valued over $10,000!
We will be going live - January 25th, 26, 27, 28, 29 and 30th
10:00 AM - 4:00 PM
Each day we will go live with at least 4 exciting companies to discuss what is new, share hints and tips, and most importantly offer exclusive event specials!
Don't forget we are giving away prizes valued over $10,000. So register now and enjoy watching our live events.
Top 3 Reasons To Register
1.Register now and you will be automatically entered into our daily giveaways! We will be giving away prizes valued over $10,000...
2. You will receive the schedule of all of the 20+ live events! With the schedule you will know what times/companies you don't want to miss!
3. Receive specials offered in advance and how to take advantage of them!
All the fun starts
January 25th at 10:00 AM
Live on Facebook & YouTube
You will be able to see all of this live on Facebook & YouTube!
To view the events live visit our Facebook page and our YouTube channel. We will give you the links you need to join in the fun closer to January 25th.
-If you are interested in Anita Goodesign we will have Taylor discussing all of the ALL ACCESS Renewal Specials Tuesday January 26th at 1 pm Arizona time...
We will send you the entire calendar of events by January 20th.
If you have any questions please email darren at darren@mulqueen.com or call 480-545-0778.
*see store for complete detail on the giveaways. Some restrictions will apply.