Location
Harbor Breeze Cruises
100 Aquarium Way
Long Beach, CA 90802
Sales Have Ended
Ticket sales have ended
Thank you for your interested in the Mujeres del Año 2018, unfortunately this event is sold. Please check out our upcoming events at www.RegionalHispanicCC.org.
Description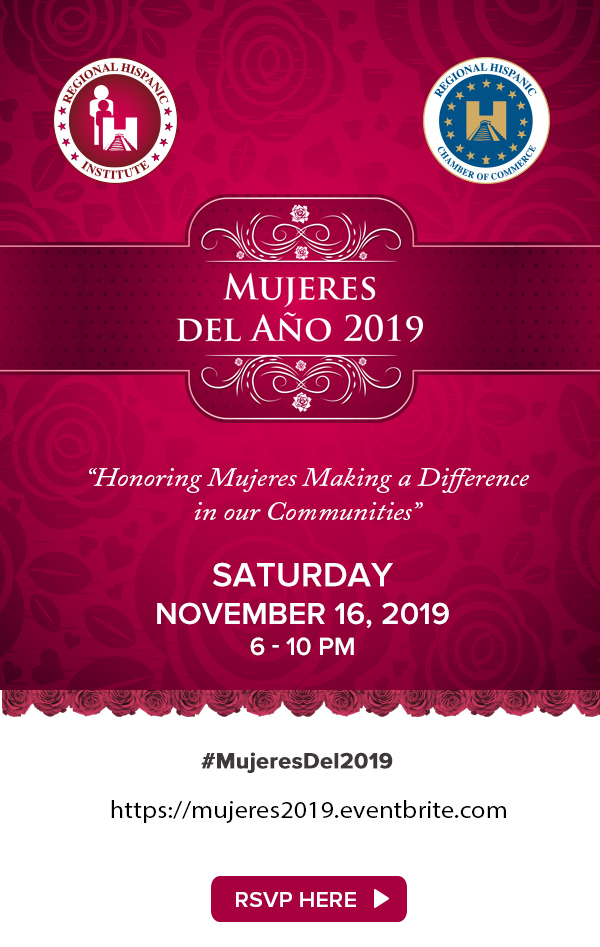 The Mujeres Del Año Program Awards Leaders whose Core-Values Continuously Support and Help our Community Thrive. We Honor Extraordinary Women in our Communities for their Outstanding Demonstration of Character, Commitment, Civic Leadership, and Citizenship
Saturday, November 16, 2019
6:00pm-10:00pm
Harbor Breeze Cruises
100 Aquarium Way
Dock #3 Sir Winston Yacht
Long Beach, CA 90802
Link to Venue:
Parking Details:
Park at the Aquarium parking structure located on Shoreline Drive between Queensway and Aquarium Way.
There is a loading and downloading curb next to the aquarium, next to the bus stop... MARKED LOADING
If you are driving from the 710 Freeway, follow directions to the Aquarium of the Pacific. Make a right, on Aquarium Way.
You will see the Aquarium Fountain and the parking structure right after.
Bring Ticket to Harbor Breeze Cruises booth or to the Sir Winston Yacht, where we will be validating / Discount to $ 7.00 the machine accepts all credit cards.
Attire: formal wear (theme of the night: red)
Attire can be black accessorized with red
Please note that the event is hosted in a yacht, wear comfortable shoes and bring a jacket.
Mujeres Del Año 2019
Mujer Cambiando El Mundo
Marcela Celorio Mancera
Consul General
Consulado de Mexico en Los Angeles
Presented a Mujer whose vision and unconventional leadership has advanced the economic growth and is fully committed to the success and future of our community.
Born in Mexico City, she is an Attorney from the Escuela Libre de Derecho, with a Master's Degree on Diplomatic Studies from the Matias Romero Institute (IMR, by its Spanish acronym) and a Master's Degree on Security and Defense from the National Defense College, of the National Defense Secretariat (SEDENA, by its Spanish acronym).
She pursued her academic studies at the Mexico-United States Center of Studies from the University of California in San Diego (UCSD) and was the first Diplomat in Residence from the Mexican Foreign Service at the American University (AU) in Washington, DC.
She has served as Director of Nationality and Naturalization at the Ministry of Foreign Affairs, a position from which she helped to craft the constitutional reform of 1997 which made legal dual or multiple nationalities for Mexicans.
In 1999, she joined the Mexican Foreign Service as a Diplomatic Attaché and followed rigorously the ladder of ranks to become Ambassador.
Subsequently, she was appointed Director of Protection Policies, a position in which she facilitated the implementation of the border liaison and consultation mechanism between Mexico and the United States.
On April 28th of 2017, she was promoted to the Rank of Ambassador of Mexico, and became the first Ambassador graduated from the Escuela Libre de Derecho, the most prestigious Law School in Mexico.
On June 24th, she took office as the Consul General of Mexico in Los Angeles, California, after presidential nomination and Senate ratification.
Mujer Excelencia
Lourdes I. Ramos, Ph.D.
President & CEO
Museum of Latin American Art
Presented to a Mujer who has inspired and encouraged the arts and culture in Southern California. By encouraging artists and arts groups to be innovative, inclusive, and accessible.
Lourdes I. Ramos, Ph.D., is the President and CEO of the Museum of Latin American Art (MOLAA) in Long Beach, California.
Having an extensive international trajectory directing museums, developing exhibitions and cultural projects of innovation, she is the first and only Latin American woman who is a member of the Accreditation Commission of the American Alliance of Museums (AAM). Ramos is also a Board Member of the International Committee for Exhibition Exchange of the International Council of Museum (ICOM-ICEE), as well as a Commissioner of the Cultural Heritage Commission (CHC) in Long Beach. She was instrumental in the success of MOLAA's Partnership with The Getty Foundation, Pacific Standard Time: LA/LA.
Prior to MOLAA, Ramos was the Executive Director of the Museo de Arte Puerto Rico (MAPR) in San Juan, Puerto Rico, Director of the San Juan City Museum, Director of the National Collection of Puerto Rico at the Institute of Puerto Rican Culture and Scholar Assistant of Collections at the Reina Sofia Museum in Madrid, Spain.
Mujer Inspiración
Johana Hernandez
CEO
Glaudi
Presented to a Mujer who is a role model that inspires the next generation of women to be the best versions of themselves.
GLAUDI by Johana Hernandez is a haute couture designer specializing in empowering women of all shapes and sizes with bold, elegant styles. Made in the cosmopolitan city of angels, Los Angeles, celebrity designer Johana Hernandez specializes in haute couture dresses and bridal speaking to the heart of the modern woman.
GLAUDI couture house provides a luxury experience favorite among celebrities such as Gina Rodriguez, Nichole Richie, Gloria Trevi, Lucero and many more.
While all of these accolades have been awarded to her, they were earned with hard work and sacrifice.
Johana came from a humble family she was born and raised in the city of Compton and her parents worked long hours in sweatshops, sewing for brands such as Guess, Calvin Klein and Gap. As her time was invested in the sweatshops with her parents, Hernandez's passion for fashion ignited. At only 19, she earned her first job as a head designer, where her first collection was featured on the Wall Street Journal.
At 22, she became head designer of Seven7 Jeans where she also designed for license for Isaac Mizrahi Jeans, Eli Tahari, and many more. Her designs have been sold worldwide at mass retailers such as Saks Fifth Avenue, Macy's, Bloomingdales and many more. Now you can find GLAUDI in Paris Fashion Week, New York Fashion Week, LA Fashion Week and across the globe.
Through her talent her favorite message to share is "GOD is Fabulous! " who knew a girl from Compton would create a brand of luxury and sophistication.
Mujer Super Estrella
Rosie Rivera
Motivator

Presented to a Mujer for the achievement of a remarkable goal or completion of major projects that significantly impacted our community through awareness initiatives during the past years.
Rosie Rivera is a wife, mother of three, author, motivational speaker, TV host, and reality show personality. She focuses on uplifting women to find the best version of themselves trough loving themselves.

As a strong voice for women Rosie is continuously on Univision, Telemundo, NBC Universal, People en Espańol & KTLA to name a few sharing insight on women's rights, motherhood, entrepreneurship, grievance and healing from sexual abuse.
Rosie's platform is based on empowering women based audience through fashion, health, modeling and beauty with encouraging captions that teach women to love themselves more.
As a author she has written two self help books "My Broken Pieces" & "Take Your Power Back" help women through the side effects of sexual abuse. Today Rosie speaks all around the US and South America helping motivate women to stop simply surviving and begin living life to their fullest potential!
"BEING A VOICE TO THE VOICELESS IS NOT ONLY MY PASSION, IT'S MY PURPOSE"
Mujer Ejemplar
Nora Saca
CEO
Amerisal Foods LLC.
Presented to a Mujer who has demonstrated outstanding commitment to economic development and empowerment of women in business.
Nora Saca is the owner and CEO of Amerisal Foods LLC. In 2008, Amerisal Foods started as a dream, Nora saw the huge market potential; the demand for nostalgic food products was growing at a fast pace.
Nora wanted to bring their native people who could and could not travel to their respective homeland a "little taste of home". She was committed to bring her customers their native and authentic foods to their local markets at affordable prices.
Nora has won numerous awards for outstanding business performance, and entrepreneur of the year. Nora is a true example of commitment, dedication, perseverance, and courage.
She continues to be a mentor to young Latinas and entrepreneurs. Nora is very passionate for serving others. Mrs. Nora supports the "San Antonio de Paul" home for the elders in El Salvador.
She spends her time donating food and goods to her church for charity events.
Mujer Diversidad
Jennifer Trotter
Business Diversity California Manager and Senior Public Involvement Specialist
Burns & McDonnell

Presented to a Mujer whose supplier diversity and/or inclusion and diversity policies foster initiatives and programs that include supplier development.
Ms. Trotter is a the Business Diversity California Manager and Senior Public Involvement Specialist for Burns & McDonnell, an infrastructure services firm and general contractor. In this role, she leads the public involvement and supplier diversity initiatives throughout California.
Ms. Trotter has previously held key roles in the public, non-profit, and private sectors. Prior to joining the Burns & McDonnell team she-was the Executive Director of the Los Angeles County Community Development Foundation (CDF), non-profit arm of the County of Los Angeles Housing Authority.
She has also held posts with the Los Angeles County Community Development Commission; Mexican American Legal Defense and Educational Fund (MALDEF), a national civil rights non-profit law firm; and eCivis, LLC, an online grants research firm; Tom Bradley Legacy Foundation; and the U.S. Department of Housing and Urban Development.

Mujer Innovadora
Kimberly Sanchez
Entrepreneur

Presented to a Mujer who has facilitated conversation and problem solving, facilitating entrepreneurial development opportunities, being an example to others, and developing innovative approaches.
Ms. Sanchez began her culinary career as a server for the well known Mama's of San Francisco. She not only discovered what would become her career path, but also met her husband who was Mama Sanchez's youngest son. She worked every front of the house position but even then, had a keen eye for food.
Ms. Sanchez went on to manage multimillion dollar corporate franchises as well as single unit, chef driven restaurants where her desire to be involved with food was born. It wasn't until the family moved to Atlanta Georgia that she stepped into the kitchen and learned under the chef/owner of a Zagat rated restaurateur at Crescent Moon, a top rated, beloved breakfast spot in Decatur Georgia. It was also during this time she and a partner opened her corporate catering company, Morning Glory Catering creating unique breakfast, lunch and pastries for large corporate clients.
When she moved to Long Beach and a small corner bakery space became available, she knew it was time to step out onto her own, and Sweet Dixie Kitchen was born. What began as a small bakery quickly grew into a place that defined the corner on 3rd and Elm as 'that biscuit place' with new Southern food and culture. Chef Sanchez could be found in the kitchen daily, personally plating each plate of food, developing new recipes and producing Long Beach's best biscuits, breakfasts, comfort food and pastries. Sweet Dixie was open for 6 years on that corner.
Ms. Sanchez's passion for business continues with her new and exciting concept that will showcase her 'Biscuit-witch' sandwiches in a more casual, vibrant, quick service featuring organic, vegan and gluten free options. She is currently perfecting her gluten free products and hopes to be at the helm of a new space summer 2020.

Mujer Comunidad
Yolanda De La Torre
Executive Director
YMCA Wilmington

Presented to a Mujer who has made significant contributions to their community through their time, actions, talents, and dedication.
Ms. De La Torre, Executive Director of the Wilmington YMCA, a branch of Metropolitan Los Angeles, the second Latina Executive in the Los Angeles Metro Association. Oversees the operation for a million dollar branch in the Wilmington Community. Serving over 7000 community members.
Yolanda is responsible for the day to day operations as well as fundraising for the local branch. The Y is an organization that focuses in youth, adults, and families.
Offering programs that focus on healthy living, youth development and social responsively. Five years ago, the Wilmington YMCA completed a new Indoor swimming pool and aquatic center, today we serve over 3000 youth and adults that are learning water safety skills and swim lessons.
Yolanda is also the immediate past President for the Rotary Club of Wilmington. Working with the community in leading projects that make the community a thriving place to live, work and enjoy recreational activities.
Mujer Maravillosa
Kimberly Ong
Executive Officer, Projects Engineering, Executive Office, Construction
LA Metro
Presented to a Mujer for her outstanding service provided by an organization usually over a significant period of time and national significance.
Kimberly Ong is an Executive Officer and Project Director at LA Metro. Kimberly is responsible for the $3.6 billion extension of the Westside Purple Line to the West LA VA Medical Center.
In over 23 years of experience in the transportation industry, Kimberly has used design and construction of transportation infrastructure to improve the quality of life for our communities. Kimberly came to Metro from the private sector, where she initially started as a design engineer and worked her way through the ranks. Prior major projects include the BART Silicon Valley Extension to Berryessa, California High-Speed Rail Los Angeles to San Diego Segment, Kamehameha Honolulu Rail Project, and the I-405 Sepulveda Pass Widening Project.
As one of few female engineers at her level in the United States, mentorship and leadership within the transportation industry is important to Kimberly. In addition to her volunteer service on non-profit Boards in Northern and Southern California, she also supports outreach to students – the next generation of engineers and leaders in STEM. Kimberly is a passionate supporter of disadvantaged youth and is a Charter Member of Metro's Women Build LA Committee, which introduces women to construction and careers in the transportation industry.
Kimberly is a licensed California civil engineer and received her Bachelor's Degree in Civil Engineering from UCI and her Master's Degree in Civil Engineering from the University of California, Berkeley. She is the mother of a rambunctious 7 year old and she is married to Dr. Michael Ong, a professor at UCLA School of Medicine.
Mujer Empresaria
Maria Curie
Chef / Owner
El Coraloense

Presented to a Mujer who best exemplifies the ideals of entrepreneurship by starting and successfully managing one or more businesses in a way that demonstrates notable entrepreneurial characteristics and achievements.
Born in Los Mochis a coastal city in northern Sinaloa, Mexico the oldest of 8 children, went to school and graduated as an executive secretary and accounting technician, worked at PEPSI COLA CO in her hometown. Marie migrated to USA where she met the love of her life Leonardo Curie.
The Curies have lived the American dream they are proud and happy to have their children share the same passion for the culinary world.
The Curies family always dreamed of opening a Mariscos Restaurant their journey began in 2003 with their children involved three of the Curies became chefs. Together they specialize in the best seafood fusion, the family fuses authentic seafood with flavors from all over the world.
The youngest of the Curies is going to college for business administration and manages the family's restaurant social media and finances.
The Coraloense has won several recognitions Including Paella Valenciana 2018 these competitions took us to Valencia Spain to compete for the Best Paella in the World, our restaurant has been recognized by major publications like El Aviso, La Opinion, LA weekly, Los Angeles Times, to mention some, also we are in The Los Angeles Times list of the best 101 restaurants for 2019.
What is next? The family is working in a new project to expand el Coraloense to Tijuana, Mexico the plans are to open next year!
DRAFT AGENDA
Reception 6 PM TO 7 PM
(Yacht will depart at 7 PM)
Awards 7 PM to 8 PM
Celebration
Boat comes back to land at 9:00 pm
#MujeresDel2019

Attire: formal wear (theme of the night: red)
Attire can be black accessorized with red
Please note that the event is hosted in a yacht, wear comfortable shoes and bring a jacket
Harbor Breeze Cruises
100 Aquarium Way
Dock #3 Sir Winston
Long Beach, CA 90802