Actions and Detail Panel
Mujeres Del Año 2016 Awards
Fri, November 18, 2016, 7:00 PM – 11:00 PM PST
Description

Mujeres del Año Awards
The Regional Hispanic Institute celebrates women leaders for their outstanding contributions in the fields of Community Leadership, Education, Business, Government, Culture and Economic Development.

The program highlights the Character, Commitment, Civility, and Citizenship of extraordinary women in our communities.

The recipients of these prestigious awards come from a variety of professional backgrounds and disciplines and are being recognized for their impact, influence, and inspiration to the organizations and communities in which they serve.
Program
Reception (Outside the Lagunita Pavillion)

Entertainment by "Sounds of Ancient Mexico" by Martin Espino


Welcome remarks

by Sandy Cajas and Andy Perez


Individual introduction of Mujeres Del Año


Welcoming Remarks

Dr. Robert Garcia
Long Beach
Mayor
Dinner and Entertainment

New Blues Revolution
Mujeres Del Año
Mujer Emprendedora
Tina Germaine Aldatz

CEO
Savvy Travelers
Mujer Inspiración
Marisela Caraballo DiRuggiero
Director of Legislative Affairs
Port of Los Angeles
Mujer Destacada En Liderazgo
Lizette Carbajal
Vice President of Community Relations
Telemundo 52 Los Angeles


Mujer Cambiando el Mundo
Sylvia S. Castillo
Director
Foundation and Community Officer Corporate Social Responsibility
Union Bank


Mujer Empresaria
Vanessa Faggliori
Amerisal Foods LLC
CFO

Mujer Marcando La Diferencia
Adriana Galdamez
Public Affairs Specialist
State Farm
Mujer Diversidad
Miriam Long
Regional Manager
Strategic Business and Construction Career Services
Metro Los Angeles
Mujer Influencia
Suzie Price
Councilwoman
City of Long Beach, CA
Third District

Mujer Extraordinaria
Mitra Novin Rogers
Manager, Government Relations
The Boeing Company
Mujer Ejemplar
Judy Seal
Executive Director
Long Beach Education Foundation
Mujer Comunidad
Mary Alice Sedillo
Realtor

Mujer Excepcional

Sunny Zia
Long Beach Community College District
Board of Trustees
Installation
Board of Directors - Advisors - Ambassadors - Lideres Council
2016-2017
Closing Remarks
Coffee and desserts next to the dance floor

Tina Germaine Aldatz
CEO
Savvy Travelers
Mujer Emprendedora
TINA ALDATZ, Entrepreneur and current CEO of Savvy Travelers designer beauty wipes, made her mark on the world as a self-starting entrepreneur and founder of Foot Petals, the revolutionary line of designer insole cushions for women's high heels. As a child, Tina severely burned her feet after accidentally stepping on buried hot coals at the beach. From her foot injury and her passion for fashion, Tina created Foot Petals to help fill a gap in the market for women's high-heeled foot support. Through her strength and tenacity, Foot Petals became a successful multi-million dollar company that was recognized by Inc. 500 as one of the "500 fastest growing companies in America." Tina is a true pediatric burn survivor who has taken a horrific tragedy and turned it into her destiny.

After growing up in a volatile home, Tina overcame life's obstacles by grasping onto opportunity and not letting life's circumstances define her future. In her compelling presentation depicting her American success story, Tina shares how she took a personal tragedy and turned it into her destiny in her Autobiography From Stilettos To The Stock Exchange: Inside The Life of a Serial Entrepreneur. In the book, Tina shares her core business values and practices that have led to her success.

Tina is a strong advocate for change with regard to immigration policy in the United States. She is as an Executive Producer for Frontera, a very poignant film starring Eva Longoria and Ed Harris that brings to light the controversial and ongoing debate regarding illegal immigration along the U.S. and Mexican border. Tina believes it is crucial to remember what every immigrant is seeking-opportunity.
Marisela Caraballo DiRuggiero

Director of Legislative Affairs

Port of Los Angeles
Mujer Inspiración
Marisela Caraballo DiRuggiero is the Director of Legislative Affairs for the Port of Los Angeles. In this capacity, Marisela manages the legislative program for the largest container port in the nation, and manages the staff of the Government Affairs Division. As the Director of Legislative Affairs, Marisela is the Port's liaison to government agencies and elected officials at various levels of government, and monitors legislation for its impact on Port operations. Additionally, Marisela oversees the function of intergovernmental relations with foreign governments advancing the Port's influence on expanding trade markets.
With nearly two decades of experience in public policy development, issue management and legislative advocacy, Marisela has earned a reputation of being a reliable and credible representative, which has garnered her an influential set of relationships at every level of government. Her work experience at the various levels of government - International, Federal, State and City - has provided her with the opportunity to develop and establish professional relationships to advance the goals of the Port. Marisela has worked tirelessly to achieve legislative policy wins for the Port, and she has secured over $200 million in government funding for various Port infrastructure projects ranging from transportation, security, environment, and dredging.
Lizette Carbajal

Vice President of Community Relations

Telemundo 52 Los Angeles
Mujer Destacada En El Liderazgo
Lizette Carbajal is the Vice President of Community Relations of Telemundo 52 Los Angeles, Telemundo's West Coast flagship television station, serving the Spanish-speaking community in the Los Angeles market. Lizette spearheads the station's community relations initiatives to foster awareness about the issues of importance to viewers and continue Telemundo 52's commitment to inform, empower and enrich the lives of the Hispanic communities it serves. Lizette has over fifteen years of experience developing and implementing local, regional and national stakeholder engagement and outreach programs for Fortune 500 companies.
Prior to her tenure at SoCalGas, Lizette worked at Conexión PR, a public relations agency based in Santa Monica, CA, where she managed nationwide public relations campaigns targeting the U.S. Hispanic market for clients within the fashion, finance, public service, and automotive industries.

Lizette is a Southern California native and earned her Bachelor's Degree in Communications from California State Polytechnic University, Pomona.
Sylvia S. Castillo
Director, Foundation and Community Officer Corporate Social Responsibility

Union Bank
Mujer Cambiando el Mundo
Sylvia S. Castillo is a director, foundation and community officer for MUFG Union Bank's Corporate Social Responsibility group. She is responsible for building relationships with civic and business leaders, community-based advocacy organizations, and multicultural leaders throughout the bank's geographies. Additionally, Ms. Castillo directs initiatives that involve the bank's Foundation, public policy and community development efforts. She is based in Los Angeles.
Ms. Castillo has more than 30 years of experience in the banking industry. Prior to joining Union Bank in 2012, she served as a senior vice president and consumer market executive at Bank of America, where she was responsible for driving growth of consumer markets. Ms. Castillo also held several other management and executive positions at Bank of America.
Ms. Castillo is a graduate of the UCLA Business Management School and the University of Virginia's School of Retail Bank Management.
Vanessa Faggiolly
Amerisal Foods LLC
CFO
Mujer Empresaria
Vanessa was born in the beautiful country of El Salvador Central America, Her parents have always been in business. Vanessa's dream was to one day have her own company.
In 2007 Vanessa decided to join her Mother and work in making Amerisal Foods LLC where she is responsible for the company's innovation process, including identifying strategies, new technologies, and business opportunities, as well as developing new capabilities with partners, new business models, and new industry structures to serve those opportunities.
Vane is a very proud Latina woman. She is passionate about life, family and work.
"Everything we do we believe in bringing people together as community. We believe foods and flavors especially from ones native countries can bring memories and nostalgia" stated Vanessa
She also enjoys mentoring and empowering young women to thrive and to be successful to pursue their dreams and to educate themselves.
Adriana Galdamez
Public Affairs Specialist
State Farm
Mujer Haciendo La Diferencia
Adriana Galdamez joined State Farm Insurance February 20, 2006. She began her career in San Diego, CA and then transitioned to Irvine, CA where she is currently located. Adriana Galdamez is State Farm's Public Affairs Specialist for Southern California.
She earned her Bachelor of Arts in Political Science from the University of California, San Diego, and her MA from San Diego State University.

Adriana currently serves on the Orange County Council for Community Relations Council, and is part of the Diversity Council with the Orange County Public Relations Society of America.
Adriana is married to Dr. Jorge M. Galdamez. Together they have two children together, Isabella and Luke.
Miriam Scott Long
Regional Manager of Strategic Business and Construction Career Services
Metropolitan Los Angeles
Mujer Diversidad
Miriam Scott Long is the Regional Manager of Strategic Business and Construction Career Services with Metro. She serves as small business advocate and inclusion specialist, with an impressive background as bond analyst on Wall Street, a former Deputy County Supervisor and Deputy Mayor of the City of Los Angeles. Her commitment as a way-shower and community conduit has remained steadfast throughout a vast career. Miriam returned to Metro after a "hero's journey" where like the stories in mythology, she left her comfort zone to find the "fire" of best practices and brought what she found back to her home, the Los Angeles Metropolitan Transportation Authority.
At Metro, Miriam and her team craft events and teach-ins to engage the small business community and the underutilized workforce in all of Metro's infrastructure projects over the next 30 years. As spokesperson for the Department of Diversity and Economic Opportunity, she affords the various Metro publics with information and strategies to take advantage of the programs and services developed to enlighten those who can grow by tapping in to them.
Suzie Price

Councilwoman

City of Long Beach Third District

Mujer Influencia
Suzie Price was sworn into office as the Third District Councilwoman for the City of Long Beach on July 15, 2014.
Suzie Price has served as a Senior Deputy District Attorney for over 15 years. Graduating from California State University, Long Beach with a Bachelor of Arts degree in Political Science and a Masters of Public Policy and Administration degree. Additionally during her undergraduate studies, Suzie served as the Associate Student Body President. In 1999 Suzie graduated from Santa Clara University with a Juris Doctorate degree.

Councilwoman Price and her husband, Mark, live in Alamitos Heights with their 10 year-old and 6 year-old sons who attend a local Elementary School, where Suzie has been an active member of the Parent Teacher Association. Suzie and her family have the love and support of her mother who resides in the Marina Pacifica residential community.
Mitra Novin Rogers
Manager, Government Relations
The Boeing Company
Mujer Extraordinaria

Mitra Rogers is manager of Government Relations for the Boeing Company, based in Seal Beach, Calif. She represents the company before local, state and federal elected officials on legislative and regulatory issues affecting Boeing. In this role, she serves as the primary point of contact for the company's public policy efforts in the state, including all U.S. federal, state and local government liaison operations. Rogers is known for her ability to navigate complex issues and bring people together for the common good. She cultivates external relationships on behalf of the company to educate and inform stakeholders, and to ensure Boeing's interests are promoted and protected.

A native of Long Beach, Calif., Rogers holds a Bachelor of Science degree in Finance from California State University Long Beach and a Master of Business Administration degree from Loyola Marymount University. She has also completed courses at the Government Affairs Institute at Georgetown University. Rogers is an active member of the community and serves on the boards of Leadership Long Beach, the Los Angeles County Economic Development Corporation (LAEDC), the Long Beach Chamber of Commerce, the Seal Beach Chamber of Commerce and was recently, Rogers was appointed Chair of the Long Beach Chamber's Government Affairs Committee (GAC.)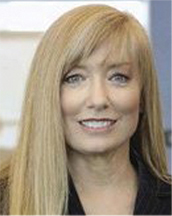 Judy Seal
Executive Director
Long Beach Education Foundation
Mujer Ejemplar
Ms. Seal is responsible for all activities of the largest funding resource for the Long Beach Unified School District. Her programs are Education/Long Beach College Promise activities PreK-18 communications with region, state & nation, grant proposal preparation and implementation, program evaluation, budget preparation and implementation, special events, speaking engagements, conference coordination, and fundraising.
Judy Seal has raised more public (non-state and non-federal) money for Long Beach Unified School District than any individual in the history of the School District 100% of every dollar she has raised has gone to where it was designated.

Judy directed and facilitated the nationally recognized: Seamless Education and the Long Beach College Promise Designed and implemented the LBUSD Homeless Education program.
Ms. Seal has received many awards and recognitions region wide. The award that she cherishes in her heart is the "I Care Award" for her service to homeless kids.
Mary Alice Sedillo

Realtor

Mujer Comunidad


Mary Alice Sedillo is a state licensee, Real Estate Broker and was owner of Dial Realtors in the city of Carson, California for 25 years. Served her buyers and sellers in the South Bay community through credit counseling, sales, property management, loans, notary service, supervised construction and repairs on rental properties, meeting with city inspectors, serving notices, solving problems, always keeping her dignity at all times.
She has had the independence and courage to live a life true to herself.
She still believes real estate is by far the best investment. Has always had a good work ethic. Her integral part of her success was her focus and dedication to her clients and excellent service.
Her son, Sean graduated from U.C Berkeley and her daughter, Michelle, graduated from Chapman University. She has 3 beautiful grandchildren.
Mary Alice currently serves as Chair for the Senior Citizens Advisory Commission and was appointed to that position by Mayor, Robert Garcia. She received a Certificate of Recognition for distinguished achievements for her leadership, devotion and extensive service to our seniors.
She chooses to volunteer for education and self improvement and improving the quality of life for our seniors.
Sunny Zia
Long Beach Community College District
Board of Trustees
Mujer Excepcional

Sunny Zia is serving her first term on the Long Beach Community College District Board of Trustees, having been elected Trustee for Area 3 in April of 2014. She is a first- generation immigrant who grew up in a hardworking family that raised her with the guiding principles of the American dream. From a young age they instilled in her the importance of education as the pathway to success.

She has managed a wide range of programs, balanced budgets, and recovered funding for many agencies she has represented. Sunny is the Contract Compliance Manager at the Port of Long Beach and responsible for oversight of all contracting practices estimated to be at $4 Billion over the next decade including infrastructure and facility modernization programs. She is responsible for ensuring that all contracting at the Port is fair, equitable and transparent and businesses have a competitive and fair opportunity to compete for contracts. She has been a leader in the non-profit and philanthropic communities and has led numerous humanitarian projects locally and globally.

Her community work spans from working with at-risk youth, addressing hate crimes and bullying, overcoming poverty through micro-lending, refugee/immigrant resettlement, support for job placement of veterans and other displaced Americans, conflict resolution and interfaith work. As someone who has received scholarships and financial aid, she is living proof of the success of having access to affordable education. Her commitment is to invest in the City's future by ensuring students' success and focusing on making students career and college ready."
Event Details
Hotel Maya, a DoubleTree by Hilton
700 Queensway Drive | Long Beach, CA 90802


PARKING: Complimentary Parking. Hotel Maya DoubleTree by Hilton - Outside the Lagunita Pavilion


ATTIRE: Formal Wear
Theme of the Night: Red signifying Strength, Power, and Determination.
Attire can be black accessorized with red.

Social Media Hashtag: #MUJERESDEL2016

Contacts: