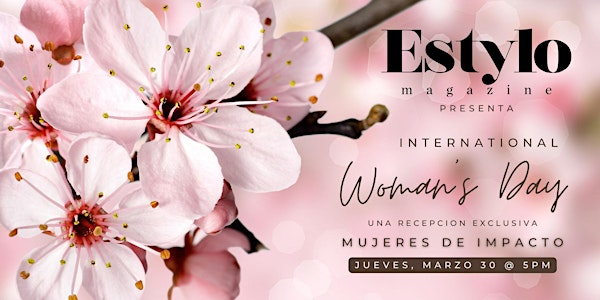 Mujeres de Impacto en Miami
Si eres un empresario, profesional, o simplemente interesado en aprender más sobre los notables logros de las mujeres, este evento es para t
By Hispanic Media Company LLC.
Date and time
Thursday, March 30 · 5 - 7:30pm EDT
Location
2509 N Miami Ave 2509 North Miami Avenue Miami, FL 33127
About this event
Estylo Magazine presenta a Mujeres de Impacto
Celebrando el mes internacional de la mujer
#HispanicMedia, la casa editora de #EstyloMagazine, reconoce y honra a todas las mujeres en su mes. Por lo que estamos encantados de invitarte, a nuestro próximo evento en celebración del Mes Internacional de la Mujer, este jueves 30 de marzo. El mismo está dedicado a honrar y elevar a las mujeres de todo el mundo y sus notables logros.
Únete a nosotros para un día de discusiones perspicaces, historias inspiradoras y oportunidades de establecer contactos con personas talentosas de ideas afines y nuevos horizontes que destacan cada año por su esfuerzo en el mundo actual. Hemos alineado un panel de oradoras de renombre que compartirán sus experiencias personales y puntos de vista sobre el tema "Empoderar a las mujeres en el liderazgo".
El evento tendrá lugar en el restaurante #BurdoMiami, ubicado en la zona de Wynwood 2509 N Miami Ave, North Miami, de 5PM a 7 PM.
Se proporcionarán refrigerios, y habrá tiempo suficiente para establecer contactos y conectarse con otros privilegiados asistentes.
Si eres un empresario, profesional, o simplemente interesado en aprender más sobre los notables logros de las mujeres, este evento es para ti. Damos la bienvenida a nuestros seguidores para que se unan a nosotros y celebren el #MesInternacionaldelaMujer.
Si tienes alguna pregunta o necesitas más información, no dudes en comunicarte con nosotros.
Esperamos celebrar el Mes Internacional de la Mujer con usted.
About Hispanic Media LLC:
Hispanic Media LLC is a business organization with strengths in creating editorial content from diverse sources, published in traditional media and also on different digital platforms.
It has many years of experience in the media with offices in Miami, Philadelphia and Bogotá and is the publishing firm of El Sol Latino Newspaper, Latinas LifeStyle and Estylo Magazine. Hispanic Media specializes in providing media messages in the form of audio, video, digital, print and event marketing.
About Estylo Magazine:
na docena de ediciones han pasado desde aquel otoño de 2017 cuando arrancamos la aventura de ESTYLO Magazine. Nuestros conceptos se han tornado aún más dinámicos y aprendimos a crearnos y recrearnos dentro de las atmósferas de alta gama. Nacimos para ser grandes y vivimos para mostrarlo.
ESTYLO Magazine respira moda, salud, bienestar, todo lo que reconforte un lifestyle "Diamond Grade".
ESTYLO Magazine está consciente de las más novedosas miradas y se teje dentro del gusto de los millennials. Las nuevas generaciones son las protagonistas junto a sus tendencias y nuestras páginas son vitrinas que muestran el cómo se vive hoy día.
About the organizer
For more than 30 years, El Sol Latino Newspaper & Hispanic Media has been a media leader. Adapting to the changing media market, Hispanic Media has transformed itself from a small local newspaper into a multimedia news and information source that includes a network of websites, niche publications, custom printing, e-newsletters, social media networking, and events and customized content to meet the specific needs of its readers and advertisers.
Hispanic Media LLC is a communications company that offers various advertising services in digital, print and experiential marketing campaigns. The company has more than 30 years in media. It is based in Miami and in Philadelphia, PA. It is the publishing house of El Sol Latino Newspaper, Latinas Life Style, ESTYLO Magazine & Latino Connections Series with a view to becoming a hallmark of distinction in the communications market.