Join renowned photographer Bob Gomel, historian Peniel Joseph, Mark Updegrove, and Don Carleton for a conversation about Ali and Malcolm X.
About this event
Please join the Briscoe Center and LBJ Presidential Library on Feb. 15, 2022, for Muhammad, Malcolm, and Miami: A Conversation with Bob Gomel and Peniel Joseph. The online event is presented in conjunction with the Briscoe Center's exhibit "One Night in Miami": From Photo to Film, currently on display at the LBJ Presidential Library.
After his victory over Sonny Liston for the heavyweight championship on Feb. 25, 1964, Muhammad Ali celebrated at the Hampton House, a motel and diner in Miami that served as a gathering place for Black entertainers and celebrities. The evening inspired Kemp Powers's 2013 play, "One Night in Miami," which was adapted into Regina King's Academy Award-nominated 2020 movie.
Key scenes in the movie were inspired by iconic photos taken by Bob Gomel and Flip Schulke, famed photojournalists whose archives are housed at the Briscoe Center. These photos—Gomel's photographs of Malcolm X and Ali in the Hampton House diner, and Schulke's underwater photos of Ali—will be the focus of the Feb. 15 event.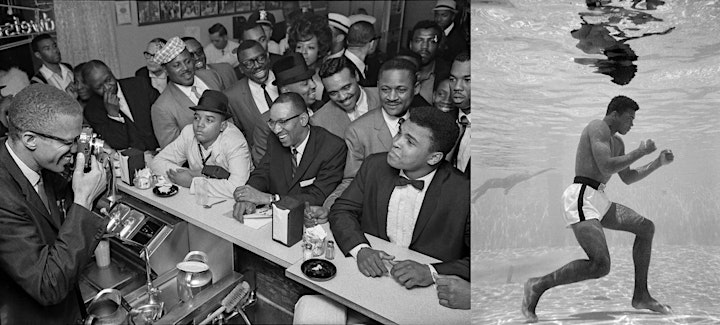 Bob Gomel will talk about his relationship with Ali over multiple photo sessions, including the "Life" magazine assignment that resulted in the iconic images of Ali and Malcolm X at the Hampton House. Distinguished historian Peniel Joseph will discuss the event's historical context and share his thoughts on the relationship between Malcolm and Ali. The discussion will be joined by Mark Updegrove, president and CEO of the LBJ Foundation, and Don Carleton, executive director of the Briscoe Center.
The online event is free. You will receive an email the day before the event with the link.
The exhibit, "One Night in Miami": From Photo to Film, showcases photos from the Briscoe Center's collections that inspired key moments in the 2020 film. The photos by Gomel and Schulke, many of which have never before been exhibited, depict a young Muhammed Ali (then known by his birth name, Cassius Clay) during the early years of his boxing career. Located in the LBJ Library's Great Hall, the exhibit is open through May 8, 2022.