MUDDER'S DAY MADNESS 5K

Saturday, May 10, 2014 at 10:00 AM (EDT)
Event Details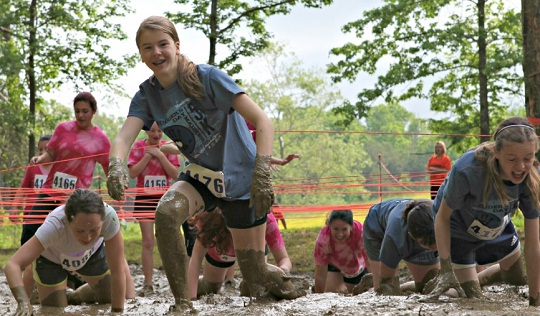 Trails. Mud. Obstacles.
Good clean fun!
Online registration extended through Tuesday, May 6!  (Registrations received after Sunday May 4 are not guaranteed a t-shirt by race day.)
Are you ready for some good clean fun? Save the date for Harmony Family Center's 2nd Annual mud run at Montvale on May 10, 2014, the Saturday before Mother's Day! Mudder's Day is an obstacle course designed for people age 12 and up, of all athletic abilities. While the course will be challenging enough for the "hardcore" mudders out there, it will also push you only as far as you want to be pushed.
Participants will run through the Montvale trail system, and be faced with about a dozen fun, challenging obstacles along the way. Oh, and did we mention there will be MUD?!  Plus, at least three NEW OBSTACLES FOR 2014!!!  And, Mudder's Day is different from most races you will experience. You are welcome to mud it alone, but it might be more fun to get muddy as a team and encourage each other along the way! After the run, we'll help you get cleaned up and you can visit the runner's village where you will enjoy post-race snacks, live music, food and beverages, activities for the kids, contests, prizes, and a whole lot of fun for the entire family.
All entry fees will go toward the continued restoration of the Montvale property, which is being used for adoptive family camps, adoptive and foster family training and retreats, equine assisted therapy programs, and community use. So, grab your mudder…er…your mother, your uncle, your kids, your friends and come out for the Mudder's Day 5K and support Harmony Family Center's restoration of Montvale. Getting muddy never felt so good! 
Check out a video of last year's race HERE!
---
RACE DAY INSTRUCTIONS
Registration - Online only at this time.
Swag Pick-Up -
Thursday, May 8, 2014
Maryville - 11am-3pm, National Fitnes Center
Knoxville - 4pm-7pm, The Casual Pint-Northshore (2045 Thunderhead Road, Knoxville, Tennessee 37922)
Dates, times, and locations TBA)  In order to retrieve your race swag, you'll need a photo ID. You will receive your race bib with safety pins, and your Mudder's Day Madness 5K tee-shirt, as well as some other cool stuff. Your race bib should be secured to the front of your shirt using the provided safety pins.  Packets will not be shipped.  If you are a virtual runner or if you miss the race, you will be able to pick up your swag bag at a later date at Montvale. You CAN pick up your friends' swag.  Just bring a copy of their photo ID and you're good to go!
Parking - Parking space will be very limited at Montvale, so go green, save some gas money and carpool!  NOTE:  THE MONTVALE GATES WILL BE CLOSED 15 MINUTES PRIOR TO THE FIRST WAVE IN ORDER TO ENSURE SAFETY ON THE COURSE.  PLEASE ARRIVE EARLY.
What to wear - We encourage you to wear anything you feel comfortable racing in – anything. It just has to be anything you don't mind getting dirty. We do, however, recommend a solid pair of running shoes, towels, a garbage bag for your muddy stuff, something to protect that car seat and a change of clothes. Costumes, especially TEAM costumes, are encouraged, but must be appropriate for a family event.
---
THINGS TO BRING
Proper footwear. No open-toed shoes and no bare feet will be allowed on the course. We recommend a solid running or trail shoe with decent tread to help get you up, over, around, and through our trails, mud, and obstacles. 
Proper clothing.  Dress for the elements.  Be sure to check the weather and dress accordingly.  We will run rain or shine, hot or cold!
Cash. If you feel the need to fill your belly or wet your whistle, food and drinks will be available in our Runner's Village for CASH ONLY.  No outside food or drink, with the exception of typical race day drinks, gels, energy bars, etc.  We will have a bag check for you to leave personal items during the race.
Change of clothes/towel. We will have a bag check, so you can leave your change of clothes/towel with us during the race and retrieve after. If you'd like to hose yourself down and tidy-up before hitting the Runner's Village, a rinse station and enclosed men's and women's changing tents will be available.
Great attitude and a sense of humor! This will be the most fun you have all year!  
---
AFTER THE RACE 
Entertainment - Once you've got all the mud out of your ears, you can head to the Runner's Village to check out the music by Dishwater Blonde!!
Refreshments - Free post-race refreshments (bagels, fruit, water, etc.)  will be available at no charge to the participants.  Other availability of food items TBA. 
Sponsors - Don't forget to patronize our sponsors and vendors.  Stop by for local deals and samples, as well as fun activities and contests for the whole family.  If your business or organization would like to sponsor the event, please contact Eric Rice (erice@harmonyfamilycenter.org)
Prizes - Prizes for age groups and teams, as well as door prizes will be given immediately after the race, so stick around!
---
MUDDER'S DAY MADNESS FAQ's
How do I register a team?
To register as a team, decide what wave/start time you and your team would like to go off in and come up with a team name. Waves will be about 20 minutes apart beginning at 10:00 am.  If you are looking to win it all, the first wave will be the more competetive wave, but we will time both waves.  Make sure you have your team's information (name, address, email, shirt size, etc.) when you start the registration.  Once a wave is closed, it's closed. We can't add more people to a closed wave for safety reasons. We are doing our best to ensure a fun and safe event. 
How big/small do teams have to be?
Teams are made up of at least 5 competitors.  Teams can register all together on one registration ticket, or separately.
Do I have to be in a team to participate?
No. You can participate as an individual or as a team.
Do I have to know how to swim to participate in the Mudder's Day Madness 5K?
Probably not, but it wouldn't hurt! The water on the course may be deeper for shorter individuals, but it is not meant for participants to have to swim.  Be prepared!
What do I get with my registration fee?
You'll get to participate in one of the most fun, unique, challenging events you've ever done!  As a mud runner, your registration fee also entitles you to a Mudder's Day Madness 5K tee-shirt, and other swag items.  In addition, you will enjoy other great stuff like live music, snacks, offers from some of our sponsors, and the benefit of knowing that you are helping the Harmony Family Center in its renovation of Montvale and expand its services to more children, families, and the community.  Virtual runners will receive a tee-shirt.
I am not in the best of shape, can I still participate?
The course will definitely be challenging.  Please read the waiver carefully and consult a physician if you have any questions as to whether or not you are physically fit enough to safely complete the course.  The event is timed, but you may tackle the course as fast or slow as is comfortable to you.  We recommend some light cardio at least a couple times per week paired with some upper body strengthening to help you get up and over the obstacles.  However, you'll have the option to bypass any obstacle that you're not comfortable tackling (although you won't be eligible for a team or individual prize).
I am pregnant/have a medical issue, can I still participate?
Good question...please consult your physician before registering.
What if I can't complete a particular obstacle?
All obstacles will be manageable. We would like you to try to complete each obstacle, but if you feel you can't then you can go around for a slight time penalty.  Unfortunately, there is no way around the hills, so you can't skip those.  But, you can take it as fast or slow as you want.
What is the minimum age to participate?
 The minimum age to participate is 12. Anyone under the age of 18 participating must have a parent/guardian complete the registration form and waiver for them.
Can I use another person's registration?
No, we are unable to issue registration transfers or refunds. 
When & Where

Harmony Family Center at Montvale
4901 Montvale Road
Maryville, TN 37803


Saturday, May 10, 2014 at 10:00 AM (EDT)
Add to my calendar
Organizer
Event Organizer: Harmony Family Center
Contact: Eric Rice, erice@harmonyfamilycenter.org
Web: www.harmonyfamilycenter.org
Our Montvale Location
Montvale is located on 364 acres bordering Great Smoky Mountains National Park, Montvale is an ideal location for a wide range of therapeutic, educational, and recreational activities. We are working to develop a variety of programs which further Harmony's mission, expand our range of services, and take advantage of Montvale's unique and beautiful mountain setting. 
Thank you to our sponsors for their generous support!