Mu Psi 90th Anniversary MARDI GRAS GALA Weekend/Mu Psi Alumni Chapter
Description
The Mu Psi Alumni Chapter of Omega Psi Phi
presents
Mu Psi 90th Reunion MARDI GRAS GALA Weekend
Friday - Sunday, March 23-26, 2017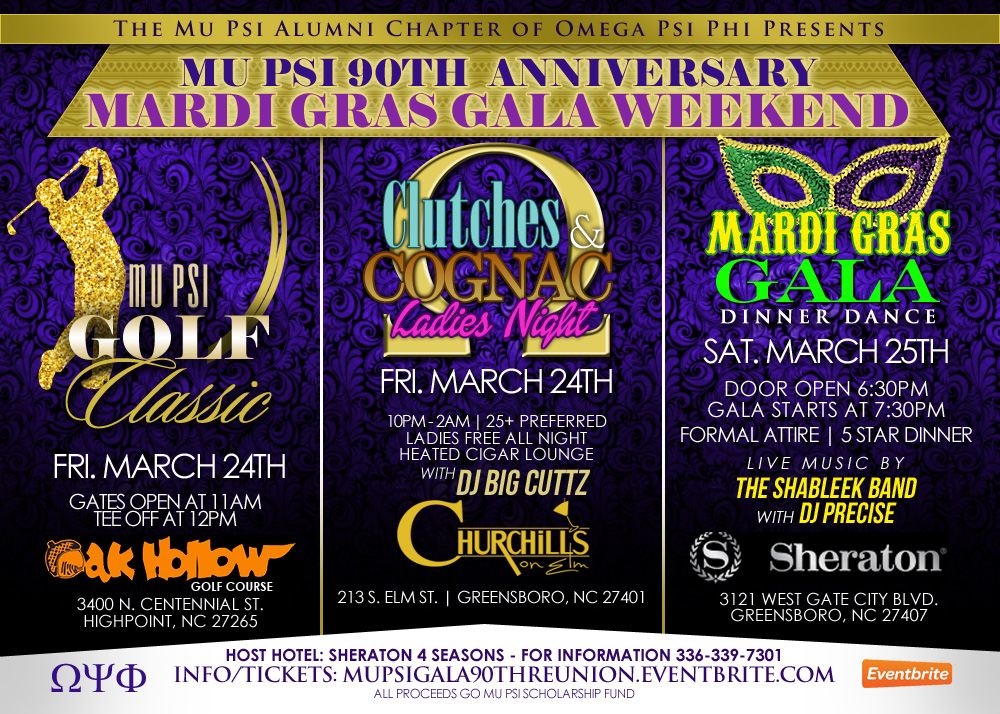 Host Hotel: Sheraton 4 Season - Call for Hotel Reservation
Friday, March 24, 2017
Golf Outing
Fun fellowship over the greens and iron
Good Ol Cookout!
Family and friends cookout. There will be food, fun, family and love at this event
Clutches & Cognac
We will have our Clutches & Cognac Ladies Friday Night Event @ Churchill's on Elm with DJ Big Cuttz.
Where we will have Old School to New School! Brothers from the 60s, 70s, 80s, 90s, and 2000s.
Dress to impress and wear your dancing shoes and come party with members from your era!
Saturday, March 25, 2017
Mardi Gras Gala
Join us for a night of scholarship, treats, and dancing as we celebrate the achievements of celebrating Mu Psi's 90th Anniversary. The Mardi Gras Gala is a fundraiser that will provide scholarships to college students based on academic achievement and community service involvement. We will have our Mardi Gras Gala @ The Sheraton 4 Seasons. Where we all will be in our Formal Wear.
This event will be like no other. It's not only a party, it's an experience. Mask and Costumes are welcome.
There will be sounds from one of the most dynamic bands, "SHABLEEK" performing out of Charlotte NC, accompanied by the worldwide renowned DJ Precise, on the ones and two's, playing our Grown Folks, spinning your favorite Old School, New School, R&B and Hip Hop Music.
Sunday, March 26, 2017
Church
Family that praise together, stays together. We will worship and praise the Lord for all the Blessed he has given us.
This event is open to entire community, ALL OF THE NCA&T FAMILY, HBCUs, Greensboro, and beyond are welcome to come have fun, celebrate, and reminisce on the fun you're going to have!!