Description
The Malaysian Technical Standards Forum Bhd (MTSFB) and MCMC are glad to invite your good self to our upcoming event on MTSFB Sharing session: "Awareness programme on MTSFB Technical Codes". It is a one-day event to share for each of the identified technical codes is related to Network Facility and Network Technology and will be presented by that will incorporate with Question & Answer session (Q&A) and related implementation to any relevant parties. It will feature presentations from the industry expert representatives.
Therefore, you are cordially invited to the MTSFB Sharing Session – Awareness programme on MTSFB Technical Codes for East Malaysia which will be held as per below details:
Date: 25 October 2018 (Thursday)
Time: 9:00 AM – 5:00 PM
Programme Fees: Free of charge
Venue: Raflesia Ballroom II, Promenade Hotel Kota Kinabalu, Sabah
---
Overview
This sharing session will be presented by the industry experts. Since it will gather all the participants from various fields and industries, we believe this sharing session may promote and explain the requirements that have been documented related to communication and multimedia industry. It has been expected that industry would adopt the existing way of implementation. Some of these implementations would not interoperate with others and this will hinder the deployment of the telecommunication's system. Industries can overcome this issue by using some guidelines or standard documents that are already available and documents that would be created. This would ease the industries in deploying of any activities furthers.
Objectives
Conduct briefing sessions on the published Technical Codes to the Industry Players, Government/PBT's, M&E Consultant, vendor and any relevant parties related to the communication and multimedia industry.
Who should attend
Managers, Consultants, Professional, Engineers

---
Tentative agenda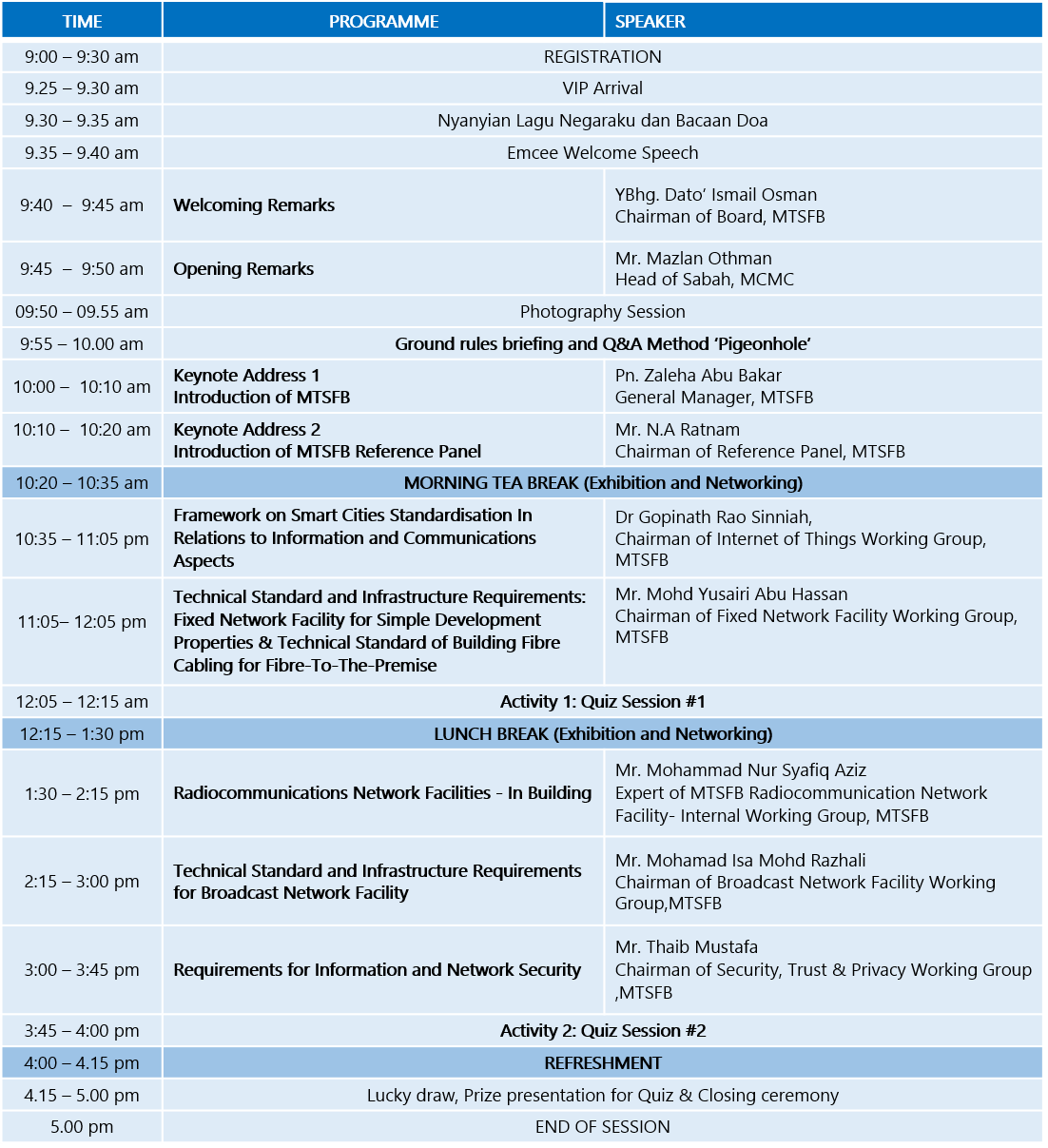 ---
Topic outline & Speaker Profile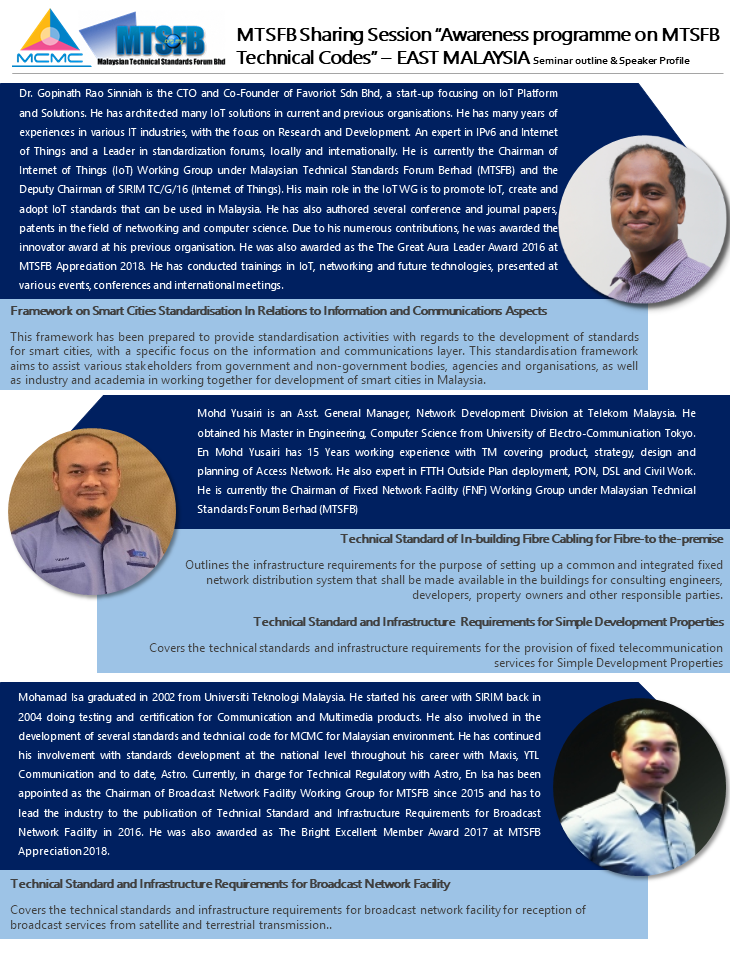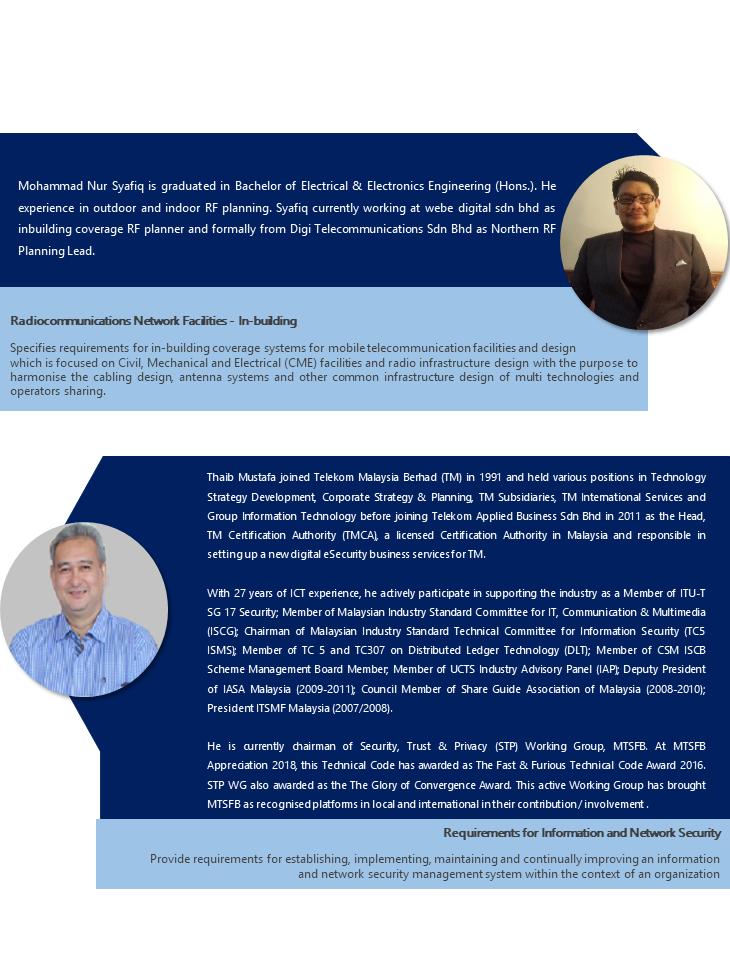 ---
Certificates of attendants will be given to those who RSVP and attend during the session only.
We believe the knowledge and insights gained from the seminar would benefit the participants to gain exposure and awareness on the standardization activities and networking opportunity with the telecommunication industry, regulator, Government/PBT's, M&E Consultant, and vendor.
If you have any enquiries, kindly contact Puan Nur Shahidah Senin (shahida@mtsfb.org.my) via email or at 03-8320 0283.
Visit our website, www.mtsfb.org.my and our official Facebook account MTSFB to get more info.
We welcome your participation and look forward to a successful seminar.
Thank you.