Description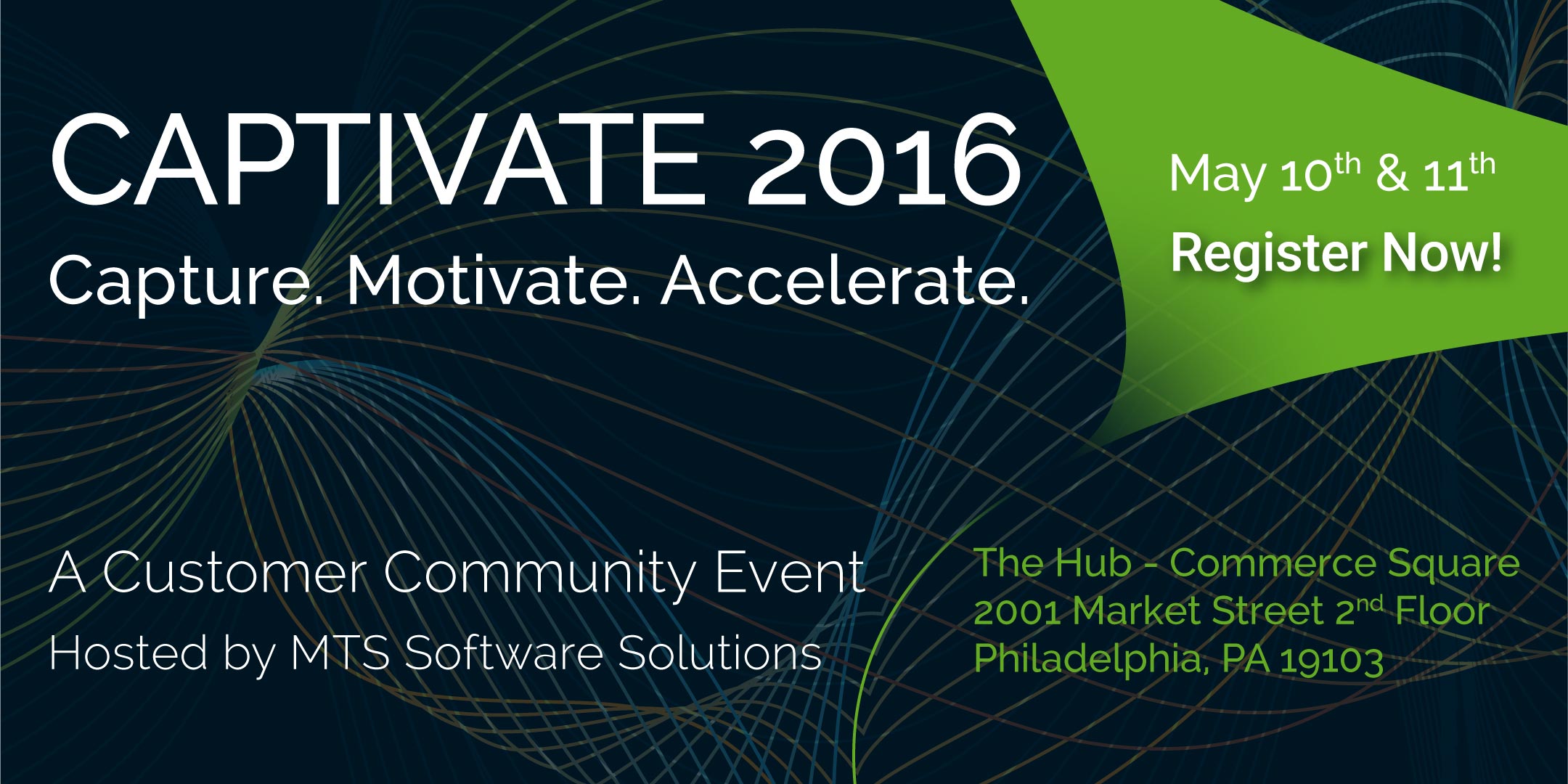 Join MTS Software Solutions along with our customers, partners, and fellow industry experts for 2 days of building relationships and a greater understanding of how our products and services can simplify, streamline, and accelerate your business processes. The purpose of the event is to provide the education, inspiration, and motivation to improve processes at your organization.
At Captivate 2016, we plan to capture your imagination and motivate your teams to use the tools and technologies from MTS Software Solutions to elevate performance, productivity, and profits. Whether you are an existing customer or are in the process of evaluating more efficient ways to manage manual, document-driven processes, there will be plenty of opportunities for take-aways to bring back to your fellow colleagues and boost the bottom line of your business.
An evening reception with cocktails and hors d'oeuvres will be held on Tuesday from 4pm - 6pm. Lunch will be provided both days.
---
Who Should Attend?
Any MTS Software Solutions customer, partner, or prospect that is interested in networking with other professionals in their industry and learning more about how to better leverage the technologies and services that we offer.
Something for Everyone - General & Breakout Sessions
The event will cater to both business users and technical users. The General Sessions will explore industry trends and provide overviews on the solutions and best practices to improve performance and profitability. The Technical Sessions will dive deeper into the configurations and support of those solutions.
What to Expect
The full, detailed agenda is coming soon.
In the meantime, we assure that the two days will be full of engaging and captivating content including Expert-led Sessions, Customer Case Studies, Product Demos, and Solution Stations where visitors can interact with product representatives.
Cost
We are pleased to offer this networking and capacity-building event for FREE!
---