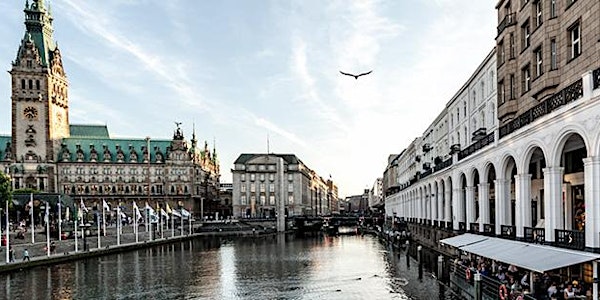 MTP Engage Hamburg Workshops 2018
When and where
Location
Katholische Akademie Hamburg Herrengraben 4 20459 Hamburg Germany
Description
Level up Your Product Management Skills
Our second MTP Engage comes to Hamburg on 20 April 2018. In addition to that we're offering a day of amazing pre-con workshops, on 19 April, enabling you to deep dive into some new skills.


Workshop + Conference = Separate Tickets
You should of course also join us at the conference the day after these workshops but tickets are completely separate. Conference tickets DO NOT give you access to workshops, nor do workshop tickets give you access to the conference. Get your conference ticket here.


Locations:
Visual Thinking for Product People (a half-day workshop) will be held at:
XING SE, Dammtorstrasse 30, 20354 Hamburg
All other workshops are at the conference venue:
Katholische Akademie, Herrengraben 4, 20459 Hamburg
Schedule
All workshops at the Katholische Akademie will start at 9:30 with registration starting at 8:30.
The workshop at XING will start at 13:00 with registration starting at 12:30.
Tea, coffee and drinks and breakfast snacks will be available on the day along with lunch. The workshops will end latest 17:00.
The Workshops
User Story Mapping (with Jeff Patton)
Ideal Agile development teams build small valuable chunks of functionality. But, that's easier said than done. Not all products or features are small and breaking them down into small buildable parts is challenging. And, even when you do, how do the people building those small parts not lose sight of the big picture?
Story mapping is a simple practice for telling the story of a whole product or feature starting by telling the stories of the users who'll use it. In this fast-paced workshop you'll learn the concepts of story mapping by building a map collaboratively with others. You'll learn advanced techniques for slicing a map to find small viable product releases, and then how to build your product using smaller stories without losing sight of the big picture.
About your trainer: Jeff Patton helps companies adopt a way of working that's focused on building great products, not just building stuff faster. Jeff blends a mixture of Agile thinking, Lean and Lean Startup Thinking, and UX Design and Design Thinking to end up with a holistic product-centric way of working. Jeff is the inventor of User Story Mapping and the author of the bestselling O'Reilly book on it.
Product Roadmapping (with C. Todd Lombardo)
Ask 10 people what a product roadmap is and you will get 10 different answers! This artifact is often misunderstood, yet an incredibly powerful if done right. Creating a great one is part art and part science. In this full-day session, we will talk through the purposes of a roadmap and a process for establishing your product's vision, gaining alignment with your stakeholders, validating themes, and presenting to upper level execs in order to maximize your team's impact.
Key Questions to Answer:
What are the differences between product strategy, a product roadmap and a feature release plan?
How do I relate my product work to business objectives?
How can I balance the need to plan, while staying lean and agile?
How do I look beyond the next quarter without over-committing?
How do I confirm projects or initiatives that have not been fully validated by customers?
How do I manage stakeholders and their pressure/influence?
How do I prioritize what product aspects to work on 1st, 2nd, 3rd…?
What's the best way to present a product roadmap to my stakeholders?
About your trainer: C. Todd Lombardo has been tinkering and doodling since he was four. Originally trained as a scientist, he's had job titles ranging from scientist, to engineer, to product manager, to designer, and even professor. He is currently the Head of Product & Experience at Workbar, a leading co-working space in Boston. He also serves on the adjunct faculty at IE Business School in Madrid, as well as Maryland Institute College of Art (MICA). He is a published O'Reilly Media author with two titles: Design Sprint (2015) and Product Roadmaps Relaunched (2017).
Stakeholder Management for Product Leaders
(with Julia Whitney)
Whether you've already been a Head of Product for a few years, or are new to the job, stakeholder management is one the biggest factors in your success as a product leader. But many product leaders say it's also one of their biggest challenges. This workshop is designed to increase your knowledge and skills, and to give you practical tools to address these challenges, and to turn your relationships with stakeholders into productive and rewarding parts of your role.
You'll bring your own stakeholder challenge into the workshop, and will leave with a bespoke plan that you can put into action as soon as you get back to the office. In the process you'll learn theory, tools, attitudes and habits that you can bring to stakeholder management whatever your future brings.
Stakeholder Analysis

Emotional Intelligence

Influencing

Conflict

Negotiation
About your trainer: Julia Whitney is a Leadership Coach whose approach to leadership was forged in her 20 years leading UX teams at the intersection of media and digital in a variety of complex and challenging stakeholder environments. Before founding her leadership business, Whitney and Associates, she was Executive Creative Director, and General Manager of UX&D at the BBC for 5 years, leading it's 150-strong UX&D department.
Product Management Essentials 102
(with Rosemary King)
This workshop is for seasoned product managers who want to expose their ideas and processes to some fresh air, rethink strategy and learn new frameworks that help structure decisions. The main goal of this class is to deep-dive into specific skills areas to improve on execution and communication.
You'll start with problem understanding and how to support the voice of the customer with larger evidence about viability, feasibility, and risk. Essentials 102 addresses how product managers need to apply strategic thinking to the product, communication and business so that our participants can feel more confident as they navigate complex landscapes.
This course covers:
Product lifecycle and understanding where your product falls
Business model canvases
Macro-data analysis
Implementing user research
Synthesis and analysis of user research and data
Acceptance pipeline
Stakeholder communication strategy
The class is driven by case studies designed to let participants get hands-on with the concepts immediately. Additionally, the product management experience of trainers Özlem and Rosemary delivers diverse perspectives on best practice, how to spot red flags, and what works in different scenarios.
Essentials 102 focuses on how to use quantitative data and qualitative user research to continually validate a product vision, as well as how to ensure that user insights are driven into the product backlog. It does not cover concepts around tech stack, back-end, or product roadmapping.
Designed for product managers who want to grow into product leaders, this course addresses the strategic aspects of the role, and also gives specific and focused advice on how to structure process that will provide clearer direction and priority. Essentials 102 is meant to help focus, refine and execute for better outcomes.
About your trainer: Rosemary King is an experienced product manager who has specialized in software development, agile enablement and lean methodologies for the past seven years. She has worked across diverse domains including government, finance, retail and enterprise. After starting her tech career in the New York City start-up scene, she moved into consulting and has spent time with ThoughtWorks and Pivotal Labs London. She has done freelance consulting and training with incubator programs like start-up bootcamp, done UX research on four continents and likes cold water surfing. She is currently Director of Training Products at Mind the Product.
Visual Thinking for Product People (half-day workshop with Britta Ullrich)
How to communicate complex ideas in an engaging and understandable way
Half-day Workshop at XING SE, Dammtorstrasse 30, 20354 Hamburg (13.00 - 17.00)
This intense 4-hour workshop is designed for product people who want to use the power of visual language in their work environment. You'll learn how to use visualization techniques to communicate your ideas and to create engaging presentations and meetings.
In almost all disciplines our colleagues and customers expect us to communicate complex ideas in an understandable and engaging way. Using pictures to visualize concepts, problems or ideas is a powerful tool to enhance memory, focus and fun at work. However, often times we don't know the right pictures and many people believe that they cannot draw – especially not in a work environment. In spite of the fact that it is the world's oldest language. Discover how this old technique can fundamentally change the way you work.

Five things you'll take away with you:

A bag full of visual vocabulary and some of the best markers for sketchbook & flipcharts.
You'll lose your fear of drawing and banish the sentence 'I can't draw' from your mind.
Your handwriting will improve and you will design flipcharts as if by magic.
The use of visual language will allow you to activate your colleagues and audience and invite them to participate. This will help you to communicate your professional needs in a friendly and productive manner.
You'll help different departments to gain a better understanding of one another: By reducing complex ideas to their core, visions can be communicated better and decisions can be taken more swiftly.
Topics include: Why working visually makes sense, Understanding the difference between visual facilitation, graphic recording & sketchnotes, Learn how to quickly draw symbols, emotional figures, impressive banners and fonts, and Applying your new skills to your work environment.
About your trainer: Britta Ullrich is Team Lead User Insights at XING in Hamburg – advises her colleagues when it comes to understanding user needs for shaping great products. As a Visual Trainer at vizworks.de she teaches adults basic drawing skills they can use at work to convey their ideas convincingly.
------
Header Image Courtesy of Moritz Königsbüscher / hamburgpixx