Description
Covid-19 Update
We are aware of the recent announcement which bans large scale events in Germany until the end of August, and as such are extremely sad that MTP Engage Hamburg 2020 will not take place this June as initially planned (this includes our pre-conference workshops and leadership forum).
We are currently working hard to be able to offer our attendees some alternative options and clear next steps, including:
Deferring your ticket/s to next year's conference (MTP Engage Hamburg 2021)
Transferring your ticket/s to alternative digital options, or
Simply organising our accounts for any refund requests we may receive
Information on the above options will be communicated directly to ticket holders in the coming weeks. As always, you can request a refund at any time and, regardless of the other options we come up with, this will always be an option.
Workshops: We are currently testing our very first remote workshops in Europe and the US and are now working with our Hamburg trainers to try and convert their workshops to a similar remote format. We'll be in touch with workshop ticket holders as soon as we have options available or clarity on cancellation.




---
More product people. More conversations. More MTP Engage Hamburg!
Mind the Product returns to Hamburg in 2020 with the fourth edition of our conference, MTP Engage. In a change from 2019, we're coming back in June 2020 and we'll be at Kampnagel, one of Hamburg's top arts venues. More product people, more conversations, more insights!
MTP Engage is an all-day conference that brings together hundreds of product people from all over the region, with a mix of keynotes, interactive sessions, and workshops, for an intimate and local product conference to complement the global #mtpcon events.
We may be bigger this year, but it's still all in the name - MTP Engage is dedicated to creating a friendly atmosphere and giving you endless opportunities to engage in meaningful conversations so you'll go back to work feeling inspired and ready to put into action what you've learned.
The keynote talks will cover broader & more general topics in English. The interactive sessions will get closer to the day-to-day work, helpful frameworks, and methodologies as well as reflect on the keynotes. Many of these sessions will be held in German but we will make sure that there is at least one English session at any one time for the international product community.
We look forward to seeing you again in Hamburg in June!
Watch the recap from 2019 to see what our audience and speakers have to say: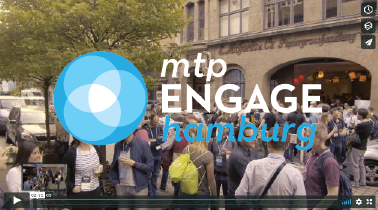 ---
Speakers
We're proud to announce our first keynote speaker, Jeff Gothelf.
Jeff Gothelf, Author of 'Sense and Respond' & 'Lean UX'
Jeff helps organizations and executives build the cultures that build better products. He is the co-author of the award-winning book Lean UX and the Harvard Business Review Press book Sense & Respond. He works as a coach, consultant, and keynote speaker helping companies bridge the gaps between business agility, digital transformation, product management, and human-centred design. Most recently Jeff co-founded Sense & Respond Press, a publishing house for practical business books for busy executives.
You can see details on all of our speakers on our website, as and when they are announced. Watch this space for more being announced very soon.
---
Schedule
For the full conference schedule, please visit our website.
---
Workshops & Leadership Forum
The day before the conference, on June 25th, we will also be running a selection of deep-dive workshops to help you level up your product management skills.
Or, if you're a product leader - Director, VP, CPO or higher - then join us for our invite-only, half-day Leadership Forum in Hamburg on June 24th instead. Apply for our Leadership Program to get your exclusive invite code.
Tickets for all of these events need to be purchased separately from your conference ticket:


---
Frequently Asked Questions
Should I buy a ticket even though I hope to be a speaker?
Yes, please purchase your ticket now and if you are a speaker then we will sort this out with you later.
Do you offer discounts for groups, students, startups, non-profits, etc?
The only discounts we offer are for Early Bird conference tickets (limit of one ticket per order), which sell out in a matter of minutes, and the group discounts on General Release conference tickets where we do 10 tickets for the price of 9. To ensure you hear about the Early Bird tickets make sure you are part of our Slack channel and receive our newsletter.

Can I change the name or other details on my tickets?
Yes, but only the person who purchased the ticket can make these changes on Eventbrite. You are free to change your ticket details up to two days before the conference, including name, title, etc. Please make sure these details are correct as they will be what we show on your badge! Just login to Eventbrite and make the changes, following these instructions. If you can't reach the person who purchased the ticket in order to get them to change the information please contact us on tickets@mindtheproduct.com and we will help you make the updates.
Can I get a refund?
We offer a full refund up to one month before the conference. Simply log in to Eventbrite and request the refund following these instructions. As with changes, only the person who purchased the tickets can request a refund.
Can I pay by invoice?
As we are a small team we only offer payment by invoice if you are buying 5 tickets or more due to the additional overhead. Early Bird conference tickets cannot be purchased by invoice. Please also note that no tickets are held/issued until payment of the invoice has been received. Request to pay by invoice by emailing tickets@mindtheproduct.com

Tickets are not held

until payment has been made – there are no exceptions to this.

We cannot agree to any terms and conditions

associated with Purchase Order numbers or other supplier agreements.

We do not fill in supplier detail forms

for ticket invoices – if you cannot find details you require on our website – please ask.


Frequently Asked Questions | Terms & Conditions | Code of Conduct | Privacy Policy

-----
Header Image Courtesy of Moritz Königsbüscher / hamburgpixx