Description
THE CONFERENCE HAS NOW SOLD OUT
Tickets for our training workshops and Leadership Forum are still available:
---
A regional conference for passionate product people
MTP Engage is an all-day conference that brings together 300 product people from all over the region, with a mix of keynotes, interactive sessions, and workshops, for an intimate and local product conference to complement the global #mtpcon events.
The keynote talks will cover broader & more general topics in English. The interactive sessions will get closer to the day-to-day work, helpful frameworks, and methodologies as well as reflect on the keynotes. Many of these sessions will be held in German but we will make sure that there is at least one English session at any one time for the international product community.
We look forward to seeing you again in Hamburg in May!
Watch the recap from 2018 to see what our audience and speakers have to say: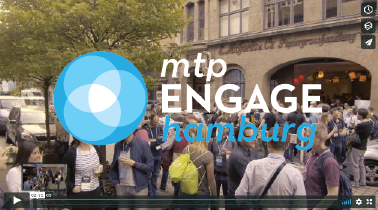 ---
Speakers
We're very proud to announce the formidable Marty Cagan as our closing keynote speaker for MTP Engage Hamburg 2019!
See all of our speakers on our website.
---
Schedule
For a detailed schedule of the day, please visit our website
---
Workshops & Leadership Forum
The day before the conference, on May 23rd, we will also be running four deep-dive workshops to help you level up your product management skills, as well as a special Product Discovery workshop with Silicon Valley's Marty Cagan (SOLD OUT)!
Or, if you're a product leader - Director, VP, CPO or higher - then join us for our first ever invite-only, half-day Leadership Forum in Hamburg instead.
Tickets for all of these events need to be purchased separately from your conference ticket:


---
Frequently Asked Questions
Should I buy a ticket even though I hope to be a speaker?
Yes, please purchase your ticket now and if you are a speaker then we will sort this out with you later.
Do you offer discounts for groups, students, startups, non-profits, etc?
The only discounts we offer are for Early Bird conference tickets (limit of one ticket per order), which sell out in a matter of minutes, and the group discounts on General Release conference tickets where we do 10 tickets for the price of 9. To ensure you hear about the Early Bird tickets make sure you are part of our Slack channel and receive our newsletter.

Can I change the name or other details on my tickets?
Yes, but only the person who purchased the ticket can make these changes on Eventbrite. You are free to change your ticket details up to two days before the conference, including name, title, etc. Please make sure these details are correct as they will be what we show on your badge! Just login to Eventbrite and make the changes, following these instructions. If you can't reach the person who purchased the ticket in order to get them to change the information please contact us on tickets@mindtheproduct.com and we will help you make the updates.
Can I get a refund?
We offer a full refund up to one month before the conference. Simply log in to Eventbrite and request the refund following these instructions. As with changes, only the person who purchased the tickets can request a refund.
Can I pay by invoice?
As we are a small team we only offer payment by invoice if you are buying 5 tickets or more due to the additional overhead. Early Bird conference tickets cannot be purchased by invoice. Please also note that no tickets are held/issued until payment of the invoice has been received. Request to pay by invoice by emailing tickets@mindtheproduct.com

Tickets are not held

until payment has been made – there are no exceptions to this.

We cannot agree to any terms and conditions

associated with Purchase Order numbers or other supplier agreements.

We do not fill in supplier detail forms

for ticket invoices – if you cannot find details you require on our website – please ask.


Frequently Asked Questions | Terms & Conditions | Code of Conduct | Privacy Policy

-----
Header Image Courtesy of Moritz Königsbüscher / hamburgpixx