MTL's Leap® Pregame Show | Oak Brook, IL

Tuesday, July 22, 2014 at 1:00 PM

-

Wednesday, July 23, 2014 at 11:30 AM (CDT)
Event Details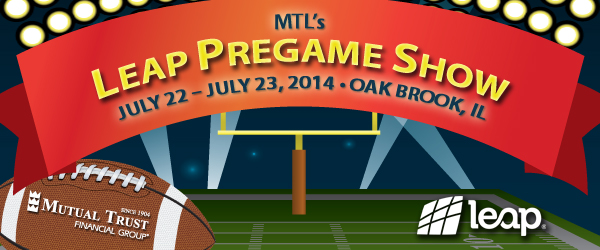 Mutual Trust Financial Group Invites You
to Our Leap® Systems Pregame Show
Kick-off a week with Leap by joining us at our complimentary Leap Pregame Show, taking place July 22 – 23 at our home office in Oak Brook, Illinois, prior to Leap's Half-Time event.

After finding out that Leap—a longtime partner with Mutual Trust—was hosting their Half-Time event across the street from our office at Hamburger University, we thought it would be the perfect opportunity to team up yet again! 

MTL's Leap Pregame Show will give you a chance to learn about Leap's philosophy, "rule book" and how to use their cloud-based Financial Stories™ as a solution for your clients directly from the folks from Leap Systems. You'll also hear from Paul Renberg, an MGA with MTL and the longest standing Leap Practitioner in the country, on how you can use Leap to help grow your practice.

Why should I attend MTL's Leap Pregame Show?

First of all, it's FREE!

If you're looking to enhance your practice and offer clients new ideas that they can easily understand, or you're already a successful Leap Practitioner in need of a refresher and introduction to Leap's new Financial Stories™, MTL's Pregame Show is for you.
Please Note

:
•
You do not need to be a licensed Leap Practitioner

 to attend our event.

•
It is not a requirement to attend Leap Half-Time in order to join us at our Leap Pregame Show

. Details on Leap Half-Time can be found below.

Whether you are new to Leap or a seasoned Leap Practitioner, all will benefit from this event and are welcome to attend. 

Pregame with us and register today!

Where
Mutual Trust Financial Group
1200 Jorie Blvd.
Oak Brook, IL 60523
Meeting will be held in the Lower Level Conference Room

When
Tuesday, July 22, 2014
1:00 p.m. – 5:00 p.m. CDT

to

Wednesday, July 23, 2014
8:30 a.m. – 11:30 a.m. CDT
Continental Breakfast from 8:00 a.m. – 8:30 a.m.

Registration
FREE!
Please Note: Travel expenses and accommodations are your responsibility.

MTL's Pregame Show Topics

Tuesday, July 22, 2014 | 1:00 p.m. – 5:00 p.m. CDT

Presenter

Topic

Ande Frazier


How to Win Financially at Life | Rules of the Game

Applying financial rules to the Leap Model™ in a way that helps people build wealth with efficiency in mind. It also gives them access to cash throughout their full life horizon while, positioning them for maximum enjoyment of their wealth in retirement. At the same time, it puts assurances in place so clients will likely be okay when the perils of life come their way.

Rod Miller

Getting Short Changed | The Problem with the BTSD Strategy

We will examine a step-by-step methodology to help our clients see why the "Buy Term and Save the Difference" strategy leaves them getting short-changed. The results it produces are often disheartening and taking this path can cost them more wealth that they generally actually end up having in the end.

Christian Castiglione 

Strategic Alternatives to the BTSD Strategy

After understanding the problem with the BTSD strategy, this session will help you show your clients what to do about it by exploring strategic alternatives. You will be able to show them comparative returns while also examining effectiveness metrics for both current approaches and optional flows and positioning of money.

Mike Welker

Solution to the Retirement Problem | Person A Person B Story

While consumers feel the squeeze of trying to balance retirement income with legacy, Leap is able to show how to optimize both. And you will learn how to enable retirees to enjoy a substantially higher level of income through Leap's powerful "asset and income maximizing strategy."

Wednesday, July 23, 2014 | 8:30 a.m. – 11:30 a.m. CDT
Presenter 

Topic

Paul Renberg

Dimensions of Life Insurance

This calculator is brand new to Leap licensees but does so much more than just crunch numbers – it provides fresh perspectives on Whole Life. Learn how its use will enable you to review the product's design, its benefits, and how little it costs from a macroeconomic perspective.



Term Opportunity Analysis

The traditional view articulated by financial personalities and financial media is that term life insurance is an inexpensive way to obtain protection for one's family. But a new Leap calculator shows just how expensive it is for most people. Financial Stories™ and Leap Strategy Worksheets will be used to demonstrate how expensive term can be.



The Time and Place for FinancialStories™

Leap can be easy and quick when using this new web-based tool in transactional and conceptual ways. This session will provide an overview of its tools and a discussion about how and when they should be used in your professional practice.



Getting Optimal Results by Using the Leap Client Kit

The recently redesigned Leap materials have been repackaged in a way that is yielding greater results than ever in the field. This session will provide an overview of how and when they should be used in conjunction with Leap software to get your clients to take action in implementing strategies that can improve their financial positions.



Tying Leap® all together with Wealth In Motion®

As Leap's flagship system, WIM stands head and shoulders above other resources available to today's insurance and financial practitioner with its powerful functionality. It is sophisticated in its macroeconomic modeling capability. Yet it is easy to use when taking the approach that will be shown during this session. 

The Lineup

Tuesday, July 22, 2014
 

Ande Frazier, CLU, RICP, LUTCF, President and Chief Marketing Officer at Leap Systems, began working in the financial industry over 20 years ago, specializing in personal finance and wealth building for individuals and business owners using the Leap System. Her skills led her to become a prominent speaker and trainer, having trained and coached thousands of financial professionals in all areas of financial, business and estate planning. Ande has developed a skill for delivering complex financial strategies in an effective and understandable format.
 

 
Rod Miller

, CLU, ChFC, CFP®, 

Executive Vice President – Distribution at Leap Systems, has been at the company since 2004 and is currently responsible for enterprise relationship management with insurance and financial service companies and select local agencies and firms. Rod also has responsibilities in the area of product and systems development in addition to conducting training for the company. He also provides executive oversight for certain aspects of corporate operations and acts as the company's compliance officer.
 
    
Christian Castiglione, Chief Innovation Officer at Leap Systems, joined the company in 2003 with a primary role in strategic planning and product development. That includes Leap's ongoing research and development of its systems, most notably its ground-breaking Wealth In Motion® software in 2007 and its emerging Leap Cloud Platform products that began being released in the Fall of 2013 with the introduction of Financial Stories™. He continues to lead the development and release of XRM™, Leap Pro™ and other systems yet to be announced.
 
 
Mike Welker, National Trainer at Leap Systems, has been in the financial services industry for over 13 years and has owned a real estate proprietary school—providing prelicensing and continuing education to real estate agents, mortgage originators, CPAs, and attorneys. Currently, Mike is a member of the Leap Functional Support team, answering questions from financial professionals throughout the United States and Canada. He also is a National Trainer, providing both live and webinar education on an ongoing basis.

Wednesday, July 23, 2014
| | | |
| --- | --- | --- |
| |    | Paul Renberg of Paul Renberg & Associates in Vancouver, Washington, has been in the business since 1980 and a Master Leap user since 1982. While working as an Associate General Agent and later a General Agent with Guardian Insurance Company in the 1990's, Paul implemented Leap methodologies that resulted in dramatic production increases. In 2003, Paul's agency finished second in the country with Canada Life. He has been an MGA with MTL since 2007 and has been a guest speaker at several company events. |
Lodging
If you are in need of a room, we recommend The Hyatt Lodge at McDonald's Campus, as it is across the street from our office. Leap's Half-Time event will be held at Hamburger U within McDonald's Campus.

The Hyatt Lodge at McDonald's Campus
2815 Jorie Blvd.
Oak Brook, IL 60523
Reservations: (630) 568-1234 or click here.

Transportation
Ground transportation can be booked through West Suburban Limousine at your own expense.

West Suburban Limousine
(630) 668-9600
For rates and reservations, click here.

About Leap Systems
Leap Systems, LLC is a leading provider of innovative financial systems for financial professionals throughout the United States and Canada.

Founded in 1980, Leap's strategies, methodologies and technology continue to transform the way financial professionals interact and build relationships with their clients. The result is a holistic, scientific, interactive and visually engaging experience unlike any other financial process in the world.

Attend the Leap Half-Time event July 23 – 25 at Hamburger U ($999 if you register by July 1st) AND license Wealth In Motion® by August 1st and get a $700 rebate on your Half-Time registration fee. Click here for more information on Leap's Half-Time event.

For more information on Leap, visit their website by clicking here.
Learn how Mutual Trust Financial Group supports Leap by clicking here.
When & Where

Mutual Trust Financial Group
1200 Jorie Blvd
Oak Brook, IL 60523


Tuesday, July 22, 2014 at 1:00 PM

-

Wednesday, July 23, 2014 at 11:30 AM (CDT)
Add to my calendar
Organizer
Mutual Trust Financial Group
www.mutualtrust.com 

A proud partner with Leap® Systems, Mutual Trust Financial Group is a thriving, insurance-based financial services organization with an impeccable reputation for products, service and integrity. The flagship of the organization, MTL Insurance Company®, is known as "The Whole Life Company" and has remained a leader in participating whole life insurance since 1904.
For questions regarding MTL's Leap® Pregame Show or for details on how we support Leap®, please contact our Leap Coordinator, Kathleen Johnson, at 800-323-7320, ext. 5353.
MTL's Leap® Pregame Show | Oak Brook, IL