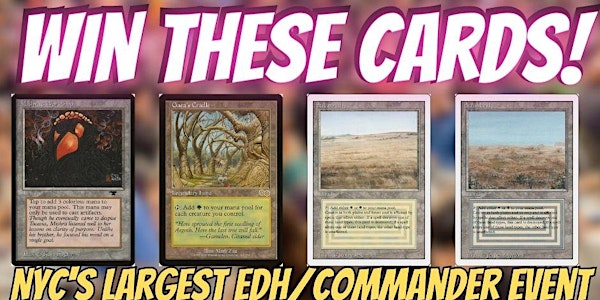 MTG Commander/EDH Tourney In NYC For A Mishra's Workshop & Gaea's Cradle!
The first ever 21+ Magic Commander/EDH Tournament in NYC. We are playing for a Mishra's Workshop, Gaea's Cradle, Duals, and LOTR packs!
Date and time
Starts on Sunday, June 18 · 3pm EDT
Location
Iron Bar & Lounge 713 8th Avenue New York, NY 10036
Refund Policy
Contact the organizer to request a refund.
Eventbrite's fee is nonrefundable.
About this event
Sunday June 18th 2023 will mark a new era in
MTG Tabletop Gaming In New York City.
For the first time ever we will be hosting a competitive EDH/Commander Tourney in Midtown Manhattan.
And the prizes will be next level!
1st - Mishra's Workshop
2nd - Gaea's Cradle
3rd - Savannah
4th - Scrubland
5-12th - $50 Shop Credit to CollectorsEmporium.com
Every player gets an exclusive playmat for the event designed by artist, Peter Graham
Each of the first 3 rounds, pod winners, will get LOTR Packs (this set is launching this same weekend), after the 3rd round we will offer LOTR Drafts for those who are cut or who drop from the tourney.
CollectorsEmporium.com will be sponsoring the event, running an LOTR draft and have sealed product for sale. DaBasementGames.com will have a collection of singles for sale and will be purchasing singles as well.
Included in your entry is a restaurant style buffet with many options for all food preferences. A full Bar will also be available for those wishing to have drinks. This is a 21+ event.
"Happy Hour" will begin at 3p, the Tourney starts at 4pm sharp. Side events like a "Command Zone" & LOTR Drafts will also become available as players are eliminated.
TOURNEY SPECIFICS
Food. This location offers an excellent assortment of buffet style food for most desires and diets. We are paying for food for 150 people with a cap of players at 112 so no one should leave hungry. There will also be a full bar stocked with bartenders for those who wish to purchase alcohol separately. During gameplay, to avoid any issues with food and cards, food and drinks will not be allowed at the table. That's why the rounds are 75 minutes to allow a 15 buffer between rounds to eat, drink, check out vendors, socialize etc.
Proxies. We discussed this a bunch with our casual & competitive players, also WOTC sanctioning and came down on a ZERO PROXY Policy. However we ARE ALLOWING GOLD BORDER/WORLDS/MAGIC 30, WOTC PRINTED CARDS, and foreign language too, hopefully this helps keep the tourney fair for the majority of you. We know this means some people will have to make adjustments to their favorite decks to compete, but for the prizes listed, we believe this policy will be worth it. Judges discretion on allowed cards is final, please make sure your sleeves are opaque or you will be asked to re-sleeve.
Deck list. Decklist must be added to Moxfield.com and a physical paper printout brought with you to the event. Decklist can and will be checked by any judge randomly throughout the event. No substitutions can be made to your deck between rounds.
The rounds will be 75min each, no eliminations during the first 3 rounds. The winner of each pod will get an LOTR pack. A total of 6 rounds will be played in the tourney. We know the standard EDH Tourney round is 90 minutes, but the venue won't let us start till 4p, so we had to make this concession and hope everyone understands, this also saves us having to play the final pod till 4am! Points are awarded as follows.
112 Player Max! This allows for easy brackets, no eliminations before round 4. So all players get at least 3 rounds in the tourney to play, earn points and packs.
-POINTS- (amended 4/15, based on numerous conversations with players in our community we have adjusted how points will work based on a system that has been previously used and widely accepted).
Win the pod 5pts
Tie the pod 1pts
Lose the pod 0pts
Due to the unique nature and start time of this event we will make announcements at the 15-10-5 minute time reminders, if round goes to time, the active player will end their turn, all remaining players will be considered a tie and scored pts accordingly.
Competitive REL will be enforced.
-PRIZES-
So we are aiming for a 'bracket system' based on points accrued during your games. During the first 3 rounds pts are added and no one is eliminated, starting with round 4 we will move from 112 players to 56 players (pt cut off will be determined at event). round 5 this goes to 28 players. round 6 will be 12 players (3 tables)
Made it to the final 3 tables, congrats you're all winners! From these final 3 pods the winner of each pod will be put into prize circle for the Workshop, Cradle, Savannah, and the Scrubland will be given out via raffle during the event. All non-winners from the final 3 tables will be given shop credit to spend at the vendors present. We will be utilizing "Command Tower" software for pod structure and point breakdowns.
Early bird price of this event is $100. In June, the price will go up by $20.
Please feel free to email us directly with any questions you may have for the event, we also have a social group on whatsapp for all players in this tourney.
DaBasementGames@gmail.com is where you can send any and all emails.
This event will happen rain or shine.
**As an entrant in this event for the entire month of June, you will receive free entry to our "Monday Night Magic" which is where we play MTG Commander/EDH every Monday at Iron Bar from 7-11p for MTG packs (which we provide).**
each player in the June 18th event will be receiving one of these awesome playmats inspired by the LOTR set releasing the same weekend, designed by our in-house artist, Peter Graham.