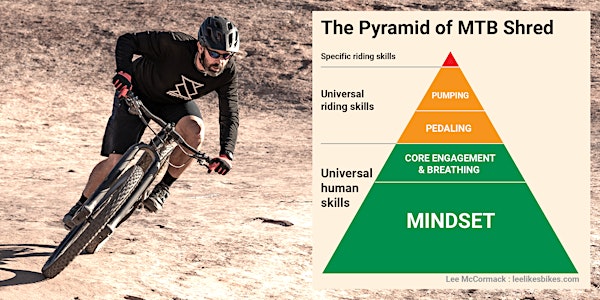 MTB Talk: Make 2023 your best riding year (so far)
Learn the essential physical and mental skills to get you riding (and living) better in 2023 and beyond. And great beer and pizza!
When and where
Location
Kokopelli Beer Company 8931 North Harlan Street Westminster, CO 80031
Refund Policy
Contact the organizer to request a refund.
Eventbrite's fee is nonrefundable.
About this event
Hello friends! 
My name is Lee McCormack. I'm a mountain biker, author, teacher and speaker based in Boulder, CO. I've dedicated the past 20 years of my professional life to understanding and sharing the dynamics of great mountain biking. In that time I've written 11 books, published thousands of articles, taught more than 10,000 riders, trained more than 1,000 coaches, gotten millions of video views and established myself as the world's kung fu master of MTB instruction. 
Over the years, as I refined and refined my approach to the mechanics of riding, I've discovered an incredibly simple approach to bike setup, fitness training, riding skills, and mindset that is easy to learn, virtually crash proof, infinitely scalable as you improve, and proven to add joy to your entire life (both on and off the bike).
I'm excited to teach you the essentials now, during the off season, at Kokopelli Beer Company in Westminster, CO. If you practice what I teach you, this talk (really, a conversation) will make 2023 your best riding year yet — and lay the foundation for better and better years as you age.
Ticket prices:
$18 in advance.
$20 at the door.
As you fill your belly with refreshing drinks and nourishing food (those are not included in the ticket price), I will fill your mind with beautiful truth. You can expect to learn:
How freaking simple great mountain biking is. And how it relates to every other action sport and many other things you do every day. You will stop worrying about your bike's head angle, which foot should be doing what when, and all other unnecessary complications. You will ride with pure, peaceful flow.
How to maintain physical centeredness. As long as your weight (more accurately the normal force) is balanced directly into your bike's bottom bracket, you cannot be flung over the handlebars, and it's very hard to wash out in corners .Those are the two biggest causes of MTB injuries; with this simple principle you can theoretically eliminate all crashes. Yes, I said that. Master your hip hinge and learn how to match your bike angle to the terrain, and you ride with total impunity. You can expect safer and better:
Speed control
Cornering
Technical climbing
Pumping
Hopping
Dropping
Jumping
Flow
Fun!
The Pyramid of Shred
You will learn the key skills for riding better — and having more and more fun — for your entire riding life. Here they are, starting with the least important skills (which you can only practice while riding) and ending with the most important skills (which you should practice all day every day).
Specific riding skills
These are the details you execute on your bike. Things like line choice, boosting little gaps and having silly fun. As you refine the below skills, this begins to happen automatically. Put another way, you slip into a glorious flow state. If you're lucky, you get a few hours of this each week. This is the pointy tip of your Pyramid of Shred.
Universal riding skills
Pumping. Also known as the row/anti-row cycle. This is at the heart of all technical riding skills. Pumping, hopping and jumping are all row/anti-row. Cornering is row/anti-row sideways. Technical climbing is row/anti-row while pedaling. You can practice this skill on a pump track and on a RipRow (if you have one).
Pedaling. We all know how to pedal, right? Well, there is an easier, more efficient, and more powerful way. My clients have gained 8-25% more power merely from improved technique. The less skilled you are now, the more improvement you'll see. You can practice this skill on a bike and a stationary trainer (a great use of winter time). 
Universal human skills
Core engagement and breathing. The owners' manual for your body, the one you never received, dedicates most of its pages to this skill. 1) Most people have no idea how to engage their core. 2) Fewer can maintain core engagement while breathing. In order to ride well or fight bears, you need both. I'll show you some techniques to practice as often as you can: sitting in traffic, waiting in the grocery line, pretty much all day. Bonus: A likely reduction in lower back pain.
Mindset. Here's the biggie. I see this with every student I work with. Whoever you are as a person shows up on the bike. If you have self limiting beliefs off the bike, they surely show up on the bike. (Evidence: When you make a turn then mutter "That sucked.") This leads to frustration and perpetuates your bad thought habits. I'll introduce you to the Joyride Rules: three simple principles to guide how you relate to yourself and other people. We use them in every class and camp, and they have profound results. My non-bike CEO-type clients use them in their businesses, and they report huge results there too. You should be practicing a solid mindset every moment you're awake. This forms the untippable base of your Pyramid of Shred.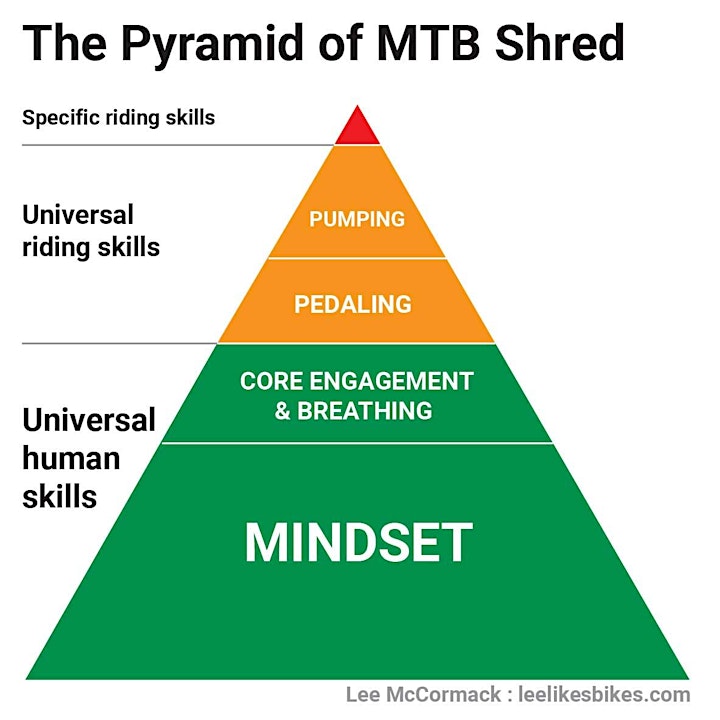 Ongoing support
Your ticket includes a free month at the RideLogic MTB School (worth $19). This site has all the lessons and videos and tools you need to choose and dial in your bike, master kung fu riding skills, maintain great physical fitness and develop a life-loving and limitation-smashing mindset. You receive advice from real-life, full-time professional mountain bike instructors.
Awesome venue
We are meeting at Kokopelli Beer Company at 8931 N Harlan St, Westminster, CO 80031. This is ColoRADo's only women-owned brewery, and it's our favorite Friday night spot. They have an excellent variety of beers plus flavorful pizzas and more. We have one of the main rooms to ourselves. You can fill your belly with yummies while I fill your mind with knowledge and your soul with hope. Your ticket price does not include food and drink.
Two hours of fun
I'm planning about 60 minutes for the core part of my talk. This leaves plenty of time for Q&A, audience exercises and just plain hanging out and making friends. My talk will focus on the big, universal truths. If you have specific questions about, say, a handlebar width that doesn't ruin your shoulders or a jumping technique that doesn't break your face, bring it up in the Q&A.
A lifetime of fun! 
Are you going to enjoy this talk? Heck yes. Will you gain lifelong skills that help you both on and off the bike? Heck yes! This is a smart investment in the most important equipment you have: You.
I'm so excited to see you! Since this talk touches on Life as much as riding, bring your non-riding friends and family.
About Lee
Lee McCormack is a professional mountain bike coach, author, information designer, teacher and speaker based in Boulder, CO. He's written 11 books, worked with more than 10,000 people and trained more than 1,000 coaches. Lee and his team were awarded the 1998 Pulitzer Prize for Public Service. He is the 2004 U.S. national downhill mountain bike racing champion and proudly claims 2nd place at the 1997 Grand National Rodeo bull riding competition. Lee works with individuals and teams to help people live more purposeful and impassioned lives.