Description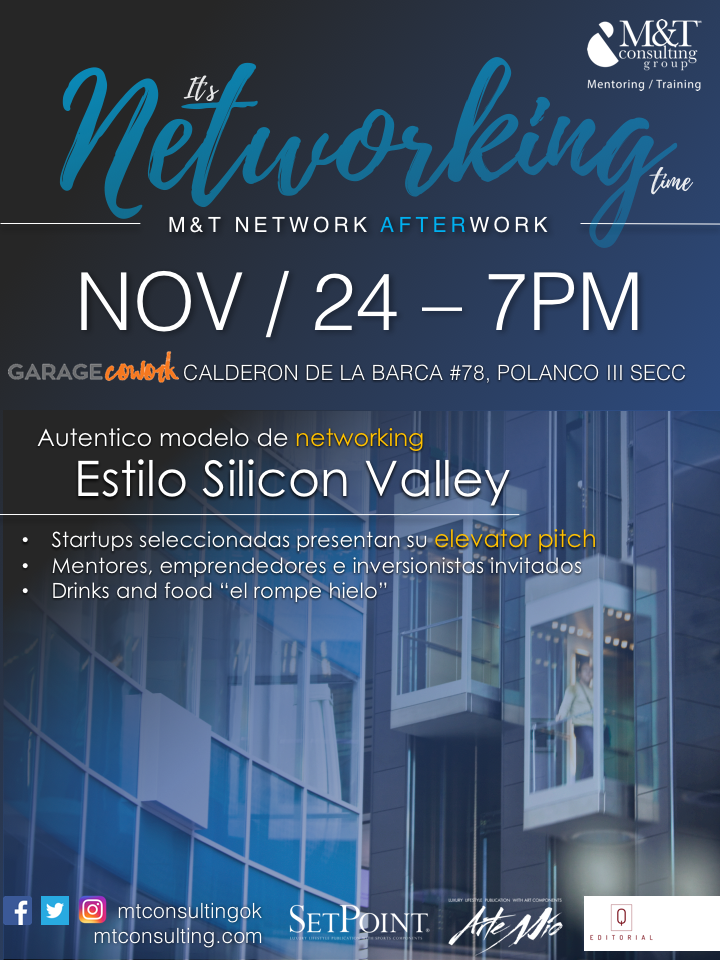 M&T Network After Work en la CDMX
¿Tienes una idea y no sabes cómo darla a conocer? ¿Te gustaría tener una experiencia al estilo Silicon Valley?
Aquí está todo lo que necesitas para hacer de tu startup, LA MEJOR STARTUP!!
Qué es lo que vas a encontrar aquí:
Tendrás las bases para comenzar y/o mejorar tu "Elevator Pitch"
Coaching durante el evento
Mentores, Fondos e Inversionistas
Pitches para escuchar
Posibles clientes
LO MEJOR: Cerveza y Cena… "el rompe el hielo".
¡¡¡Tú haces el resto!!! y lo mejor, no te costará miles de dólares!!!
Let´s get to work!
Si tienes alguna pregunta y/o estas interesado en dar tu Pitch en alguno de nuestros próximos super eventos escríbenos a innovation@mtconsulting.com.
AGENDA
7:00 pm - Recepción/Networking
7:30 pm - Bienvenida y ¿Qué hacemos en M&T?
8:00 pm - Pitches de Startups que hablan de su caso de éxito, que sirve de motivación e impulso a las nuevas StartUps a transformar su idea de negocio algo real. Las Startups que se presentan pueden estar buscando inversión, mentoría, clientes, hasta capital humano..
9:30 pm - Terminamos la noche con el Networking, cena y cervezas
"Not ready to pitch just yet, come listen and learn."
Welcome on board!
Te esperamos!!