Mt. Neboh Baptist Church's - Reverend Dr. Richard Watkins Growth Institute
The institute is designed for participants to enroll in three bible enriched days of instruction and receive a certificate after completion.
About this event
**FREE EVENT**FREE EVENT**FREE EVENT**FREE EVENT**
Mount Neboh Baptist Church of Harlem's Annual Reverend Dr. Richard Watkins Growth Institute.
Theme: It's Time 2 UPgrade Your Connection With Christ - John 15: 1-7
Date(s): Tuesday, November 30th 2021 - Thursday, December 2nd 2021
Time: 6:30pm - 8:00pm
Location: LIVE ON ZOOM
*CHOOSE ONLY ONE CLASS FOR THE THREE DAYS*
FACILITATORS:
Reverend Dr. Vernon Shelton, Sr.: Senior Pastor - Holy Trinity Baptist Church, Amityville, New York
CLASS I - "I'm In Need Of An UPgrade"
Upgrade is a phrase that we all are familiar with. All processes such as cellphones, televisions and computers need frequent upgrading but how often do we do it on ourselves – our attitudes, perspectives, patience, social skills, and faith etc.? Have you allowed the fears, doubts and trauma of Covid-19 to get you stuck? When there is no upgrade in your life, it is like being stuck in the same place mentally and spiritually. Where we are right now in our relationship with God is not a stopping point but a steppingstone.
Upgrading should not be left to chance because if you do, it will not happen. Do you want more out of your walk with the Lord during this post-pandemic season? What about just taking a season to upgrade something about yourself.
This class will encourage you to Upgrade intentionally. The facilitator will explore some biblical instructions to help you UPGRADE yourself; in your prayer life, worship, perspective, attitudes, relationships, stewardship, faith and more.
Reverend Dr. Carl L. Washington, Jr.: Senior Pastor - New Mount Zion Baptist Church, New York, New York
CLASS II - "I Am Who God Says I Am"
Who Are You? Many of us waste time worrying about what other people think of us. It doesn't matter what people say about who you are-and in fact it doesn't matter who the devil says you are. But what matters is what God says about you. We want to be valued, loved, respected and admired. But why base our identity and sense of self-worth on the opinions of others, when God's view of us is the only one that truly matters. Satan will put doubts in our minds and use people to do the same. What can we do? To overcome and have victory in our Christian walk, we need to digest the Word and promises of God. This class will unpack our identity in Jesus Christ and explore how this knowledge will help us in our battle against Satan's schemes to cripple us in our Journey of Faith to God's destiny for us. Join this class and discover the importance of knowing and embracing who you are in Christ and living out your purpose with Godly confidence.
CONTACT US:
Email: mtneboh1883@gmail.com
Phone: (212)866-7880
Website: www.mountnebohharlem.org
Facebook: @MountNeboh
Twitter: @mtnebohbcharlem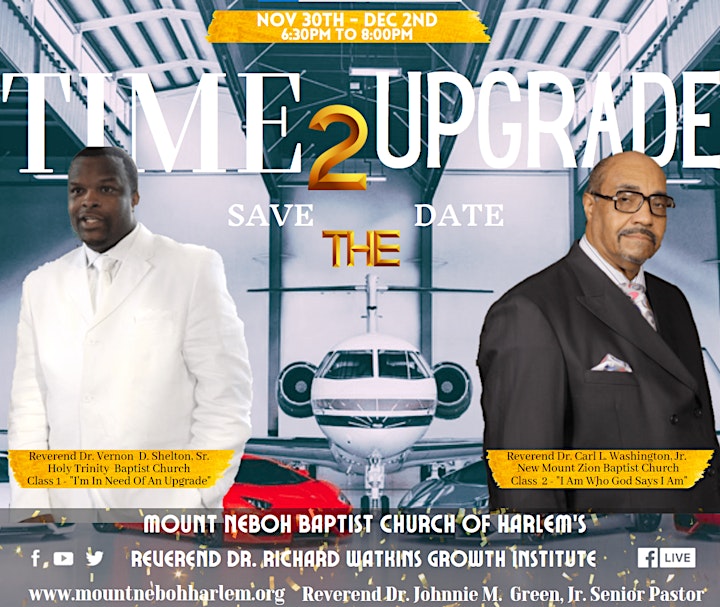 Organizer of Mt. Neboh Baptist Church's - Reverend Dr. Richard Watkins Growth Institute