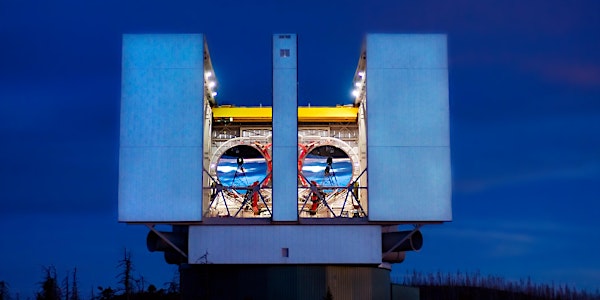 Mt. Graham International Observatory Tour
New regulations in place post-pandemic, the maximum number is 10 per date. Also to make sure everything is ready on time sales end Sept. 6
Date and time
Saturday, September 16 · 9am - 5pm MST
Location
EAC Discovery Park Campus 1651 Discovery Park Boulevard Safford, AZ 85546
About this event
Our Mt. Graham International Observatory tours start here at Eastern Arizona College's Discovery Park at 9:00 am. We arrive back here at the campus at approximately 5:00 pm, so it's an all-day adventure!
There are only daytime tours (no night time sky gazing). We will show you the Vatican Advanced Technology Telescope, the Arizona Radio Observatory, and the Large Binocular Telescope which is currently the largest, most powerful telescope in the world!
Tickets are non-refundable except for cancelations due to weather and fire.
If you have any questions please email: monica.clarine@eac.edu
Or call: (928) 428-6260
Upon check out you will be asked to agree to our terms and conditions
Liability Medical Warning:
We try to make your visit as pleasant as possible, but there are a few things you need to consider first: Due to the extreme altitude, anyone with the following conditions is ABSOLUTELY DISQUALIFIED and will not be allowed to participate:
Any diagnosed Medical Condition
Chronic Respiratory Disorders
Altitude Sickness (the facilities are at an extremely high altitude (10,500 ft).
Asthma
Chronic Obstructed Pulmonary Disease (COPD)
Emphysema
Chronic Bronchitis
Congenital Heart Disease
Congestive Heart Failure (CHF)
Abnormal Heart Rhythm – Arrhythmia
Pregnancy
ANY need for assistive devices to walk
An Important Consideration: We are very sorry, but our observatories are not handicapped accessible. You must be able to climb two or three flights of stairs and walk at least 1 /4 mile and stand in place for extended periods of time at high altitudes. Participants must be able to easily get in and out of the van several times.
The observatories require us to wear close-toed walking shoes for safety.
The temperature is approximately 30 degrees cooler, therefore a light jacket is recommended.
If you tend to get car sick, the road will definitely make you car sick!
There is NO SMOKING & NO ALCOHOL allowed.
No pets are allowed!
The minimum age for participants is 12 years old.
Please carefully consider if you have any condition that may hinder your visit of the telescopes at the Mt. Graham International Observatory. Standard protocol at MGIO for any individual who experiences a medical concern and requires any medical interventions – including the use of Medical Gas (supplemental oxygen) - is immediate transport to the nearest Emergency Medical Center (Mt. Graham Regional Medical Center in Safford, Arizona) without delay.
Mt. Graham Red Squirrel Agreement:
The endangered Mt. Graham red squirrel is protected by the Federal Endangered Species Act of 1973, as amended. It is illegal to "take" (this means to harass, harm, pursue, hunt, shoot, wound, kill, trap, capture, or collect, or to attempt to engage in any such conduct) individuals of this species. This includes touching and feeding. If anyone "takes" (as defined above) a Mt. Graham red squirrel, they may be subject to prosecution under the Endangered species Act. Please report all squirrels wounded or harmed to the first available Forest Officer. The Forest Service will report all dead or wounded squirrels to the US Fish and Wildlife Service. Locations of killed squirrels should be immediately reported to the Forest Service so that the dead squirrel can be collected and preserved for study. There is some concern that the squirrels could become dependent on human food, which in turn may reduce survival. Be sure that you properly dispose of all trash at the telescope sites.
MGIO Educational Visit PERMIT REQUIREMENTS
I have read and understand the Site Permit requirements and the conditions under which they are issued:
1. I will remain inside the clearing limits of the MGIO facilities (delineated by a yellow perimeter rope).
2. I will not go beyond the clearing limits (boundaries) of the two-mile, one-way, observatory access road.
3. I will not use this permit for any purposes other than those stated on my permit.
If these conditions are not met, I understand I will be in violation of the terms of the Special Use Permit issued to Eastern Arizona College Discovery Park Campus.