-->-->
MSU ALUMNI BAND 2017 REUNION
Please use this site to: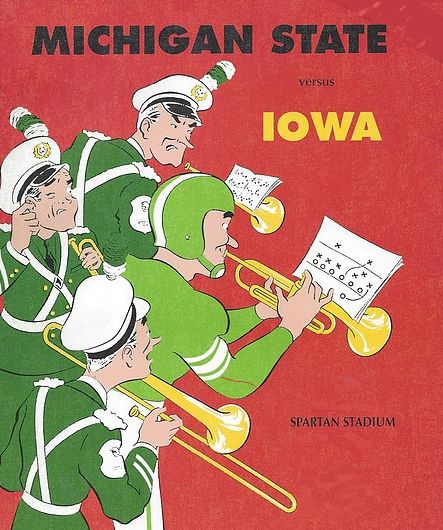 Pay annual membership dues
Register and pay for the September 29th Golf outing
Register and pay for the September 30th Fall reunion
Purchase a shirt for the reunion
Purchase an Alumni Band jacket patch
Purchase a lunch at the reunion
Make a donation to the SMB jacket fund
Make a donation to the Bloomquist, Whitwell, or Falcone scholarships
Sign up for the October 20th Homecoming Parade
Please read through the information below before you register! The individual tickets are at the end of the information, along with answers to common questions.
MSU ALUMNI BAND – STATEMENT OF CONDUCT AND ESPRIT DE CORPS
Just like the Spartan Marching Band and all other Spartan Bands, members of the MSU Alumni Band are representative of the MSU College of Music and Michigan State University.  Members shall conduct themselves in a mature and professional manner toward all athletes, officials, and venue staff whenever we attend or play at an event, wear our uniform, or in any way represent the Alumni Band. Tradition, positive attitudes, and esprit de corps are characteristics of the Spartan Community that the MSU Alumni Band wishes to project at its performances - whether on campus or off. Remember that all physical and verbal actions reflect on the band, the College of Music, and the University, with much of our activity visible on camera - and therefore exposed to a large audience. Our esprit de corps is enhanced by the positive support of fellow band members, the University, and wearing our colors with pride.
Golf - Friday, September 29th
Golf Outing - Friday, September 29, Oak Lane Golf Course
Our annual golf outing is at Oak Lane Golf Course in Webberville.  The price of $50.00 per individual includes 18 holes of golf in a scramble format, a riding cart, lunch, and prizes. It will be a 9:00am shotgun start.  Note that there is NOT a driving range on site, and spike-less shoes are required.
Registration for the golf outing closes earlier than the reunion (game day) - please register on time! You may set up your own foresome,or we can place you in a group.  There is a checkbox on the registration (below) to allow you to specify your preference. 
Please make sure you've paid your annual dues, as part of the registration process for golf - it is required!
Oak Lane Golf Course is at 800 N. Main Street in Webberville (M-43) - approximately 25 minutes east of East Lansing.  For additional information, please contact golf coordinator Lynn Brown at 517-449-3800, or use the golf outing email: msuabgo@hotmail.com . Visit the Oak Lane Golf course web site at http://www.oaklanegolf.com/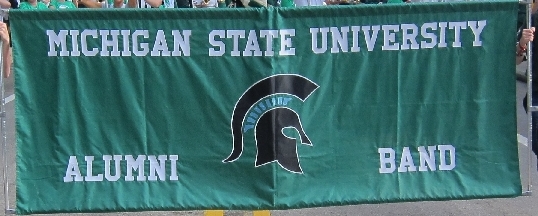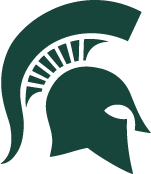 Game Day - Spartans vs Hawkeyes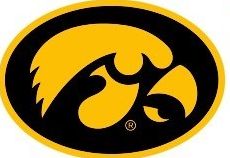 The schedule below is based on a noon kick-off.
                    This is subject to change!
Check-in/social time - 7:00-7:45am - You must check in and pick up the necessary items that will allow you to enter the stadium, receive a lunch (if ordered), etc. And, please join us for the early morning refreshments!
Music Rehearsal - 7:45am (Note: you must be part of the music and marching rehearsal if you plan to play in the stadium)
Business Meeting - The by-laws of the Alumni Band stipulate an annual meeting be held with the general membership each Fall.  This may include a brief Treasurer's report, and a nomination/approval of officers. Please take a few minutes and get to know your Alumni Band Board!
Guest Speakers - Each year we are fortunate to have a few special guest speakers greet us in the morning. We can't control their arrival time, but do want to provide them an opportunity when they're available. Please join us to hear their message!
Marching/Drill Rehearsal - 9:00am, Munn Field
Lunch - 9:50am - lunch is on your own, or the Alumni Band can provide a box lunch.  Make sure you select the correct ticket below for the lunch type and quantity for the Alumni Band lunch.
Assemble at Adams Field: 10:50am - Run-through and march to the stadium.
Kickoff - 12:00pm  Please watch local news reports and other informational sources to confirm the time. If this changes, we will alter our schedule as needed and get information out as quickly as possible. We can't control game time (or the weather), but we will adapt and adjust!
Halftime - music from Les Miserables, Chicago, and Phantom of the Opera
Postgame - We will assemble on the field with the Spartan Marching Band for a post-game concert
March to Dem Hall - we will set up in parade block formation outside of the stadium for our march back to Dem Hall.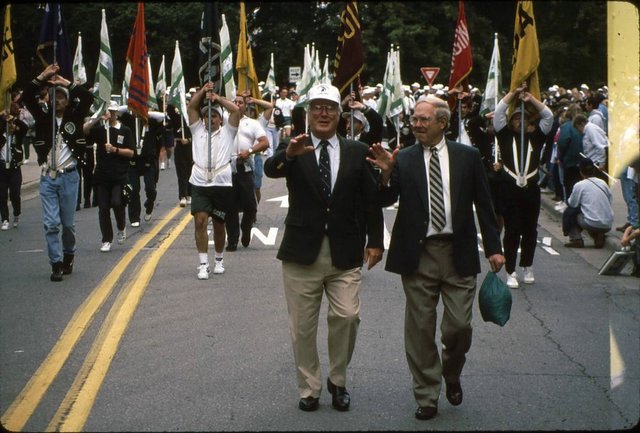 To Register:
At the end of this page are a series of "tickets" that you can select, depending on your involvement at the reunion.  Fill out each as completely as possible - each ticket is for a specific function or payment. Please make sure you look at each ticket for the item you wish to receive and/or participate in. Everyone must select the ticket for the Alumni dues. If you are coming to the reunion, both annual dues and registration are required (two separate tickets). The only exception is if you've graduated from MSU within the past year - your dues are waived (select the ticket for "recent graduate"). New graduates - you must supply your graduation year later in the process.  All registration and selected tickets must be completed by September 21, 2017.

There are a number of questions with required responses.  This is to make sure you are charted correctly for the game, and to make sure we have the proper contact information. Please make sure your email is current, and that you can receive attachments! We do not share your information or post it anywhere!
We prefer that you pay by credit card, but you also have the option to send in a check (see "other payment options" below the credit card choices).  EventBrite will generate an electronic ticket for you.  There is no need to bring this with you to the reunion.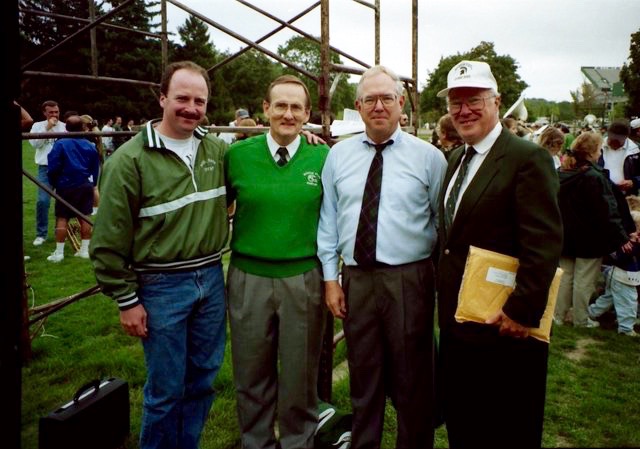 Music
Featured music for this year consists of Broadway classics that everyone should recognize: One Day More (Les Miserables), All That Jazz (Chicago), and the Phantom of the Opera (Phantom of the Opera). Music is now available on-line in a PDF format.  Please follow this link to access your part:  MUSIC DOWNLOAD
By viewing or downloading the music at the link provided, you agree to the following:
Members of the MSU Alumni Band may download this music solely in preparation for the MSU Alumni Band Reunion on September 30, 2017. Any other use is strictly prohibited - It is not intended for public use, other than as it relates to the scheduled performance on September 30, 2017.
Questions or comments?  Direct them to the Alumni Band at alumband@msu.edu, or call 517-351-4582.

Some common questions (and answers):
Do I have to be a member to participate?  Yes - everyone who is golfing (Sept. 29), marching/playing (Sept. 30th and/or October 20th), must be a dues-paying member of the Alumni Band (note: graduates within the past year are free - details below). Dues run from September 1 - August 31 each year.
Is the shirt required? Yes - everyone marching the Series to the stadium, sitting in the stands, and/or marching at halftime or the Homecoming parade must have a shirt.  You can use a shirt purchased previously, as long as it matches (style/color/content). There is a ticket below to purchase the shirt, and pick it up when you check in on game day. We also suggest khaki pants to go with the shirt.
Is the jacket patch required? No - we've simply brought it back this year if you wish to purchase one. Note that if you just graduated, you're getting one for free!
Where do I find the music? You can download the music here:

MUSIC DOWNLOAD

Where is morning check-in and rehearsal? Demonstration Hall
Where are we sitting in the stands? At this time, that has not been determined. Chances are good that we'll be in the same location as the previous years - behind the SMB, in the southeast corner of the stadium.
Can I register on game day, or just show up and play?  NO!  Everyone must be preregistered through this site, so that charting the show is completed on time and fewer problems are encountered on game day.
I'm just going to show up and walk in with the band. Sorry - everyone who marches the Series and/or enters the stadium

must

have identification that will be issued when they check in on game day. The 

only

 way to obtain the identification is by properly registering. Stadium officials check everyone entering the game.
I'm going to arrive late - what arrangements do I need to make? Anyone who does not participate in the morning music

and

marching rehearsal will not be able to march the game.  Charting is not going to be adjusted to accomodate late-arriving participants.  If you're marching the game, please plan on spending the day with us - including music and marching rehearsal in the morning!
Do I need to bring proof that I registered? No - we'll have all of that information. When you check in on game day, you'll receive a name tag that is confirmation of your registration.
Do I need a game ticket? Can family and friends sit with me? No - on both accounts. Only you have access to the stadium and a seat by registering with us.  Seating is limited in our area, and we are unable to accomodate additional individuals. 
Can I purchase additional game tickets through the Alumni Band? No, the Alumni Band can not offer or control any game tickets - that is all through the Department of Athletics. Please contact the MSU Ticket Office at 517-355-1610, or see MSU Tickets for additional game tickets.
I can't bring an instrument, can I borrow one? We strongly encourage individuals to make every effort possible to bring their own instrument, or make arrangements ahead of time to borrow one (check local schools, music stores, etc.). The SMB and MSU typically have some instruments available, such as tubas, percussion, and flags. However, the smaller the instrument, the less likely there will be one available. Please let us know ahead of time if you must borrow an instrument; however, we can not gurantee that one will be avilable on game day. We also do not know ahead of time what is available. If an instrument is loaned, a non-refundable fee will be assessed. You must provide a valid, current photo ID to check out any instrument or flag.
What do I do with my instrument case during the game? It can be left in Dem Hall, which will be locked until after the game. Note that if you leave the game early you can 

not

 get back in to Dem Hall until the entire band returns.
Is my registration/ticket transferrable? No - it is only for the person who registered.
Can I update my registration information? Yes - go back in to the EventBrite site and make the necessary adjustments. If that does not work, send us an email at alumband@msu.edu, and we'll take care of it for you.
What is the refund policy? The reunion registration is refundable, if you notify us before the event. The registration is not refundable if you simply fail to show up at the event.
Where do I park? The University lots open five hours before kickoff, which can make it tight for Alumni Band members. Please plan accordingly!  Some options/locations to choose from: lot at Kalamazoo & Harrison (new ramp), the City of East Lansing Ramp (across Grand River), the commuter lot on Farm Lane (double-check the bus shuttle to make sure they are running in the morning), and the ramp behind Communication Arts (see map below).
I'm not attending, can I just skip all of this? We would rather you didn't! However, you can still pay your dues on this site, without signing up for any of the events. Please take the time to do that and provide your contact information to keep our records up to date.  This will help us to keep you informed throughout the year.
I have more questions - who do I contact?  Send an email to alumband@msu.edu, or call us at 517-351-4582.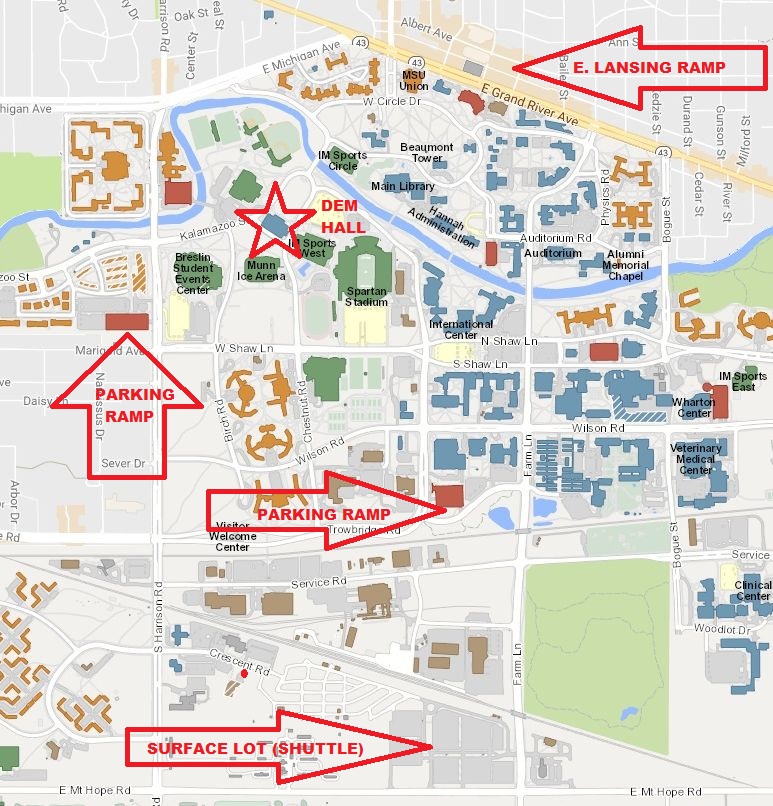 October 20 - Homecoming Parade
All Alumni Band members have the opportunity to participate in the annual Homecoming parade - this year on Friday evening, October 20th. The parade will begin at 6:00pm from the Hannah Community Center on Abbot Road in East Lansing, and wind its way through the city and on to campus. You do not have to march!  A flatbed trailer will be used with seats provided for the Alumni Band - sit while you play!  You may also walk along side of the trailer while playing.  Select the Homecoming Parade ticket below to participate in this always fun event. Free and open to all members.  Participants will be provided additional information as the date approaches.  For more information, contact Special Events Coordinator Jack Nelson at jacknelson55@yahoo.com.
Donations
The Alumni Band encourages your support of scholarships and projects.  Please consider donating to one or more of the following:
The John Whitwell Band Scholarship Fund - awarded annually each spring to a student in honor of director emeritus John Whitwell.
The Ken Bloomquist Scholarship Fund - awarded annually each spring to a student in honor of director emeritus Ken Bloomquist.
The SMB Jackets Sponsorship Fund - in support of all freshman in the Spartan Marching Band - to award the coveted jacket to each freshman at no cost to them.
The Leonard Falcone Endowed Music Scholarship - provide scholarships for full time undergraduate and graduate music majors.  Awardees are selected by the Director of Bands.
The Leonard Falcone Memorial Bands Scholarship Endowment - is awarded to non-music majors who perform in both the Spartan Marching Band and one of the auditioned concert bands.
To contribute to the scholarships and projects listed above, you may use the tickets at the end of the page. Note that this method is not tax-deductible! To receive the official acknowledgement from MSU (and tax deduction), donations must be made directly through University Advancement (on-line donation). To do that, visit the following link: https://www.givingto.msu.edu/gift/, and on that page, under "Search for Fund", type in:
 

AE069 for the Bloomquist scholarship
AE06072 for the Whitwell Scholarship
AE060704 for the band jackets
AE0603 for the Falcone Endowed Music Scholarship
AE060709 for the Falcone Memorial Bands Scholarship Endowment
Additional information and links:
Alumni Band home page:  http://spartanband.net/alumni/
Fall reunion: http://spartanband.net/alumni/?p=1159
Spartan Marching Band home page:  http://www.spartanband.net/
Music for the reunion: MUSIC DOWNLOAD

-->
-->
-->