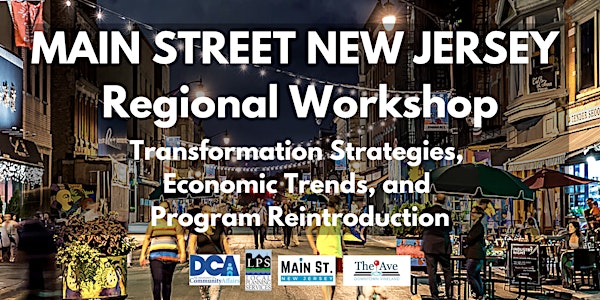 MSNJ Kickoff - Trends, Transformation Strategies & The Main Street Approach - Vineland
When and where
Location
Grant Plaza 619 E Landis Ave. Vineland, NJ 08360
Description
Join the State of NJ's Department of Community Affairs and the National Main Street Center (NMSC) to learn about the new Main Street New Jersey (MSNJ) program and to receive training about the trends impacting downtowns and how to use the NMSC's new Transformation Strategies and the Main Street Approach(TM) to revitalize and manage your downtown and mixed-use districts.
This regional workshop co-hosted by Main Street Vineland/VDID will show participants how to identify community-informed and market-driven strategies that can direct and strengthen their revitalization efforts. You may also register for the same workshop in Montclair or Red Bank.
Registration and Refreshment begins at 8:30AM. Please plan on arriving early!
SUMMARY
The workshop will review four main components through a case study approach:
Community Input. Understanding how input from stakeholders and the community at-large improves perspective of current conditions and its relationship to the vision for the historic commercial district.

Market Information. Important research that can provide insight on existing economic conditions will be conducted to help identify overall market conditions, specific gaps, and key opportunities that can be strengthen the local commercial district's economic vitality.

Transformation Strategy Development. In case study format, the facilitator will work with participants to review input from the case study community and market findings and select appropriate strategies and focus for the revitalization efforts.

Alignment. Informed by the strategies selected, the facilitator will work with participants to determine possible tactics, activities and metrics that could best align the Transformation Strategies within the Four-Point Approach.
AGENDA
1. Welcome and Main Street New Jersey Reintroduction | 9:00 am to 9:30 am
2. Morning Session - Defining Strategies that Transform Communities | 9:30 am to Noon
A. Trends Impacting Commercial Districts
B. The Purpose of the Main Street Refresh
Moving to community-informed market driven approach

How does this impact you and your community?

Addressing Issues defining urban competitive advantages
C. Refresh: How to develop strategies to transform our communities
How to Engage the Community and Build Consensus for a Common Vision

How to Review Your Market Data to Understand Existing Conditions and Opportunities

Selecting Transformation Strategies to Direct our Work

Aligning our Work through Strategy-driven Planning & Implementation

Development Metrics & Measuring Impact
3. Lunch (on your own) in Downtown Vineland | Noon to 1:30 pm
There are a variety of eating options within a short walking distance in the downtown district. List provided.
4. Afternoon Session – Case Study - Putting Learning Into Action | 1:30 pm to 4:00 pm
A. Case Study Presentation
B. Review of community survey results, market data, and onsite visual assessment
C. Group Exercise - Present list of potential strategies
D. Bringing it all together Strategies and the Four Point Approach - (Group Discussion)