MSEE URA Government and Corporate Affiliates Program Meeting
MSEE URA Government and Corporate Affiliates Program Meeting
About this event
The Materials Science in Extreme Environments University Research Alliance (MSEE URA) will host a meeting for its Government and Corporate Affiliates Program (GCAP) on June 25, 2021. Due to COVID-19 restrictions, this meeting will be held virtually.
This meeting will introduce the GCAP and will describe ways in which GCAP members can collaborate with the MSEE URA. Additionally, suggested research areas for collaboration will be described by the research area leads.
GCAP attendees are strongly encouraged to attend the MSEE URA Annual Technical Review to get a more in-depth understanding of the research activities.
***This event will be held ON-LINE, so please ensure you include your email address in the registration process. A link to the ON-LINE web address will be sent to your email a few days before the event. ***
If you have any questions, please email Ms. Rachel Wise (rwise14@jhu.edu).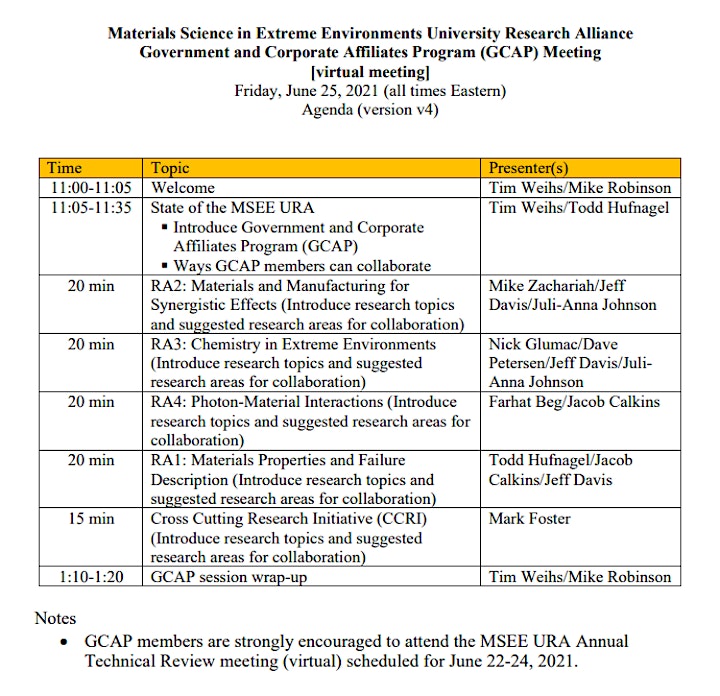 Organizer of MSEE URA Government and Corporate Affiliates Program Meeting
HEMI addresses the fundamental science issues associated with materials under extreme conditions. Our aim is to teach the world how to think about materials in extreme environments.