About this Event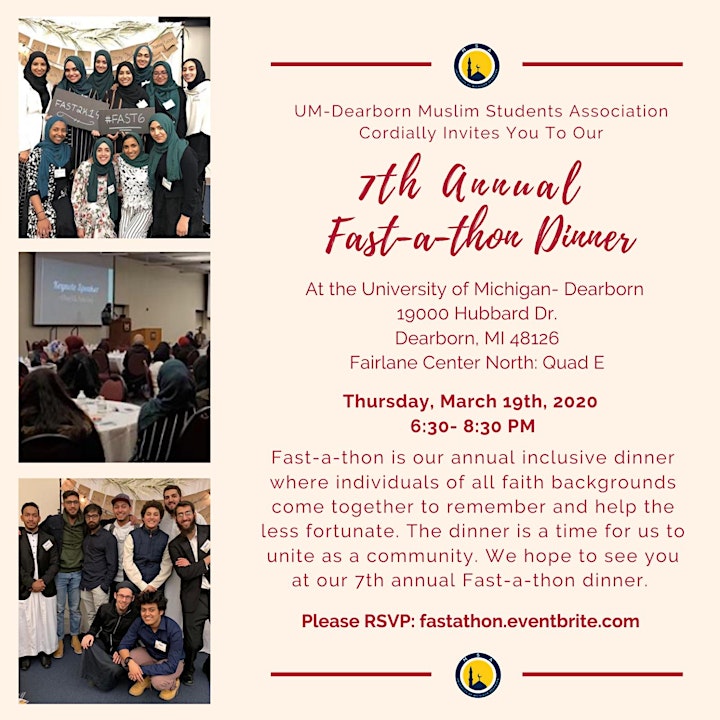 What is Fast-a-thon?
The concept of the Fast-a-thon comes from decades of MSA tradition. The Muslim Students Association (MSA) is a student-run organization on campus dedicated to bridging the gap between the Muslim and non-Muslim population on the University of Michigan - Dearborn campus and in the community. This event is an example of uniting all types of individuals for a philanthropic cause. The reward that comes from the Fast-a-Thon is two-fold. Not only have you sacrificed for the sake of those less fortunate, but you will also be gaining a sense of self-fulfillment by fasting. Because the Islamic concept of fasting requires refraining from consuming food and drink from sunrise to sunset, the MSA has adopted this notion for the Fast-a-thon cause.
The Impact
Not only will you be taking part in one of the biggest events on the UM-Dearborn campus, but you will be directly making an impact on fighting hunger. Last year, the MSA was able to raise $2400 for charity! As a remake of our classic Fast-a-thon program, Fast-a-thon has the following goals:
Allow people to experience the Islamic tradition of fasting for a day
Emphasize the urgency of hunger issues around the world, specifically in the Detroit metro area
Actively combat hunger by raising money for local, regional, and international charities addressing hunger issues
100% of the proceeds from the event will go to the two charities: Helping Hand and buildOn.
Other Ways You Can Help
Make a pledge! Spread the word! Share our campaign with friends! Our event is open to everyone no matter your race, creed, class, or religion so, please join us on March 19th, 2020 at 6:30 PM.
We also accept donations via:
VENMO: @UMD-MSA
PAYPAL: payments.umd.msa@gmail.com
CASH: must contact a MSA member or bring to event.
All ticket prices are suggested donation amounts. Every donation above $10 will be receiving a free Fast-a-thon long sleeve t-shirt (while supplies last). You will also have the option to donate any amount you would like beyond the suggested ticket donation prices. In addition, you will have the option to simply just RSVP for the event. This event is free, but it is highly encouraged that you donate towards a great cause!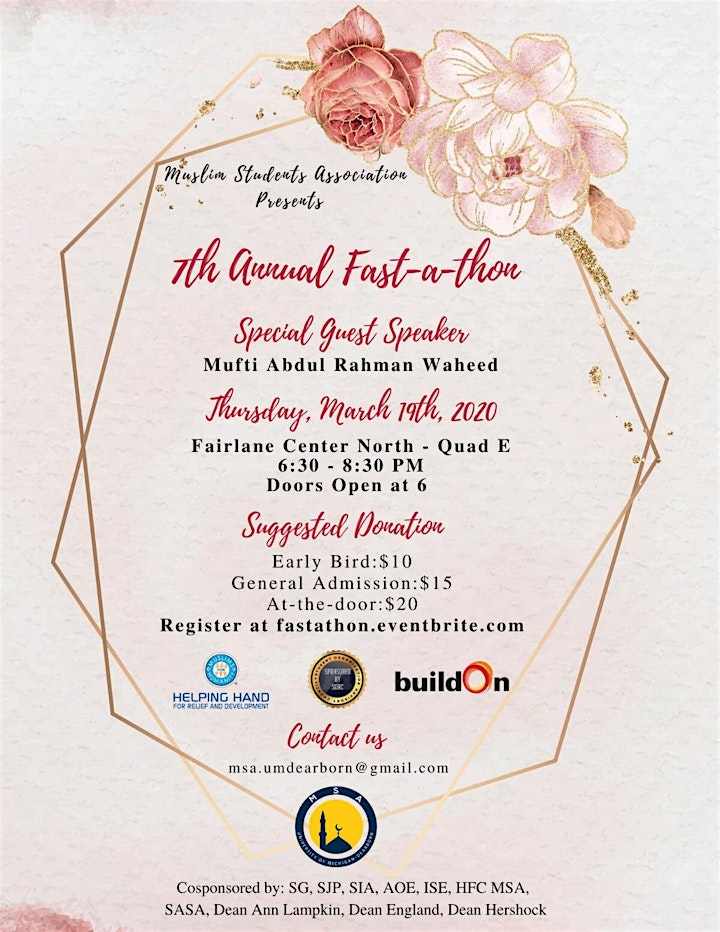 If you have any questions or concerns about donations, please contact our treasurer at ffariha@umich.edu