Actions and Detail Panel
Ms Owies Activity Hour
Sat, June 3, 2017, 10:30 AM – 11:30 AM EDT
Description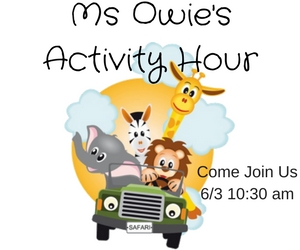 -AGES 2-5-

Come Join us on a WILD WILD Safari!
Come read a book, do some dancing, a little arts, alot of crafts and take a wild ride with us around the park for a safari.
We will ride in style in our bright orange safari trucks ( made to fit one child per car) with our special safari hats and point out the jungle animals hiding around the park.
FAQs
*************************Please be advised you are to supervise your children. Children are not to be left unattended, parents must remain in close proximity to children.
This is not a daycare but an activity class. Parents do not have to participate but must supervise children.*********************************
What can I bring into the event?
As we are in a park, Id recommend water and snacks for after the activity.
What will be included?
Depending on the theme, your child will have a customized object that will set the tone for imaginative play. The craft they will also be able to create with me in group and take home! All supplies provided just bring your imagination.
I am unable to attend, but I'd like to donate. How can I do that?
Why thank you! Hugs and cyber love to you! Please place in the name box DONATION and it will be marked as such. Thank you again!
Do you host parties?
I do! Please contact me via private message to discuss what I can bring to your party!
What's the refund policy?
Please contact me via private message to discuss options.
Do I have to bring my printed ticket to the event?
No, the printed ticket is not needed. Once you register your child's name will be placed on a customized item to help them not only recognize the letters but to add to the creative and imaginative fun that we will be having.
Is it ok if the name on my ticket or registration doesn't match the person who attends?
As long as the name of the child is registered so that their name can be printed on crafts, it is fine if the name of the adult does not match.