Ms. Mogul™ Presents ROAR!® 2013 Women's Leadership Summit - EXHIBITORS

Thursday, May 23, 2013 from 8:30 AM to 2:30 PM (CDT)
Event Details
*** ATTENTION!!! *** VENUE CHANGE!
CONFERENCE WILL NOW BE HELD AT THE E.B.Cape Conference Center.  SEE BELOW.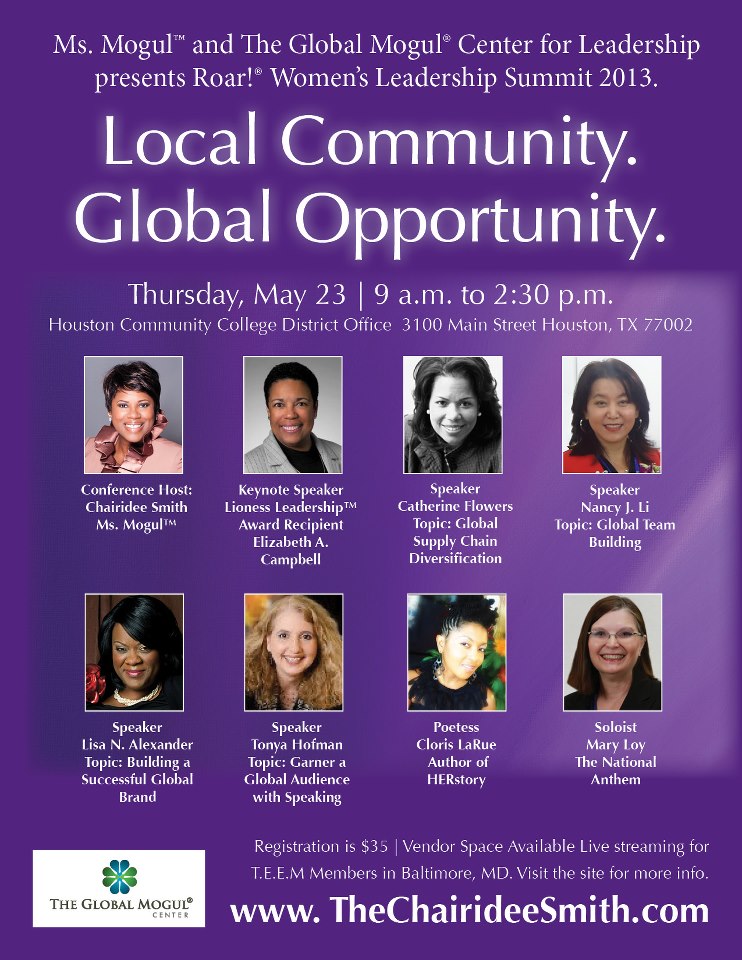 NO PHOTO AVAILABLE
The Honorable Imelda Reyes-Castillo           
Roar's® 2013 Legacy Lioness® Award, Recipient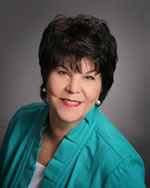 Beverly Denver, Founder of Houston Woman Magazine
Roar's® 2013 Legacy Lioness® Award, Recipient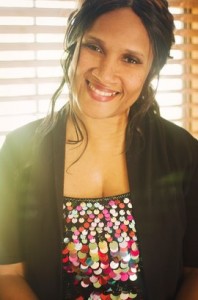 Lisa Miller Baldwin, 2013 Humanitarian of the Year
Wonderfully Made Foundation, Adopted Charity for Roar!® 2013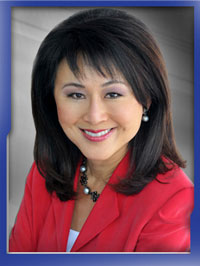 Shern-Min Chow
Emmy® award-winning anchor for KHOU 11 News
What is Roar!®?
Roar!® 2013 is the foremost gathering of  women leaders in business, education, government, and civic society for the purpose of growing to embrace leadership opportunities in powerful, impactful, and measureable ways. This conference equips and partners with leaders for the promotion of women in leadership from local and global perspectives.
Why Attend Roar!®?
This forum is your opportunity to participate in a truly unique leadership experience with women possessing a passionate commitment for globalization and diversity in global economies and leadership efforts. Our annual women's leadership conference will be held, Thursday, May 23, 2013 at E. B. Cape Center, 4501 Leeland, Houston, TX 77023. This year's theme is "Local Community. Global Opportunity." Come to be inspired by women from diverse leadership experiences, learn from and share with other leaders to improve productivity, visibility, career development, and performance capacity.  Attend Roar!® to expand your global network.
The Roar!® conference is an excellent experience for women leaders in search of real camaraderie, strategic business and philanthropic partnerships, and a network of "sister-leaders" who understand the brevity and responsibility of true leadership, and those who dare to achieve their personal definition of "greatness in leadership".
Who should attend Roar!® ?
Women entrepreneurs, executives, and leaders of businesses and organizations of all sizes should attend and take advantage of this training and networking platform. Additionally professionals, investors, educators, university students, and governmental leaders in search of action-ready counterparts to connect with for ventures and enterprises will want to purchase tickets early. Finally, women leaders focusing on economic development, heads of microenterprises, and leaders with a passion for global humanitarian outreach should attend.
Please join the Roar!® 2013 Women's Leadership Summit in celebrating the lives, legacies, and humanity of these great women.
Registrations and sponsorships fund annual scholarship fund and international missions trips to assist women in business globally.
EXHIBITORS:
Reach an audience of women leaders, decision-makers, and elite consumers.  Become an exhibitor during the Roar!® 2013 Women's Leadership Summit.  Space is competively priced at $40.00/space with a maximum of 2 stations per vendor as long as space is available.  Space is priced to reserve immediately.  Schedule your space TODAY.  Space is limited. 
Deadline to make your reservation is May 15, 2013.
For more information, please contact Ms. Shannon Brown at The Global Mogul® Center for Women's Leadership and Development at kmf_businessandrealty@live.com or 281.891.3620.
When & Where

E. B. Cape Center
4501 Leeland Street
Address Line 2
Houston, TX 77023


Thursday, May 23, 2013 from 8:30 AM to 2:30 PM (CDT)
Add to my calendar