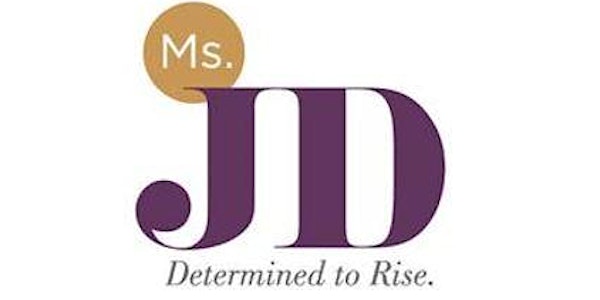 Ms. JD's Eighth Annual Conference on Women in the Law "Superwomen JDs"
When and where
Location
NYU School of Law 40 Washington Square South, New York, NY 10012
Description
Ms. JD's Eighth Annual Conference* on Women in the Law "Superwomen JDs" will be held on Friday, February 19, 2016 at NYU School of Law. A culmination of Ms. JD's national programming, this conference brings aspiring and early career women lawyers from legal markets around the country together for a summit on the progress and remaining challenges for women in the profession. An overview of the conference agenda is available below. Details about conference speakers can be found on the Ms. JD conference page here.
Directions to NYU can be found here. All of the conference activities will take place in Vanderbilt Hall at NYU School of Law, located at 40 Washington Square South, between MacDougal and Sullivan Streets. All guests should enter the law school building through the side entrance on MacDougal Street. There will be construction blocking the main entrance to Vanderbilt Hall.
Disclaimer: Tickets purchased on Wednesday 02/17 or Thursday 02/18 may not have printed name tags, but attendees will still be registered. Handwritten name tags will be available.
Ms. JD is recommending the Sheraton Four Points Soho to our conference guests, find the Ms. JD booking link here.
Superwomen JDs Conference Agenda
Session 1 - With Our Powers Combined: Intersectionality and the Law
What is meant by "intersectionality" and "covering", and why are they such important topics for all of us to be aware of, to learn more about, and to talk about in an honest and respectful way? How may we work toward making the legal academy and profession more inclusive? What are ways in which we can open and create more opportunities for all women in law? The purpose of this session will be to explore these and related questions, with help from a dynamic team of speakers and small-group discussion facilitators.
Session 2 - Break-Out Sessions
Session A: Finding your Superpowers: Defining Your Emblem and Forming Alliances
There is not much debate that networking and branding are critical to lawyers' success in the current competitive legal market, whether it's on the job hunt or in developing business. Getting started and, more importantly, continuously following through on networking and branding strategies is where many lawyers struggle. Come and learn from a group of lawyers that have found their own unique way to develop their brand and hone their networking skills despite their demanding careers.
Session B: Law School: Find, Build, Harness Your Superpowers (and Triumph!)
Which activities will give me the best experience or prepare me for a particular field? Should I work during law school? How can I build strong professional relationships during law school? This session will expand on Ms. JD's Acing Law School ebook and webcast and, through a diverse group of panelists, explore the questions above along with other common issues that law students encounter. Attendees will learn new and practical ways to tackle these issues.
Lunch/KeyNote
Session 3 - No Need for Disguise: Using Mindfulness to Become a More Self-Aware Professional

During these three TED-style talks, our audience of superheroines and heroes will learn important skills for ensuring they are well prepared to take on their powerful roles in the world! In each presentation, we will explore a different way to achieve mindfulness through self-awareness. By increasing our awareness of why we may do what we do, we can listen more actively, move through the world with more purpose, and become more sensitive to context and perspective.
Session 4 - Break-Out Sessions
Session A: Up, Up, and Away: Flying High in Private Practice
This panel will focus on practical ways that you can develop success now in private practice, covering issues such as how to seek effective feedback, handle mistakes or identify a mentor or sponsor. Learn how to handle these issues and more from private practice attorneys and their clients.
Session B: If the Cape Fits: Careers in Fashion Law
This session will offer insight into the fashion law field, including tips on how to break into them and what kinds of classes and professional experiences may best prepare you for a successful career.
Session C: I Need A Hero: Exploring Public Interest, Pro Bono, and Service Careers
This panel will educate attendees about diverse public service fields, such as nonprofit legal work, private public interest, government service and elected positions. In addition, attendees will receive practical advice about how to prepare for or transition into these careers
Ms. JD Honors Reception: Superwomen and The Incredible Men
New York Financial Aid:
In order to provide affordable CLE programs for New York attorneys who are unable to attend due to cost considerations, Ms. JD has implemented a financial aid policy for its upcoming conference.
The guidelines for the financial aid policy are as follows:
Unemployed - $100.00 Ticket Pricing

Annual Income up to $35,000 - $100.00 Ticket Pricing

Public Service/Nonprofit Employment - $100.00 Ticket Pricing
All applicants seeking financial aid must submit proof of annual income, unemployment, or employment with a public service or nonprofit organization. Additionally, all applicants seeking financial aid are required to describe, in a few sentences, why this conference would help them in their careers, submitted in connection with the proof described above. All items submitted will be reviewed by the Ms. JD Conference Committee for approval.
If you wish to apply for financial aid, please remit all items requested above to conferencecommittee@ms-jd.org.
Our conference would not have been possible without the support of our sponsors.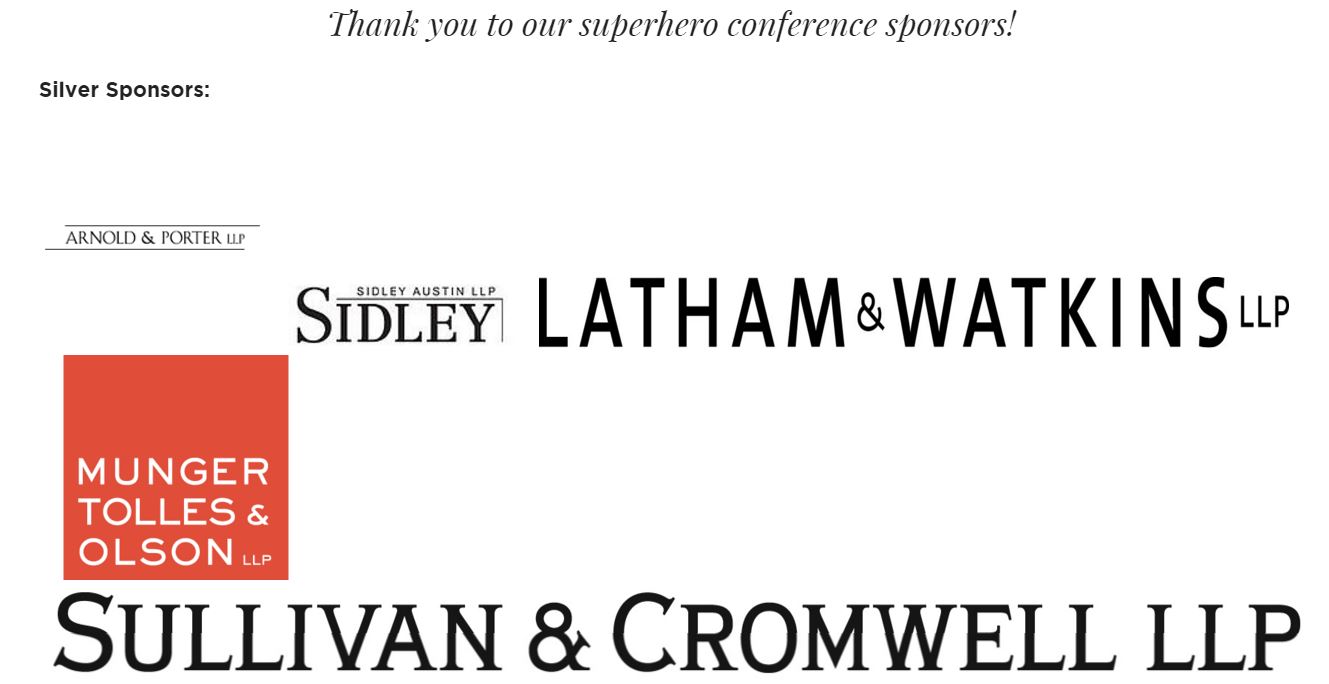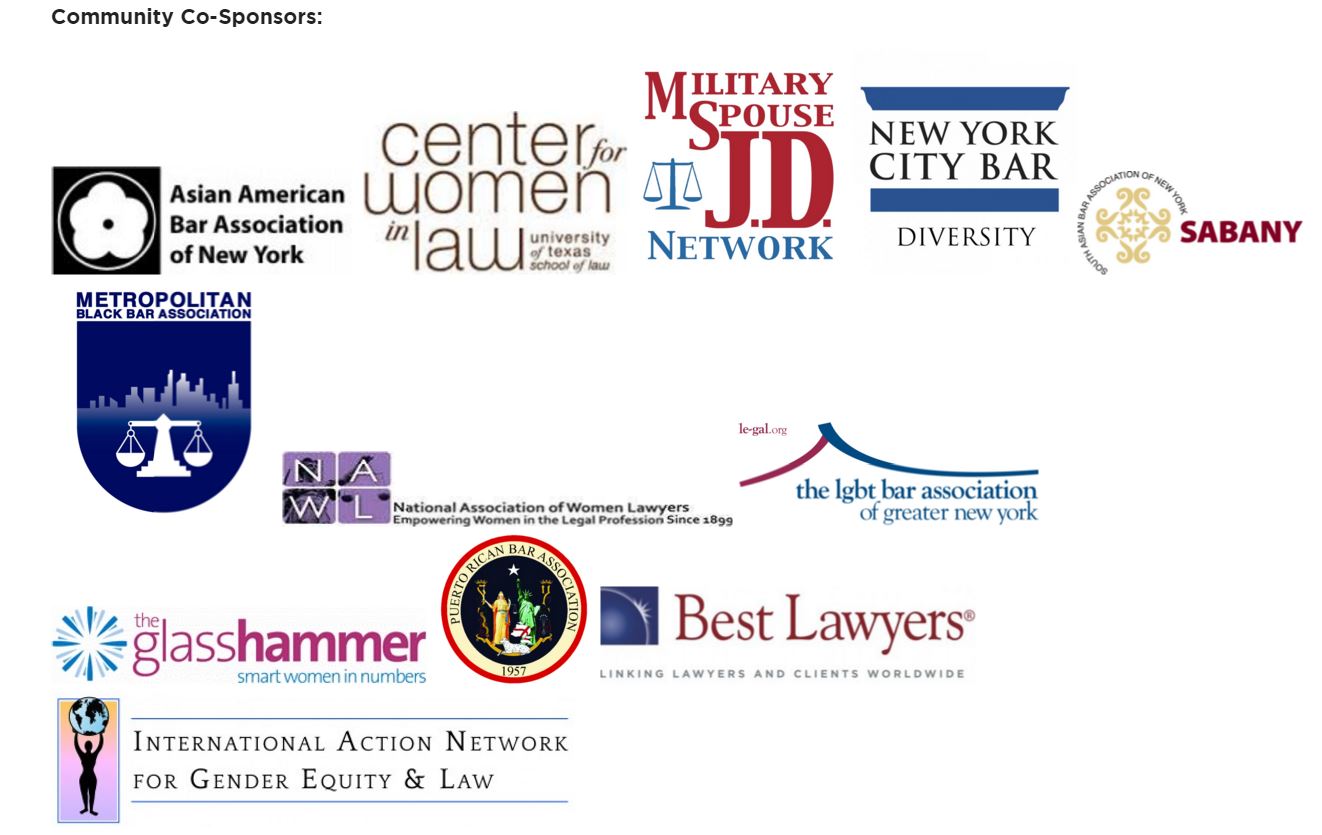 *Conference tickets purchased after 12/31/15 are non-refundable.