Description
Come out and enjoy a night of Pageantry, Music, Fashion and Philanthropy!
Mark your calendars and pick out your best formal attire for the glamorous Mrs. Pennsylvania America Pageant 2017; an event where Hollywood meets Pageantry as national and local stars set out to crown Mrs. PA America 2017!
The Mrs. PA America Pageant 2017, presented by An Officer and Gentlewoman, LLC and ThomasRiley Strategies, LLC, will return to the University of the Arts (Terra Hall) on June 10, 2017 at 5pm. Rick Bernstein will be your official Host for the Night!
The winner of the pageant will move on to compete at Mrs. America, alongside 50 more beautiful women from around the country! The reigning queen, Mrs. PA America 2016, April Walker Taylor, has been named "People on the Move 2016," by the Philadelphia Business Journal.
A portion of the ticket sells will benefit the non-profit Women Veteran's Rock.
---
Media arrival: 3:00pm (Must have official credentials)
VIP Social Hour: 4-5:00pm
General Admission Doors Open: 4:30pm
Showtime: 5:00pm
Dress: Formal or Cocktail
Parking: Parking garages or street parking
Do you need a hotel room? Here is our Host Hotel: Philadelphia Marriott Downtown: 1201 Market Street Philadelphia Pennsylvania 19107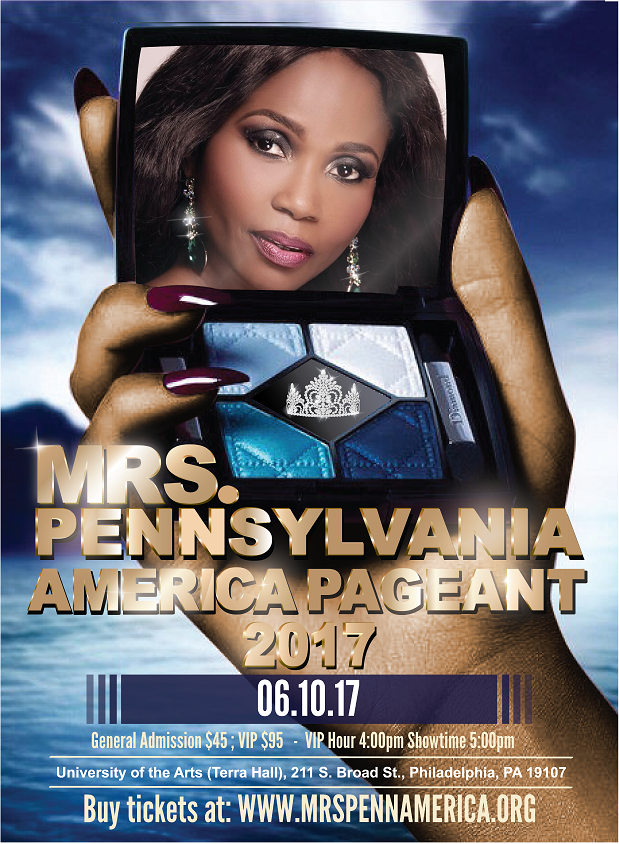 ---
For General questions, please contact randimdorsey@mrspennamerica.org
For Media passes to the pageant, please fill out the form here.
For appearances or interviews, please email Lyss at pr@mrsdcamerica.org.
Visit our website at www.mrspennamerica.org to find out more about us!
Thank you for your suppport!
Please note, tickets are non-refundable. Exchanges only.