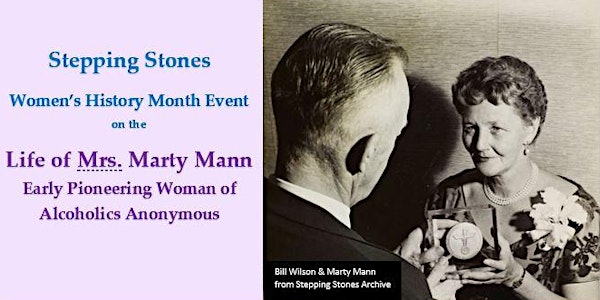 "Mrs. Marty Mann," Thurs. March 25, 8 pm Eastern, for Women's History Month
Explore the remarkable life of Mrs. Marty Mann - pioneering female AA member. Outside of A.A., she was a tireless recovery advocate.
Refund Policy
Contact the organizer to request a refund.
Eventbrite's fee is nonrefundable.
About this event
For future events, email office@steppingstones.org
Event Date & Time: Thursday, March 25, 2021 at 8 p.m. Eastern (New York Time - U.S. & Canada) / 5 p.m. Pacific (U.S. & Canada)
ARE YOU PREVIOUSLY REGISTERED?
If you already registered before regular Webinar main room registration closed, please check your inbox and spam/junk/Gmail promotions folder for your login. If you do not find it, email office@steppingstones.org for assistance or call 914-232-4822.
ARE YOU HAVING TROUBLE LOGGING IN DURING THE EVENT?
Call staff at 914-232-4822 or email your contact info to office@steppingstones.org for assistance
In English. On Zoom Webinar.
SCHEDULE:
8 p.m. Stepping Stones Archive Highlights on Marty Mann
8:15 p.m. (Approximately 60 minutes) "Mrs. Marty Mann: The Lady, The Legend, The Lesbian" presented by Mily of San Francisco, CA
Questions & Answers follow the presentation.
DESCRIPTION: Join us for a poignant visual journey through the extraordinary life of Mrs. Marty Mann, who arrived at Alcoholics Anonymous in 1941, when it was in its formative years and few members were female. Marty became a dear friend of A.A. cofounder Bill Wilson and Al-Anon Family Groups cofounder Lois Wilson. Bill was her A.A. sponsor. Marty's story ("Women Suffer Too") appears in three editions of the book Alcoholics Anonymous (the "Big Book"). Marty and her partner Priscilla were instrumental in the launch and creation of the A.A. Grapevine Magazine. Marty's experience as an early female in A.A. reinforced an idea that became A.A.'s Tradition Three, which states that "The only requirement for A.A. membership is a desire to stop drinking." Many view A.A. as being "ahead of its time" by its early inclusion of women.
Beyond A.A., Marty was a tireless recovery advocate. She founded the National Council on Alcoholism through which she educated the public about alcoholism and advocated for greater understanding of the concept that alcoholism was a disease and that recovery was possible.
Marty and her partner Priscilla's personal circle included notable writers, artists, fashion greats, philosophers photographers, and journalists, as well as key figures in LGBTQ history.
REGISTRATION INSTRUCTIONS:
1. CLICK "REGISTER"
2. SELECT "1" REGISTRATION & MAKE OTHER SELECTIONS
3. CLICK BUTTON AT BOTTOM FOR "CHECKOUT" / "REGISTER"
4. FILL IN ALL FIELDS TO MAKE THE "CHECKOUT/REGISTER" BUTTON BECOME RED AND CLICKABLE
5.CHECK EMAIL INBOX & SPAM / JUNK / PROMOTIONS FOLDER FOR CONFIRMATION AND RECEIVE ZOOM LOGIN THE DAY BEFORE EVENT. On event day, follow the Zoom instructions. Make your Zoom presence anonymous if you prefer by changing your name and hiding your video on Zoom.
PLEASE DO NOT SHARE THE ZOOM LOGIN. ENCOURAGE FRIENDS TO REGISTER.
By participating, you agree NOT TO RECORD, PHOTOGRAPH, POST, PUBLISH OR DISTRIBUTE any of the presentations. To find out if you may borrow material for a history project, email info@steppingstones.org for information.
NEED HELP REGISTERING? Email name and phone to office@steppingstones.org
If you have TROUBLE REGISTERING or DID NOT RECEIVE AN EMAIL, check your spam/junk folder then email visit@steppingstones.org for assistance. To ensure email delivery, please add "steppingstones.org" and "eventbrite.com" to your safe senders domain list and address book.
Product Add-Ons to Your Event Registration: U.S. residents may select products with their registration, but please note the following: all sales are final; Covid-19 may impact shipping / timing , which is at the lowest available rate and may be send following the event. When applicable, indicate size and color. If you plan to attend the event, please select "1" registration.
International Merchandise is only available by ordering via email to visit@steppingstones.org or calling 914-232-4822 Tuesday through Saturday between 9:30 a.m. and 4:00 p.m. Eastern. Please do not place international orders online.
The event will not be available for download, so please register to join us live or contact us about a future presentation.
If you are not sure what time 8 p.m. Eastern (US & Canada) is in your time zone, please use a free time zone converter online.
Organizer: Stepping Stones, the historic home and archives of Alcoholics Anonymous Cofounder Bill Wilson and Al-Anon Family Groups Cofounder Lois Wilson in Katonah, New York, is a wholly separate, non-profit, tax-exempt organization.
Free but tax-deductible (in the U.S.) donations are welcomed to support the nonprofit, tax-exempt Stepping Stones Foundation's preservation efforts and operations.
To donate by mail, or phone, use the following:
Address: Stepping Stones Foundation, P.O. Box 452, Bedford Hills, NY 10507
Phone : 914-232-4822
Email: info@steppingstones.org
Supporting Stepping Stones: Donations are welcomed to support Stepping Stones Foundation's work to operate, maintain, and preserve the buildings, grounds, objects, and archives of Bill and Lois. The Stepping Stones Foundation (Federal I.D. #13-3031164) is a tax-exempt 501(c)3 nonprofit Private Operating Foundation that accepts contributions of any amount. Gifts are tax-deductible to the extent provided by U.S. Law. Please make checks payable to "Stepping Stones Foundation."
A Special Note About Charitable Giving in 2021 in the U.S.: The U.S. government allows a 2021 tax deduction of up to $300 total ($600 total for married couples filing jointly) of cash donations to eligible charities for those who do not itemize their deductions. Stepping Stones Foundation does not provide financial advice, and encourages you to contact your tax advisor for full eligibility requirements.
Text and photos on this event website are copyright 2021 Stepping Stones Foundation. Permission is required for further use.
Image (above): Marty Mann, from Stepping Stones Archives. All rights reserved. Permission for use required. Email info@steppingstones.org.