About this Event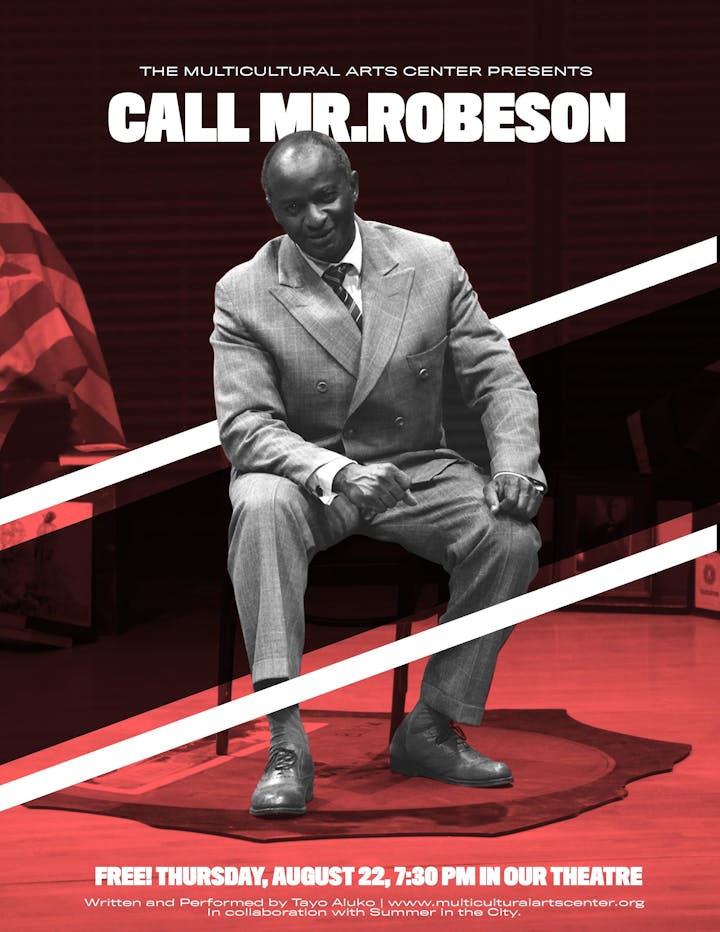 The Multicultural Arts Center with Cambridge Arts Summer in the City is proud to present Call Mr. Robeson, A Life, With Songs, written and performed by Tayo Aluko, with live piano accompaniment by Timothy Steele. This performance will be FREE on August 22, 2019 at 7:30pm and is great for families, friends, couples, and those of all ages looking to enjoy a great community based music event.
Paul Robeson was a world-famous actor, singer and civil rights champion. Over the years he gets progressively radical and outspoken for the establishment's liking, so he is branded a traitor to his country, harassed, and denied opportunities to perform or travel. Just as physical, emotional and mental stress threaten to push him over the fine line between genius and madness, he is summoned to appear before the House Un-American Activities Committee, to give the most difficult and important "performance" of his career.
This roller-coaster journey through Robeson's remarkable and eventful life highlights how his pioneering and heroic (but largely forgotten) political activism led many to describe him as a forerunner of the civil rights movement. It features much fiery oratory and some of his most favored songs, including a dramatic rendition of Ol' Man River.
Tayo Aluko revives one of the 20th century's most impressive but overlooked figures in this powerful, compelling tour-de-force performance, which was seen at New York's Carnegie Hall, and in London's West End. "First-rate ... an admirable introduction to a great pioneering performer" - 4 Stars, The Guardian
Get your FREE ticket today!