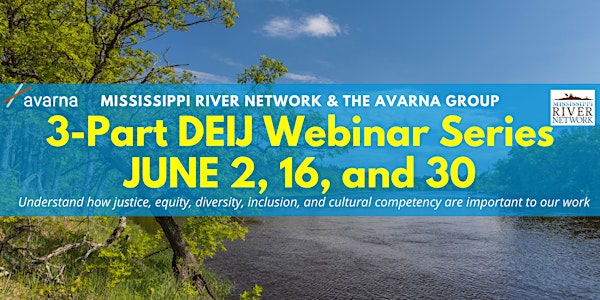 MRN & Avarna Webinar Series: Diversity, Equity, Inclusion, & Justice (DEIJ)
Join us as we learn from the Avarna Group about diversity, equity, inclusion, and justice and its importance to the environmental movement
About this event
The Mississippi River Network (MRN) is thrilled to host the Avarna Group for this 3-part virtual webinar series on Diversity, Equity, Inclusion, and Justice (DEIJ) in the environmental movement. The three webinars will take place on June 2, 16, and 30 all at Noon CT.
Important Notes:
-We encourage (but do not require) you to register for all three of the webinars. This is a three-part series and the content builds on itself.
-Register for all three webinars via this Eventbrite page.
-Register for the webinars if you cannot attend live to ensure you receive the recording; All who register will receive via email the Zoom link for the live event and the recording.
The three virtual webinars will cover:
Webinar #1, June 2 at Noon CT: The What & Why of DEIJ: In this foundational webinar we define basic terms like justice, equity, diversity, inclusion, and cultural competency, and then lay out all of the reasons why this work (which we collectively call DEIJ) is important to organizations, agencies, foundations, and institutions operating in the river conservation and environmental sector.
Webinar #2, June 16 at Noon CT: The How of DEIJ: In this webinar we review a 4 Quadrant Approach to planning for DEIJ in a way that allows you to celebrate small wins and take one bite at a time. We map out a universe of DEIJ strategies on a 4-quadrant framework that frames out internal and external work as well as individual and institutional work. You will leave the webinar with a map that can help you identify priorities for DEIJ work and areas where you need more support.
Webinar #3, June 30 at Noon CT, Reckoning with the Past for a more Equitable Future: Histories of Systemic Oppression in the Environmental Movement: Conservation and environmental organizations have recently begun contending with the racial exclusion and injustice that defined their creation and much of their existence. This session explores environmental history and how it fits into the larger context of social history in the U.S.. Through a timeline of events through the early 20th century, the session will reveal that despite their intent, conservation was not a categorically benevolent force, and in fact harmed Black, Indigenous, and other communities of color across Turtle Island.
We will send Zoom links to everyone who registers through this free Eventbrite page.
Please email Maisah at mkhan@1mississippi.org if you have any questions about this event or issues with registration.