MRCA Retail Conference 2017: "Innovation: The Future is Now"
Description
MRCA Retail Conference 2017 with the theme of "Innovation: The Future is Now" is going to be held on 12th July 2017 at The Gardens Hotel, Kuala Lumpur.
Hosted by Malaysia Retail Chain Association (MRCA), the #MRCARetailConf2017 is focused on driving change and positive disruption using innovative strategies and technologies that enables individuals and organizations to succeed in the competitive and shifting retail landscape.
For over 25 years, MRCA provides its members with the opportunity to capitalize on the collective experience and resources of Malaysia's dynamic group of retail experts. MRCA welcomes both members and non-members to attend the #MRCARetailConf2017.
MRCA hopes to converge all speakers from various sectors under one roof, to share their views and experience with retailers. With the presence of this conference, it provides a learning platform for retailers, SMEs and academicians to understand the change and the needs to change in the retail market.
Why #MRCARetailConf2017
Trend Coverage - Shifting Retail Landscape, Disruptive Technology, Digital Economy, DFTZ, Understanding Gen Z - A Threat or Opportunity?
Movers & Shakers - Hear from more than 20 Leading CEOs and Retail Innovators and learn from their knowledge, experience, and insights.
Deep Dive Discussion - Thought provoking insights and content from top-level retail executives, analysts and other industry experts.
Networking Opportunities - The opportunity to network and connect with fellow attendees and speakers who are all as passionate about retailing as you are.
ITINERARY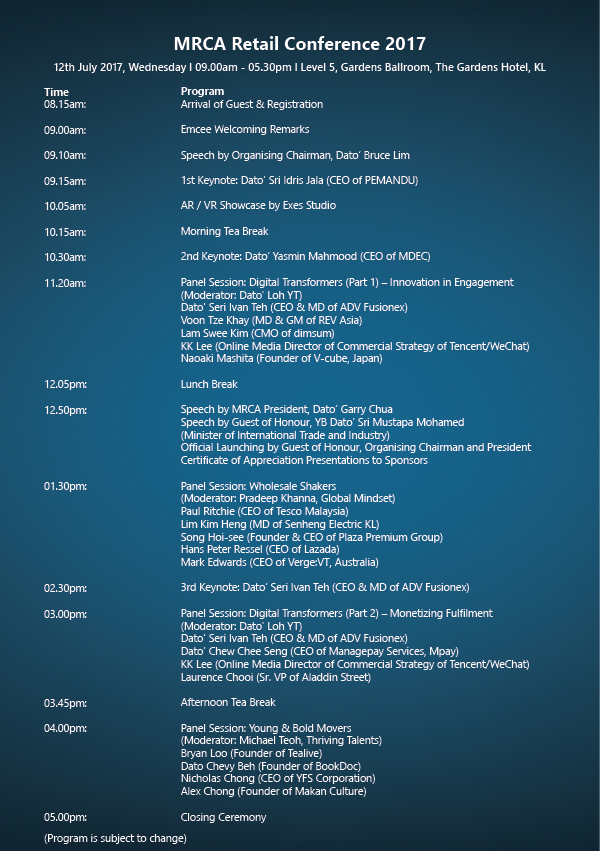 Note: The above itinerary is tentative & subject to change.
If you are a MRCA Member and wish to enjoy member rate, kindly email to conference@mrca.org.my for registration. For other payment methods, please visit to http://www.mrcaretailconference.com/tickets.html.
** Strictly no refund for this conference.