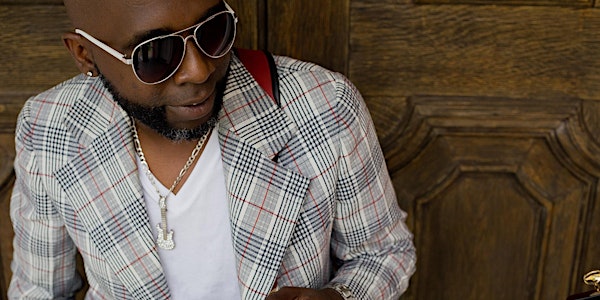 Mr. Sipp
UNDER 18 WITH PARENT OR LEGAL GUARDIAN
Presented by Ardenland
See Castro Coleman AKA Mr. Sipp, "The Mississippi Blues Child" LIVE at Duling Hall on Friday, June 26th!
When and where
Location
Duling Hall 622 Duling Avenue Jackson, MS 39216
About this event
Ticket Information:
Doors open at 7:00 PM, and the show begins at 8:00 PM.
General admission tickets are $15 advance and $20 day of show.
General Admission tickets are standing room only. First come, first served.
There will be an upcharge of $5 for persons under the age of 21.
About Mr. Sipp:
Castro Coleman a-k-a Mr. Sipp, "The Mississippi Blues Child" was born August 25, 1976 to Johnelle and the late Vera Coleman in the small town of McComb, MS. He began playing the guitar at the tender age of 6. Through hard work and perseverance, Mr. Sipp has become a Delta Blues Force to be reckoned with! Being recognized for his amazing vocals, songwriting ability, musicianship, ability to produce records and entertain Fans with an upbeat, outlandish show all make Mr. Sipp "The Total Package." Above all of that, Mr. Sipp is a God fearing family man. With over 125 recording credits to his name, Mr. Sipp has played on over 50 national recordings with several Grammy nominated projects. He is well traveled and ready to come to play for you and spread his great gift of music to the World.
Mr. Sipp is the 2014 International Blues Challenge Winner by way of The Vicksburg Blues Society as well as The 2014 Gibson Best Guitarist Award Winner and 2014 Jus' Blues Bobby Rush Entertainers Award Recipient. Mr. Sipp was also cast in the recently released James Brown movie, "Get on Up". Mr. Sipp's favorite quote, "I'm living to love the life that I live, Music!!!!"
Mr. Sipp spent 22 years in the Gospel Music Business as a Recording Artist and a Producer! Since his BIG WIN at The International Blues Challenge in 2014 and the release of his debut Blues CD, "It's My Guitar," the music community has been a Buzz and welcomed him with open arms! On his debut, Sipp sings all vocals and plays all instruments for the entire record! That surely made listing the credits easy. Yes sir, when God was handing out musical talent, Mr. Sipp apparently was at the head of the line! What a talent!
On his new release, his debut recording for Malaco Records, entitled "The Mississippi Blues Child," Mr. Sipp once again handles all of the vocals and plays numerous instruments, however this time around he is joined by other reputable Malaco Mississippi "Hitmen." All songs with the exception of one are originals, and his diverse style of music separates this record from many of the other recent "cookie cutter" Delta Blues recordings. Mr. Sipp is a FORCE to be reckoned with and is proudly endorsed by Ernie Ball Strings and Epiphone Guitars which he plays exclusively.
Learn more about Mr. Sipp below: