Mr. Robbins' Neighborhood's Inaugural Super Bowl Bonanza- Strike BIG for Ki...
Description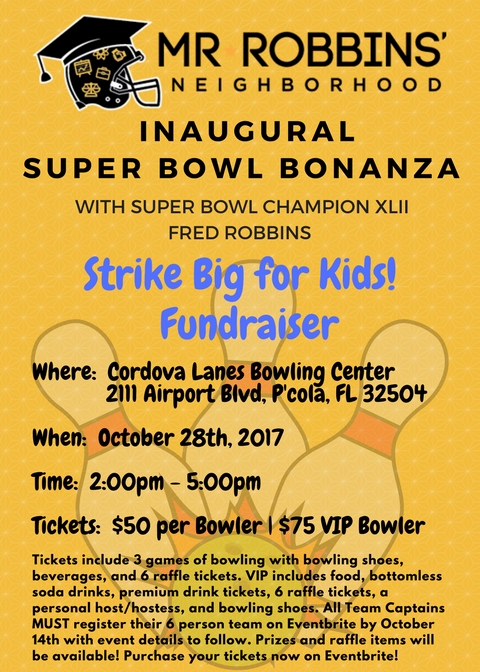 Become a Team Captain or join a team. Become a member of our Cheer Squad. Make a donation or simply be a Spectator!
Super Bowl Bonanza- Strike Big for Kids is the perfect fundraiser for individuals, families, friends, businesses, and organizations to partake in, have fun with a little friendly competition, and make an impact for the future of select student-athletes in our community! Join us in our movement to continue MRN's mission to empower, engage, and develop our student-athletes to be successful young professionals on and off the field. Your support will help us raise the funds necessary to provide transportation, develop a curriculum and tools, offer tutoring sessions, and purchase materials for our students enrolled in the Playbook Program.
The Playbook is an expansion of our successful three-day career and football camp, the Game Plan. One Saturday a month, our student-athletes participate in a variety of activities and given valuable resources that included exposure and exploration of careers, involvement in community projects, insider exposure to football as a business, college readiness tools and preparation, building healthy relationships, engaging and networking with local business leaders, participation in cultural activities, and development of life skills. Each program is designed to propel our student-athletes forward to success.

Because of generous donations from businesses and people like you, MRN has been able to provide free educational and mentorship programs within our local community here in Northwest Florida. We are grateful for the community's enthusiastic support and recognition of our efforts in making a difference in the lives of our student-athletes on and off the field. The number of families and their student-athletes interested in applying for the program is increasing every year. The number of applicants has more than doubled this year! "It takes a neighborhood," and to keep the momentum going, we need your support!