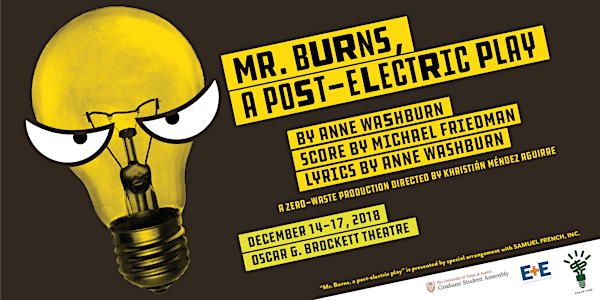 Mr. Burns, a post-electric play
Location
Oscar G. Brockett Theatre
300 East 23rd Street
Austin, TX 78712
Description
America has fallen, the power grids are gone, and humanity is on the edge of extinction.
In the not-too-distant future, a group of survivors huddle around a campfire trying to retell an episode of The Simpsons from memory. As the years pass, this episode and other snippets of pop culture become the live entertainment of a post-apocalyptic society sincerely trying to hold onto its past.
Coming to the Oscar G. Brockett stage from December 14th-17th, Better Mr. Burns is a fully student-produced theatrical production of Anne Washburn's Mr. Burns, a post electric play at the University of Texas at Austin. The production seeks to address a significant blind spot in contemporary American theatre: the intersection of environmental and social justice.
Set in a dystopian future where North America is left without electricity, Mr. Burns calls audiences to question their impact on the systems that support human life on the planet. Concurrently, the production process asks these same questions of the community at large - how can artists be more mindful of the impact their work and, as a result, make theatre better?
Committed to a zero waste set, an upcycled wardrobe, sustainable methods of design and construction, and an inclusive rehearsal room, Better Mr. Burns informs how theatre-makers can contribute to a cycle of empowerment in a production process both as artists and activists alike.
This production is a collaborative effort among several graduate students and undergraduate students in the Department of Theatre and Dance. In addition, the project entails partnerships with Austin Resource Recovery, the UT School of Architecture, the Office of Sustainability, Campus Environmental Center, the Department of Theatre and Dance, and Texas Performing Arts. Better Mr. Burns is also a result of various sustainability efforts around campus, reflecting the university's zero waste and environmentally sustainable initiatives on campus.
For more resources and information, updates on this process, and to get tickets for the various events, visit bettermrburns.org