MPS Centennial Black Tie Awards Gala

Saturday, September 20, 2014 from 6:00 PM to 11:55 PM (EDT)
Event Details
The Montserrat Progressive Society (MPS) Black Tie Awards Gala is the first in a series of events to celebrate the Socety's 100th anniversary - September 1914 to September 2014.
It will be a year-long Centennial Celebration (September 20, 2014 to September 26, 2015) which will not only acknowledge and celebrate this historical landmark, it will serve to showcase Montserrat's rich heritage, while we seek to acquire a multi-functional facility that is intended to house a social club, and space that would be a repository of archives and artifacts pertaining to the history and culture of Montserrat.
For information, contact: Cynthia Hendrickson - 917-685-5737; Laurine Fenton - 212-369-4070; Victor Lewis - 347-216-6885; Vera Weekes - 917-549-6635; Llewellyn White - 914-426-1690; Shauna Tuitt - 718-207 8949.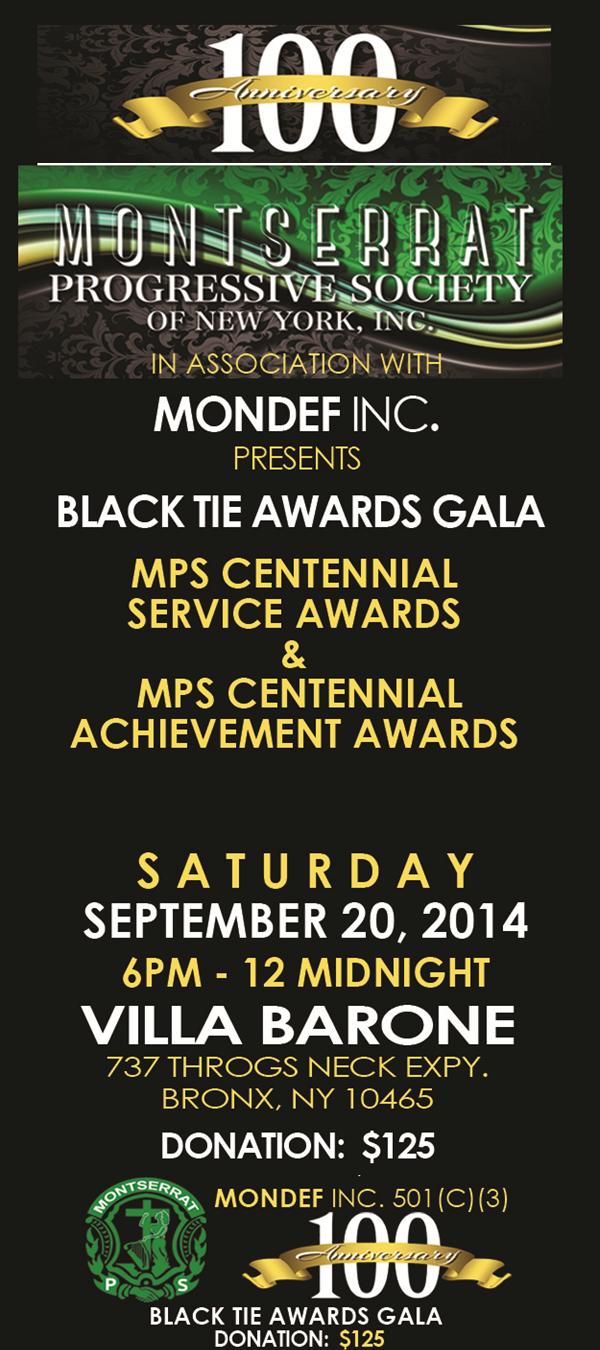 When & Where

Villa Barone Manor
737 Throgs Neck Expressway
Bronx, NY 10465


Saturday, September 20, 2014 from 6:00 PM to 11:55 PM (EDT)
Add to my calendar
Organizer
On September 24, 1914, a group of enterprising Montserratians, led by John L. Francis, formed the organization that came to be known as the Montserrat Progressive Society of New York, (MPS-NY) Inc. From its inception, the founding members recognized the need to ensure the longevity of the society and formed a source group for future members. The Juvenile Society, as the children's group was called, was established May, 1923. Essay and poetry competition provided intellectual and artistic stimulation. The young members were also taught the rudiments of parliamentary procedure as a prerequisite for assuming responsibilities in the parent organization.
During his administration, George James formed the Education and Scholarship Committee to raise funds for scholarships to students in Montserrat. By 1964, twenty-four years later, the efforts of this committee enabled the Society to provide the Montserrat Secondary School (MSS) with its first school bus.
Montserrat is the constant focus of this organization: After the devastation of Hurricane Hugo (September 16-17, 1989) the Society raised and distributed funds to several organizations and persons on the island; Old People's Welfare Association (OPWA) is a perennial recipient of donations; when the first official fire department was started, the Society provided six of the twelve fire-fighters uniforms requested; and, when Janet Reno, then United States Attorney General, granted Montserratians Temporary Protected Status (TPS), May 1997 (due to the ongoing volcanic activity) MPS was first to provide this information to the public and media. The Society is a source of assistance and information about immigration concerns, welfare reform and the census, among others, and is a regular participant in Round Table forums on Caribbean Issues.
Today, the Society remains a beneficial and resourceful organization - it has a website - www:mpsofny.org, a monthly newsletter and monthly meetings to keep members abreast of activities. Now in its 100 year (2014), the Society is steadfast in its willingness to be of service. Collaborative efforts to benefit the people of Montserrat include the Adopt-A-Family Project, whose purpose is to alleviate the financial plight of families on and off the volcano-ridden island, and is a collaborative effort with the Montserrat Foundation for Charitable Giving, Inc. and the Caribbean Research Center at Medgar Evers College (CUNY). In September 2003, the Montserrat Development and Education Foundation (MonDEF) Inc. was established as a 501(C)(3) tax exempt affiliated corporation to provide scholarships and added financial relief. Educational scholarships are also given to students here in the USA.
Some of the immediate goals of the Society include: increasing membership and membership participation to realize the mission of the Society; providing support to eligible students and community-based organizations; maintaining communication and collaboration with other like-minded organizations; and being a visible and viable force in the Caribbean American community.
Membership (Active, Associate or Honorary) in the society is open to everyone who is willing to promote the goals and purposes of MPS- NY, Inc.
For further information, please visit our website at www.mpsofny.org, or contact us at 212-283-3346.