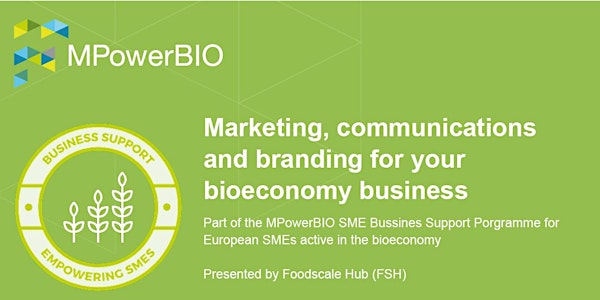 MPowerBIO BSP - Marketing, communications and branding for your business
An online training session held by Foodscale Hub, as a part of the MPowerBIO Business Support Programme.
About this event
Description:
This training aims to guide new entrepreneurs through a series of simple steps on how to uniquely brand their business and communicate their value proposition to potential customers. This session will simplify the learning process for early-stage entrepreneurs and young SMEs with straightforward and practical techniques that can instantly be applied to their business. During this interactive online session, we will discuss and highlight the main principles of the importance of brand image and inbound marketing. Case studies will be provided for reference. After the completion of the training, you will be able to create a voice within your industry and create a good marketing, communication, and brand strategy that can increase leads, boost sales, widen the consumer base.
Agenda:
• Understand the true idea of branding and why people buy brands;
• Create brand personality to build relationships with your customers;
• Turn your company values into more customers;
• Use a process-based approach for planning and designing creative marketing communications;
• Select the right integrated marketing communications methods and media;
• Determine the success of marketing communications campaigns.
Trainer: Maja Žikić is a Growth Strategist and Digital Marketing Coach at Foodscale Hub.
Target audience: SMEs (product managers, marketing personnel, project managers and other development personnel)
Language: English