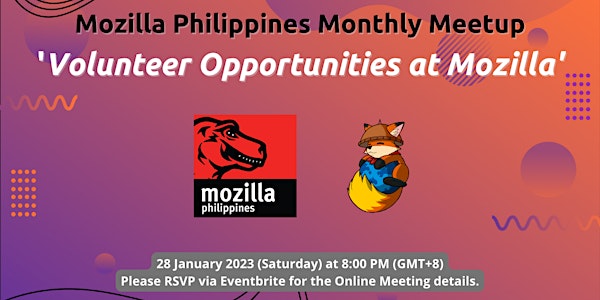 MozillaPH Monthly Online Meetup [JAN 2023]
Monthly Mozilla Philippines Community (MozillaPH) Online Meetup for the month of January 2023.
About this event
Register via Eventbrite to receive the Online Meeting details (it will be sent via email on the day of the meetup).
Join the Mozilla Philippines Community (MozillaPH) Online Meetup this coming Saturday, 28 January 2023 at 8:00 PM (GMT+8) as we discuss how to become a Mozilla volunteer.
Mozilla is a global, non-profit organization dedicated to promoting openness, innovation, and opportunity on the internet. We rely on the contributions of volunteers like you to help us achieve our mission.
As a volunteer, you will have the opportunity to work on a variety of projects and initiatives, from software development and localization to community building and advocacy. You will also have access to a supportive community of like-minded individuals who share your passion for a healthy and open internet.
If you are interested in becoming a part of the Mozilla community, please visit https://join.mozillaph.org/ to learn more about our volunteer opportunities and to register as a volunteer. We look forward to working with you to make the internet a better place for everyone.
PRIVACY NOTICE: Through this website and online form, the following personal information will be collected: your name, contact details -- email address and mobile number. These personal information will be used solely to enable the organizers of this online to allocate enough virtual seats for all who wish to attend the online event, conduct an online raffle (if any), and will not be shared with any outside parties. We value your rights as data subjects under the Data Privacy Act of 2012 (DPA). To exercise such rights and know more information on how we process your personal information, you may info@mozillaphilippines.org. Privacy over Profit.