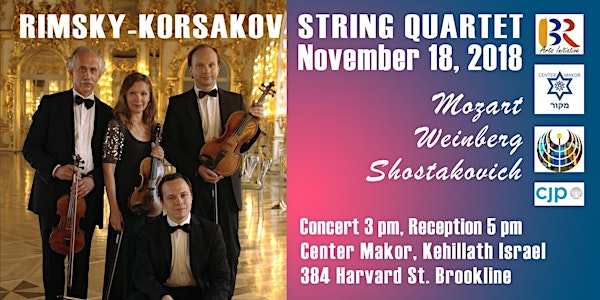 MOZART, WEINBERG, SHOSTAKOVICH: Rimsky-Korsakov Quartet in Concert
When and where
Location
Center Makor The Campus at Kehillath Israel 384 Harvard Street Brookline, MA 02446
Description
Join BRAI and Center Makor for a concert by Russia's oldest quartet, founded in 1939, the Rimsky-Korsakov String Quartet.
The concert features a late composition by Mozart, mystical and evocative, and a powerful quartet by Dimitri Shostakovich written soon after the end of World War II, when the composer's 9th Symphony had been censured by Soviet authorities. A highlight of the program is a rarely performed and very moving quartet by the Soviet Jewish composer Moishe Weinberg, a close friend and colleague of Shostakovich.
2:30 pm Doors Open
3:00 pm Concert begins
Wolfgang Amadeus MOZART Adagio and Fugue in C minor, K.546
Mieczyslaw (Moishe) WEINBERG Quartet n.13 op.118
Intermission
Dmitri SHOSTAKOVICH Quartet n.3 in F major, op.73
5:00 pm Reception with light refreshments and cash bar.
The members of the Rimsky Korsakov String Quartet– Mikhail Bondarev (violin), Ekaterina Belisova (violin), Alexei Popov (viola) and Anton Andreev (cello) – are graduates of the prestigious Saint Petersburg Conservatory, and steeped in the grand tradition of Russian classical music. The quartet was founded in 1939, the oldest in Russia, and is regarded as a monument to Russian musical history. Since 1989, the group has been actively touring abroad in Europe, and more recently in the US and Canada, and has made appearances at the numerous renowned music festivals throughout Europe and the America, and consistently receive outstanding reviews.
Mieczyslaw (Moishe) Weinberg (1919-1996) was a Soviet Jewish composer born in Warsaw, Poland. After graduating from the Warsaw Conservatory in 1939, he fled to the Soviet Union to escape the Germans (his entire family perished in the Holocaust). Evacuated from Minsk to the Central Asian city of Tashkent in 1941, Weinberg met both his wife and his most important musical mentor, Dimitri Shostakovich, and moved to Moscow in 1943. He and Shostakovich would remain close friends and exchange ideas until the latter's death in 1975.
When Weinberg was arrested in 1953 Shostakovich took the risk of interceding on his behalf with the authorities, and even agreed to take care of his daughter if Weinberg's wife was arrested too. Released soon after Stalin's death, Weinberg continued to have problems finding work (as he had before arrest, due to his Jewish ethnicity), but this did not stop him from composing prolifically, including 22 symphonies, 17 string quartets and numerous other compositions, especially for string. While Shostakovich was the biggest influence on Weinberg, he also drew on the music of Prokofiev as well as Bartok, and used Jewish, Moldovan, Polish and Uzbek folk music sources. Composed two years after Shostakovich's death, his 13th String Quartet follows on the heels of his 12th Symphony, composed specifically in memory of Shostakovich. It exhibits many of the typical characteristics of Weinberg, including a desire for harmony and neo-classical balance alongside a facing of darkness and suffering as a path towards resolution and peace.
Nota Benes:
All seating except VIP (first two rows) is unassigned. Please come early for best choice of seating.
Senior citizen discount available for door sales only: $25 tickets for those 65 or older with proof of age.
Tickets cannot be refunded but can be transferred to a different attendee.